As a former University of Otago drama student, Ben Crowder is looking forward to bringing his latest production to Dunedin. Rebecca Fox talks to Crowder and actress Jennifer Ludlam about Mr Red Light.
Ben Crowder describes himself as being ''hijacked'' by the theatre world as a student in Dunedin.
''I think my parents wanted me to be a lawyer or something, but I got hijacked by the theatre world. I did 24 shows in three years as student.''
Nearly 30 years later, he is still firmly embedded in that world. For the past 16 years, he and writer Carl Bland have worked together, the past 12 as the artistic leaders behind Nightsong, a company which produces original work.
Their latest production Mr Red Light - a show which mixes rich poetic language with music, visual arts, illusion and choreographed movement - is about to embark on a tour of the South Island.
''It's exciting to be bringing back work to where I learnt about theatre; it's first time I've presented work as a professional maker back in Dunedin.''
Bland, the recipient of the Grimshaw Sargeson Fellowship in 2018, originally wrote the piece as a one-man show but created the first draft of what was to become Mr Red Light about three years ago.
''I've always loved those stories that feature a stranger who comes to town. This stranger doesn't know the rules, doesn't know who's important, and who to ignore. The stranger has nothing to gain because they're always about to leave. With this freedom of thought they succeed in changing everybody's lives.
''They often appear to be fools or mad prophets. But a closer definition would be that they are beacons of truth.''
The work was workshoped for a couple of years before going into ''intense'' development over the past year.
While Bland writes the work, Crowder directs it.
Crowder describes the Mr Red Light as being an ''absurd hostage drama'' with ''pathos and depth''.
''Even thought it sounds like a terrible thing to happen their lives kind of end up better from it.''
Centred on ''Mr Red Light'', a man whose attempt to rob a bank goes hilariously haywire, it is a commentary on how disconnected people have become and how that can change.
''These people are just having a pie on their own. It's very funny but then when it hits its straps, people walk out with a tear in their eye as it shows how humans do need to be connected to each other.''
It stars Jennifer Ludlam (Shortland St), veteran New Zealand theatre actor Simon Ferry, Richard Te Are (known for playing Teina Pora in the TV movie In Dark Places) and Jess Sayer (Awkward Love).
Crowder describes Bland's writing as typically being ''impossible to stage''.
''I'm quite childlike myself, so I'm not put off. We've have shows where giraffes have emerged from the bookcase or the audience is on swivel seats and someone is firing a cannon across the stage.
''This one had quite a few challenges like that and I just read them and go, 'Yep, how exciting.'''
It meant they had quite an intense design process.
They have created a set to look like a franchise fast-food outlet with its trademark ''soulless quality''.
''There's this sadness or tragedy sitting their having a pie on their own.
''Even though its quite a mundane place something extraordinary happens, which is what Carl is trying to do - to show the extraordinary is available to us all. Sometimes we don't see it but it's there in each other.''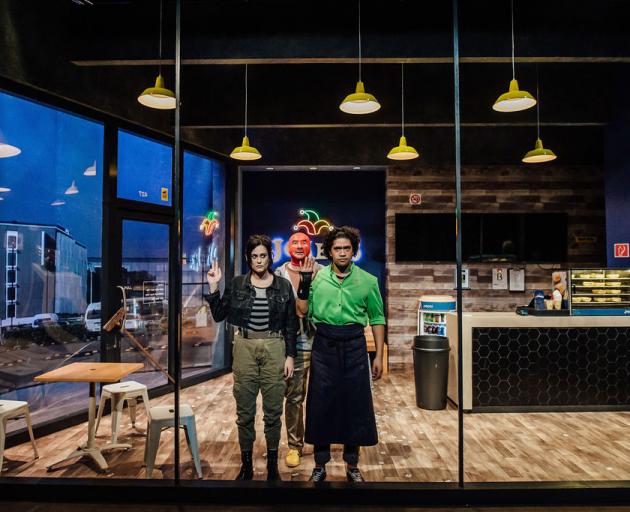 A key part of the production was to get the set built so rehearsals could be held in the space.
''It's like it is its own character. There are a lot of tricks in the set, some theatre magic. When she says 'a giant ant appears' a giant ant appears. They are challenges, you think, 'How am I going to do that in a non-clumsy, exciting way?'
''I think we've achieved it.''
Part of working in theatre is not being afraid of the impossible, Crowder says.
''It is an important part of having a career in the performing arts in New Zealand.''
Nightsong produces a new show every two years.
''You have to be at the top of your game and we have great designers who we challenge and push deeply but it's exciting and energizing.''
Mr Red Light has been performed in Auckland for three and a-half weeks and was picked up by Tour Makers, just about unseen, for the tour of the South Island.
''It's a very long season, usually we'd only do 10 days.''
It is then going straight on tour along with a six-tonne truck of set.
''It is the best time to tour as then we don't have to re-rehearse and it's a big set with multiple crew.''
They will also hold a workshop for students while in Dunedin.
''It's great to be sharing knowledge.''
Ludlam, a theatre veteran, believes theatre and television work are very similar.
''They take the same sort of focus and energy. I treat my TV work like a play. There are still a lot of lines to learn.''
In Mr Red Light, Ludlam plays Ever, a 76-year-old who is dying and has lost hope.
''These four characters are held up in a pie shop, they're disparate people with no friends or connections and Mr Red Light brings them together. By the end Ever has hope.''
At the first reading of the play, Ludlam thought it had a ''very nice heart to it''.
''I had no idea how funny it would be. We've laughed all the way through to the end. There are poignant moments.''
To see
Mr Red Light
Performances:
Friday, October 9
Oamaru Opera House, as part of the Waitaki Festival.
Tuesday, October 15
Regent Theatre, Dunedin.
Saturday, October 19
Lake Wanaka Centre, in association with the Festival of Colour.