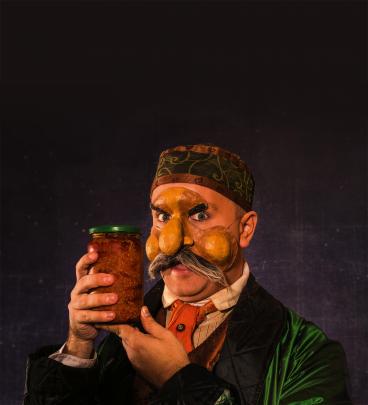 Justin Lewis and Jacob Rajan's common love of mask, determination and creativity has seen their Indian Ink theatre company thrive for 20 years. Lewis talks to Rebecca Fox about celebrating the milestone with a national tour of The Pickle King.
Plays featuring an Indian actor in a mask may not be the most obvious key to commercial success but it has not stopped Indian Ink.
The theatre company began 20 years ago when Jacob Rajan, who became the first Indian actor to graduate from Toi Whakaari NZ Drama School, and Justin Lewis discovered a mutual love of mask and telling stories.
''He was doing this little show that was 20 minutes long and wanted help to make it longer. Everything grew from there,'' Lewis said.
They formed Indian Ink, an award-winning theatre company that has produced shows such as The Pickle King, Krishnan's Dairy and The Candlestickmaker and features actors who perform in masks.
Twenty years later, their Australian production of Guru of Chai has almost sold out weeks before opening and they have just secured a commission from the South Coast Repertory Theatre in Orange County, California.
''I never imagined 20 years ago when we set out we'd be here. I feel like we are at a great stage. It feels like we are hitting our straps, have a burst of energy and more projects on the go,'' Lewis, who directs, said.
While he has worried he might run out of ideas, Lewis has discovered learning from his failures is an important part of creativity.
''A couple of shows haven't worked as well as I'd like but then you get this new energy.
''As an artist and creator you get better as you get older; a combination of more ideas and more experience.''
It is also important to keep yourself fresh, he believes.
''As an artist you need to make sure you are living and actively engaged in the world in order to remain relevant, which is harder to do as I get older.''
Part of their success is enjoying working together, having complementary skills and not being afraid to reinvent the company when needed, he says.
While their concept might not have been an ''obvious'' commercial success, having a belief in their work paid off.
''Success is about being true to yourself and your artistic taste.''
That is not to say it has not been a ''hard slog'' to get to where they are.
Part of that is their dedication to touring - they spent four months touring in their first year and ever since have spent three to four months on the road, travelling nationally and internationally.
''It's been 20 years. Touring every year is not as glamorous as it sounds.''
Since 1999, the company has travelled overseas performing in Australia, Edinburgh, Europe, Germany, India and Singapore.
''Most recently, we've put a lot of energy and focus on the United States.''
In 2011, it managed to secure one of the United States' top agents, David Lieberman.
There have been challenges in taking their shows to other countries and selling them to new audiences.
''Really translating it is a tricky thing. People look at it as a Indian show like Bollywood and struggle to understand it is a piece of theatre with a narrative and drama.''
They also struggled to understand a New Zealand company doing Indian theatre.
''Once they get their heads around it, the audiences in the [United] States, where they're much freer, we've pretty much had standing ovations.''
What he has found interesting is how ''hot'' New Zealand is in America, from its wines to its movies.
''You get a lot of people saying they'd love to go to New Zealand now. With [President] Trump in, they're saying they want to come live here.''
But touring has helped sustain them over the years, as each original work takes a couple of years to come to fruition.
They have a tradition of making works that speak to New Zealand's culture and identity.
''There is lots of companies touring New Zealand with original work now, but 20 years ago it was less likely.''
Audiences' tastes have changed over the years too. There is an increased desire to see work that references New Zealand society rather than whatever is the latest hit from Broadway or the West End, he believes.
''The audiences' tastes are becoming increasingly more sophisticated.''
Indian Ink's three productions The Pickle King, Krishnan's Dairy and The Candlestickmaker are taught as part of the New Zealand secondary schools drama curriculum and in universities.
As people consumed more and more digital media, their gaze was getting smaller and smaller, he said.
''Live experiences open you up ... and gives them something different.''
When they started out, they only had Rajan to work with on stage.
''Now there is a fantastic highly talented graduating bunch from different cultures from the Philippines, China, Pacific Islands, Africa ... the pool is much more diverse.''
So Indian Ink is now in a position to pick up that talent and ''invest in developing the stars of the future''.
With The Pickle King, which they are touring the country with in celebration of their 20th anniversary, they have ''nabbed'' two recent Toi Whakaari graduates for the leading roles, Vanessa Kumar (Boys will be Boys, Peter Pan) and Kalyani Nagarajan (The Brokenwood Mysteries 3, Polo), both of whom have Indian heritage.
Performing in Indian Ink productions requires some special skills, as the masks cut off a form of expression for actors.
''Some actors struggle with that. You have to have the ability to get lost in the character and be very physical with the way you embody the character.''
It requires extra training so actors can become more expressive with their bodies.
''The masks exaggerate facial features, so they need to exaggerate emotion and their physicality to be emotionally true and credible.''
In the end, they hope it stimulates the audience's imagination and joy in theatre.
''The audience is 50% of the equation. Jake [Rajan] says the audience is like a battery that we plug into.''
This year's production of The Pickle King is similar to the original show, written 15 years ago, which won a record seven nominations in New Zealand's theatre awards and won the supreme award of production of the year. It also won a Fringe First award at the Edinburgh Fringe in 2003.
''It's had a revamp. In the first one it was a love story between a man and a woman. Now it's between two women - you couldn't have done that 15 years ago.''
Its core message that there are many kinds of love and you have to have the courage to love is still there, he said.
''You have to have the courage to love, even if you might lose it. It's a universal human story.''
It was surprising how little they had to change in the play to accommodate a same-sex love storyline.
However, many of themes of their work - the injustice of immigration, the plight of natural environments and people at the hands of big business - are still as relevant today as they were when they first started, he said.
''The world hasn't changed.''
Indian Ink has plenty to go on with too - they are working on a follow-up to Krishnan's Dairy 20 years on, which they hope to premier before Christmas.
They are also writing a play for South Coast Repertory called Welcome to the Murder House.
''That is a huge opportunity for us. Hopefully, that will springboard us into a lot of things quite quickly.''
To see
The Pickle King, Fortune Theatre, Dunedin, June 21-24.