Nga Puke director Cian Elyse White feels like she is bringing the production back home - Dunedin is where its author lives and where one of the main characters is from. She tells Rebecca Fox about New Zealand's ''Titanic story''.
It has been 30 years since John Broughton created a play about a young Maori farmer and a budding Pakeha artist and nurse from Dunedin, set against the backdrop of World War 2.
It has been brought back to the main stages by actor and director Cian Elyse White (Te Arawa, Ngati Porou, Ngati Kahungunu, Ngai Tahoe).
''When I read it, I couldn't understand why I had not seen this work in my lifetime before, at school or as an adult.''
It captured her attention because it is a ''beautiful classic piece'', a love story for Maori theatre, rather than the often weighty, dark narratives involving abuse, drugs and gangs.
''It is a beautiful classic piece that shines a light on kaupapa Maori and also kaupapa Pakeha and doesn't involve any of those types of post-colonisation weighted issues.
''It's also a love story and again, I haven't seen too many two-handed love stories in Maori theatre. It has beautiful witty writing in it that is so true to the era.''
The play was so good she chose it for her professional debut as a director.
''It was an amazing experience to step out of the role of actor and take on the role of director, where you have to have an eye across the bigger picture. It was one heck of a ride.''
When she moved back to Rotorua, White noticed a lack of professional performing arts so she started up an indigenous theatre festival, IHI Fest.
''I revived this play with a local cast of professional actors.''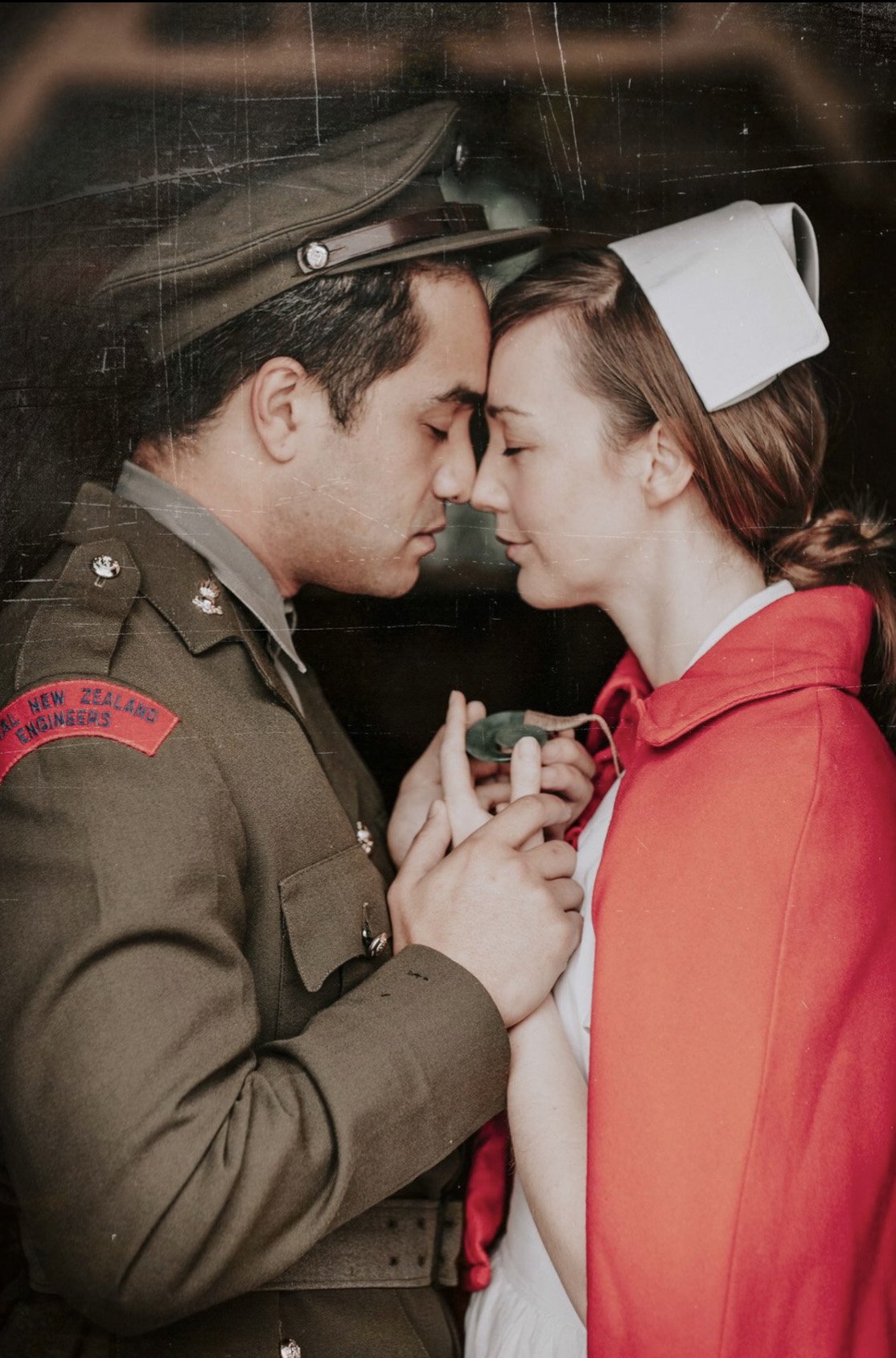 She sought funding as part of the 100-year commemorations of the end of World War 1 and then it was picked up by producers from Auckland Live.
Its latest performance in Auckland received a five-star rating from theatre view site KUWNZ.
''This production of Nga Puke is a heart-warming and beautiful experience that should be enjoyed by as many as possible. A jewel of a play, this Maori classic is an elegant dance of love in wartime.''
This year is also the 30th anniversary of the play.
''It's a timeless classic. It hasn't been toured or explored at all in the past 30 years beyond its first couple of years. I wanted to celebrate it and bring this gem down off the shelf for Maori theatre and bring it into the light.''
Broughton (Ngati Kahungunu, Ngai Tahu), who is a University of Otago lecturer in Maori health, wrote the play after studying the military battles of World War 2, in particular the Battle of Crete.
''I thought I should write a play about a New Zealand soldier's experience.''
The play went on to be studied in schools and was a set text for the Correspondence School for many years.
''It's great to see a new production, seeing someone put their stamp on it.''
White
says the play showed a bridging of the cultural divide that was understated in the 1930s and 1940s.
''There was this misconception or idealist view of war. It was romanticised, especially by young Maori who wanted to go fight for a mighty cause - only, half them did not come home.''
Her own grandfather served in the Maori Battalion.
''He left a boy, a boy who lied about his age and changed his name to go. His best friend died in his arms over there. He saw and witnessed things he never spoke about again.''
White says she feels very close to her grandfather when she watches this play.
''John has penned the character of Waru extremely well; his lightness, his naivete prior to going away and then a broken man post-war.''
White says the play seems relevant today, with the world, at times, on the brink of World War 3.
''Some of those things John weaved into it years ago, it's astounding how relevant it is today. Particularly the views around violence as a means to gain and maintain peace.''
Nga Puke follows the story of Angie, a budding painter, played by Simone Walker, and Waru, a farmer, played by Kimo Houltham. They accidentally meet in a paddock on a Hawke's Bay farm after Angie leaves the gates open, letting Waru's stock out.
''He's absolutely furious, as about 4000 sheep get out, but an unlikely friendship blossoms and eventually a deep respect and care for each other, but it is cut short when Waru signs up for the war and is posted to Crete.''
Angie and Waru meet again in Crete, where she is nursing and he is injured.
White feels a real responsibility to do justice to the themes of the play.
''There is a duty to clearly demonstrate and open up Waru's world and his thought processes so people understand more acutely what it was like for those young Maori and the damage it did. How having Maoritanga and their identity helped him through - my grandfather was extremely close to his ... spirituality definitely helped him through.''
The differences between Waru and Angie, and the conversations they have about being Maori and Pakeha, are what connects audiences to the play today, even 30 years after it was written, she says.
''I needed people to see Nga Puke. I need us to look at our current racism issues in modern-day New Zealand and talk about how they haven't shifted. I needed people to start thinking about each other more.''
White says she is grateful for Broughton's support and is looking forward to seeing him at the opening night.
''I'm so glad it's at the end of the tour, as we will be leaving its spirit in its rightful home.''
To see
Nga Puke, Waiti Productions, New Athenaeum Theatre, Octagon, August 7-8, 7pm.