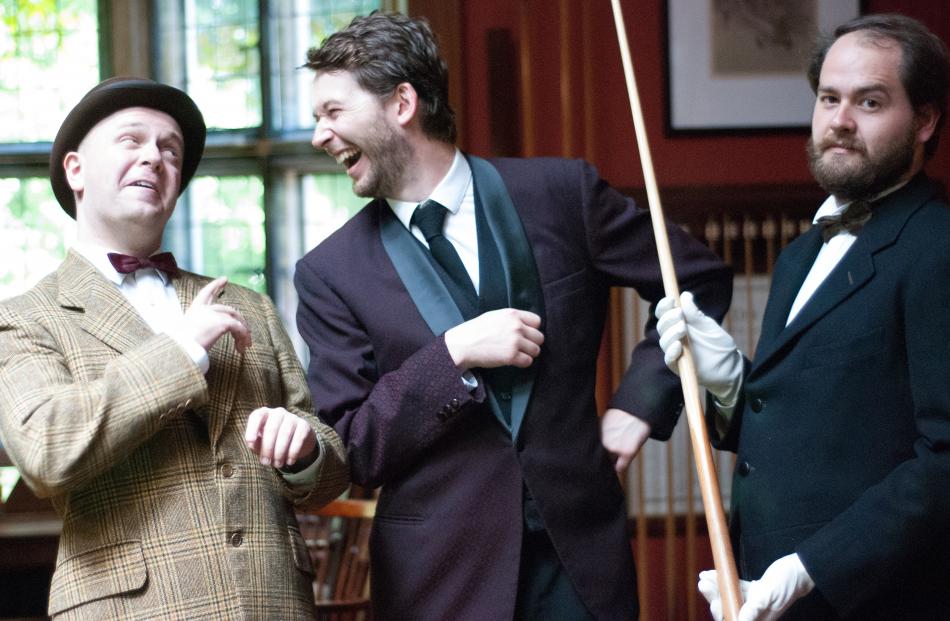 At just 23 years old, Jordan Dickson is directing his first play on the main stage of the Fortune Theatre. He tells Rebecca Fox about the excitement and trepidation of such a big challenge.
He has sold tickets, served behind the bar, worked backstage, tried his hand at marketing and programming and put on popular children's shows. Now Jordan Dickson is hitting the big time.
Dickson is directing his first professional main stage production at the Fortune Theatre - Jeeves and Wooster in Perfect Nonsense.
''It's exciting and very challenging - it's all in the timing.''
The show has its complicating moments - plenty of quick prop and costume changes and set turnarounds.
''It's not this delicate thing. It's this big grand production like nothing else I've ever attempted before.''
Dickson has been with the Fortune Theatre for about three years after first coming on board as a directorial intern for former artistic director Lara Macgregor's Punk Rock collaboration with the University of Otago theatre programme.
''I kind of haven't left.''
He has helped out where needed, gaining as much experience as he could in the theatre's workings.
In 2016 he directed his first children's show, the Emperor's New Clothes, as part of his university studies.
Then last year he filled in doing marketing for the Fortune while producing and directing the company's first family season.
''It was really successful. We have grown a whole new audience.''
Throughout he has been mentored by Fortune artistic director Jonathon Hendry, who says he has been staggered by the young talent in Dunedin and the Fortune has been working on ways to support that talent.
This year Otago Community Trust funding had enabled it to help young talent develop their skills, including Dickson.
Hendry has been in the background as Dickson tackles the Fortune's first show of the season which Hendry describes as a ''good fit'' for the young director.
''We're very excited to have Jordan on board for a main stage show. After his hilarious work over the last year, I can't wait to see what he does with three of the country's finest young comic actors and the Goodale Brothers' writing.''
Dickson said it was brilliant the Fortune was supporting younger artists like him.
''It's amazing to have the opportunity to work on a main stage production of an incredible play like Jeeves and Wooster, right here in Dunedin.''
Dickson's end goal is to ultimately become an artistic director, involved with mainstream theatre.
An artistic director's role is varied, with no direct training available, so getting hands-on experience in many roles at the Fortune was the way to go.
''It's a very complicated job. I'm very lucky they have given me the development at the Fortune.''
It is a career choice he has slowly come to after starting out with aspirations of becoming an actor. He was in the last class of legendary Logan Park High School drama teacher Denise Walsh.
He still remembers her telling him, just as he was going on stage at a Sheilah Winn Shakespeare Festival performance, that he had what it takes to have a career in theatre, just not as an actor.
''Her words still ring in my head. I appreciated it later.''
So he went on to Otago University to study theatre with no real thoughts as to what he would do.
''I had this weird confidence or understanding that I'd go to work in the theatre one day.''
As he moved through his studies he recognised he had an unquenchable desire to be involved in all parts of a production and enjoyed supporting actors in being able to do what they needed to do.
While some might see that as controlling, Dickson is horrified by the thought, instead preferring to see it as the total opposite.
''It's about facilitating creatives to do their best.''
He is getting to put those thoughts into action with Jeeves and Wooster in Perfect Nonsense based on the work of P. G. Wodehouse, with a cast of Jack Buchanan, Andrew Paterson and Andrew Ford.
It is set at Totleigh Towers. Bertie Wooster and his ever faithful ''gentleman's personal gentleman'', Jeeves are on a mission to steal a prized cow creamer.
''It's totally irreverent. There are a lot of laughs. It's full of gags and hilarity.''
That has meant a bit of work for Dickson and the actors as they work through the timing issues.
''There's subtle things like how long an awkward moment should last.''
The play by the Goodale Brothers has won awards around the world and has had two seasons in the West End.
''This is the first New Zealand professional production of the show.
''We want to use what is at our disposal in new and interesting ways to surprise the audience.''
Once Jeeves and Wooster is done, Dickson will not be resting on his laurels.
He has a family season to produce and then will direct Dunedin playwright Emily Duncan's Eloise in the Middle, as part of the Fortune's Women's Work month in September to celebrate the inaugural New Zealand Theatre Month and 125 years since the victory of Kate Sheppard's movement.
''It'll go out to 70 schools before the season at Fortune.''