To make a donation to this years Dunedin Poppy Day Appeal please visit this givealittle page. Also a big thank you to all the businesses who have supported the RSA - see list below of supporting businesses. 
 
BRIGHTON
Parade: 

10.00am

- 

Leaves Brig

hton Rugby Club

Service: 

10.15am

 

- Brighton Hall

DUNEDIN

Parade: 6.15am - March On

Service: 6.30am - Cnr Crawford & Rattray Streets, Cenotaph, Queens Gardens - see below map for information on wreath laying. 
Livestreaming of the Cenotaph ANZAC Dawn Service can be viewed here from 6.20am.
It will also be played on Channel 39 at 11am, 5.30pm, 7pm & 9.30pm.


Service: 1.00pm - University of Otago ANZAC Service, University Plaza (adjacent to the Staff Club)

GREEN ISLAND
Service: 11.00am - Memorial Gardens
GREEN PARK CEMETARY
Service: 12noon - Green Park Services section
MOSGIEL
Parade: 9.45am - Mosgiel RSA

Service: 10.00am
OUTRAM
Parade: 11.00am - Assembles outside Outram War Memorial Hall.

               11.15am - Parade to the War Memorial for Service.
DAWN SERVICE OF REMEMBRANCE
MEDALS TO BE WORN
The ANZAC DAY Dawn service parade will be held at the Cenotaph Queens Gardens Dunedin.
Veteran March on commences at 6.15am.
Dawn Service commences at 6.30am.
Wreaths will be laid as part of the Service.
Relatives may wear medals on the right side of the chest.
FOR THOSE ATTENDING THE DAWN SERVICE BY CAR, WE REQUEST YOU TURN YOUR CAR ALARM OFF DURING THE SERVICE, PLEASE.
University of Otago Anzac Service 1.30pm
Otago University Memorial Walk or in the Main Common Room, University Union Building if wet.
Info for the Southern Heritage Trust's ANZAC guided tour: ANZACs at Gallipoli
Memorials found on family tomb stones between them illustrate the various phases of the ill-fated Gallipoli campaign of 1915.
Lovelock Avenue: meet at the Sextons Cottage 2.30pm
Trail brochures and map are available
A cordial Invitation is extended to the Public to attend the above Services.
ANZAC DAY 2022 - QUEEN'S GARDEN LAYOUT - Information on wreath laying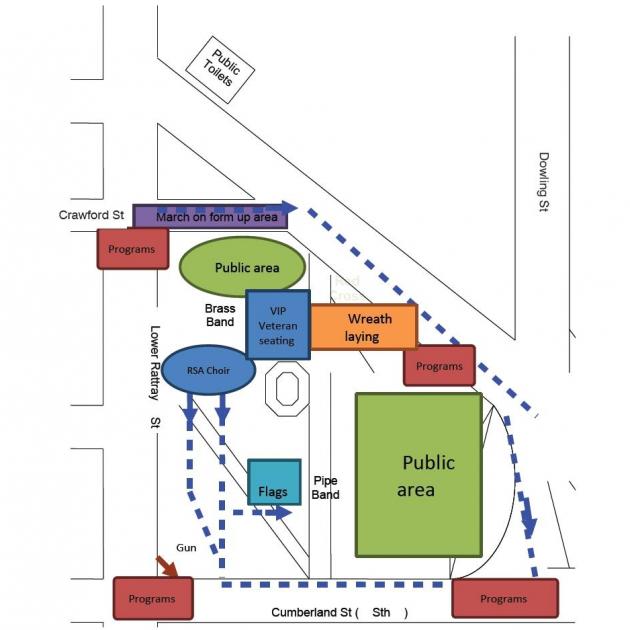 Thank you to all our sponsors for ANZAC Day 2022: