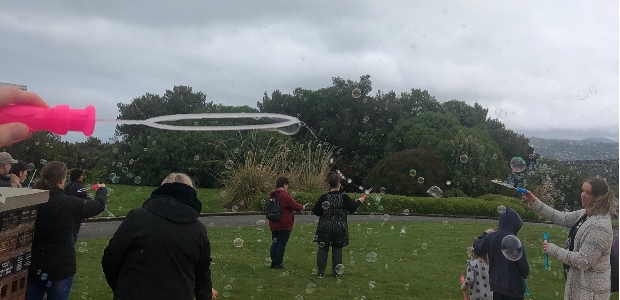 Bubbles will fill the sky above the Baby Memorial Garden in Andersons Bay Cemetery this Sunday at 2.30pm in  remembrance of babies who have died.
Parents, families and friends who come to the service regularly will be there, as will those attending for the first time.
All will gain comfort from the thoughtful 30-minute service.
The event will be conducted by members of Dunedin's Baby Bereavement Group and Hope and Sons.
It is also aligned with International Baby Loss Awareness Week, which runs every year from October 9 to October 15.
Long-time member of the Dunedin Baby Bereavement Group Rose Scott said having the annual ceremony gave people a special time to remember their babies.
''We've been doing it for quite a long time now and it's amazing the number of people that always turn up to it,'' she said.
''So often when you have a baby die people tend to disregard it, especially after a few years.
''But that child never loses their place in your family and it's really important to have something set aside every year to mark that.''
The group meetings, which were run by Hope and Sons, gave people the chance to talk to someone if and when they needed to.
These meetings occurred on the last Tuesday of the month at 10am.
''Sometimes we think that, in our day and age, babies wouldn't die but there are still miscarriages, stillborn babies and neo-natal deaths.
''You never know when someone is going to experience one of these tragedies and need the support of others who have travelled that journey.
''So it's important that the group remains available and that's why we're so grateful to Hopes for taking over the management of that.''
During the service, candles would be distributed to encourage people to be part of the International Wave of Light in which, on October 15 every year, candles were lit at 7pm in countries around the world.
Bubble wands would be handed out at the end of the service.
Afterwards, afternoon tea would be served at the crematorium chapel, where the service would be held if it was raining.
The concept of a service was introduced in 1997, and it was first held at the chapel of Hope and Sons funeral directors.
In 1998 it was transferred to the memorial garden, where it has been held ever since.

GARDEN CAREFULLY TENDED

In its sheltered north-facing site at the far eastern side of the cemetery, the garden is an inviting place.
Established by Baby Bereavement Group members who gained generous support and assistance from community service organisations, local companies and Dunedin City Council community and recreation services, it is a place where many people go to reflect.
Over the years it has drawn constant interest from cemetery visitors.
Its centrepiece, a contemporary sculpture of a mother and child, particularly gains the attention of passers-by.
Many mementos are placed within the circular paved area and around the sculpture.
These appear in the garden at all times of the year, indicating that it is fulfilling a real need in the Dunedin community.
Another testament to this need is the increase each year in the number of permanent memorial plaques placed on the low surrounding wall. These represent babies as far back as 1952.
Anyone is welcome to place a plaque on the wall. These can be ordered through Dunedin Monumental Masons or John Swan & Co.
The group was grateful for the Dunedin City Council's ongoing interest in the upkeep of the garden.
The carefully tended Baby Memorial Garden at Andersons Bay Cemetery will once again be a fitting venue for the annual memorial service.
LIGHTHOUSE CANDLES
Each year at the Baby Bereavement Group's memorial service, candles are handed out to encourage people to participate in the International Wave of Light on October 15 at 7pm.
These candles are provided by Mary Woodrow, owner of Lighthouse Candles, an exciting business in Balclutha.
Mary creates hand-poured natural soy candles. For more info, visit www.lighthousecandles.co.nz