The rain falls down, the southerly whistles through, and frost blankets the ground. Escape from the icy outdoors and hibernate with these cosy interior ideas this winter. We tend to spend more time hunkering down at home in winter, so it's worth making our surroundings as welcoming and comforting as possible.
It's well known that colour affects our mood – blues make us feel reassured and relaxed, while red stimulates our appetite. What are known as 'cool' colours like pale blue and white make us feel refreshed, while 'hot' colours like red and brown evoke a cosier feel.
While touching a wall painted in warm tones like terracotta, brick red, leathery browns or deep golds may not make us actually feel hot, looking at it will certainly make us feel cosy. The visual power of colour can't be underestimated. Just look at these paint colours, and they're sure to make your insides defrost a little – Resene Mai Tai, Resene Tall Poppy, Resene Brown Sugar, and Resene Tussock.

They are also the colours of spices like turmeric, chilli, paprika and cumin, making us dream of hot-climate getaways. Isn't that what we all fantasise about in the depths of winter, when the rain just doesn't stop falling?

Most of us are cautious about painting our walls in what we fear may be overpowering colours. But if you balance warm colours with cooler shades, or use them as accents themselves, you can easily strike the right balance.

As a colour, red has languished in the popularity stakes recently as we cosy up to other colours like duck egg blue, millennial pink and crisp white. But keep an eye out. Red is under revival, especially in dark wine shades and burgundies. At this end of the world, we like our reds with a bit of blue in them, rather than tomato reds which can feel too heavy in our temperate climate. It's the difference between something like Resene Vanquish (blue based) and Resene Whizz Bang (a more orange red).


Go dark
The colour doesn't have to be 'hot' to work as a winter warmer. Dark will do it. Most dark colours have the ability to make us feel cocooned and enclosed. Think stormy blues, faded blacks, bruised purples and swampy greens. Check out Resene San Juan, Resene Possessed, Resene Jimmy Dean, and Resene Waiouru.
These dark colours can go with any style of house. They can be used for retro glam, edgy and architectural, classic, earthy and organic… anything goes.
Dark colours, and in particular inky blues, are ideal for bedrooms. These types of intense blues are calming and soothing, perhaps because they remind us of the night sky or ocean depths. They almost seem to dull sound, and shut out the clamouring world, allowing us to drift off to sleep more easily. Yes, the lights will be out so you won't actually see the colour, but we all know that the wind-down to lights out time is important – feeling warm but not too hot, banning screen time just beforehand, and being surrounded by enveloping dark colour. Add a so-soft-to-the-touch washed linen duvet cover and a downy coverlet for a great winter's night sleep.
Give darker colours added drama by using a matte paint like Resene SpaceCote Flat. It gives a velvety finish to the walls, and also absorbs light so makes the walls appear even richer in colour.
Rich or relaxed
Jewel colours like amethyst, ruby, sapphire and jade have sparkled to the fore of late and are perfect for adding richness and warmth to a scheme. Don't go too 'pure' with your colour, or you might end up with a room that looks more nightclub or boudoir, than elegantly rich. Try colours that are more faded European aristocrat then new money like Resene Mamba, Resene Shiraz, Resene Aquamarine, Resene Takaka, and Resene Essential Cream.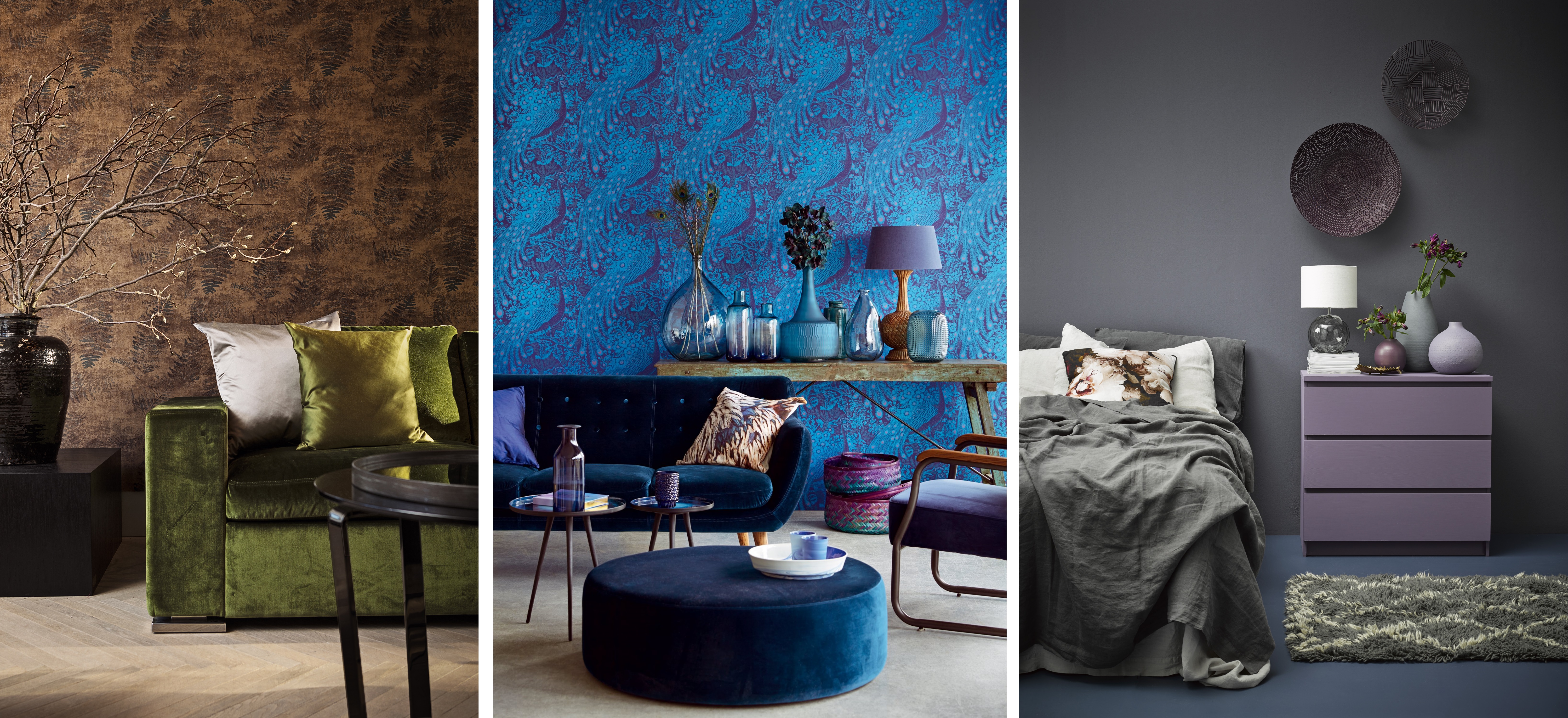 Pictured above: LEFT: Textural earthy wallpaper and the richness of a green velvet sofa creates a welcoming winter scheme. Resene Wallpaper Collection design 218451 echoes fossilised leaves, or the forest floor. MIDDLE: Bruised lilacs and purples are perfect for a bedroom retreat. Resene Gun Powder, with Resene Avalanche and Resene Chapta And Verse. (Styling: Claudia Kozub; images: Melanie Jenkins). RIGHT: Resene Wallpaper Collection design E378006 from Resene ColorShops has glimmering sapphire coloured motifs like peacock features for an ultra-luxe feel.
If dark, warm or jewel colours isn't to your liking, and mid tones are more your thing, choose greyed off versions of your colour, so make your blues smoky, your greens muddy and your greys more greige. Try Resene Casper, Resene Secrets, and Resene Truffle.
If you're a white-lover, know that whites are trending towards warmer shades, which will help with your winter scheme. We're welcoming back such great classics as Resene Spanish White, but maybe in its half or quarter strength. And Resene Pearl Lusta has been popping up more often of late. Also check out fleecy whites like Resene Merino and oatmeal shades like Resene Half Wheatfield.
All in the detail
Of course, all paint colour has the ability to be trans-seasonal. It's all about the accessories. You might have a jute rug in summer, then swap it out for a deep pile rug in winter. Add a knitted or fur throw for winter, a velvet cushion or two, some aged brass or copper accessories and light candles in the evening for extra atmosphere. Upcycle a tired piece of furniture in a warm or dark coloured paint to give a hot shot to the room.
Organic shapes and letting objects be imperfect adds to a relaxed sensibility. The revival of natural materials like rattan, leather, stone, terracotta, timber and cork add character and warmth because of their tactile textural appeal. On timber floors or furniture, use rich-coloured stains like Resene Dark Oak or Resene Japanese Maple from the Resene Colorwood stains range.
Lighting plays a big part in a winter scheme, not least of all because the sun goes down early. Creating atmospheric pools of golden light with table and standard lamps may be better than switching on the task-based, light-up-everything LED downlights. Or use wall sconces to wash your beautifully coloured wall with a soft shaft of light. There is a vast range of styles in pendant lights – woven, fabric, timber and more. Add an old-fashioned incandescent light bulb which casts a warmer light than an LED bulb. Light a candle, turn on the gas fire and snuggle up.
Wallpaper is ideal for creating a cosy or rich look. Try a textured wallpaper for extra feel-good factor, or one with a glowing sheen. Check out the full range from the Resene Wallpaper Collection at your local Resene ColorShop.