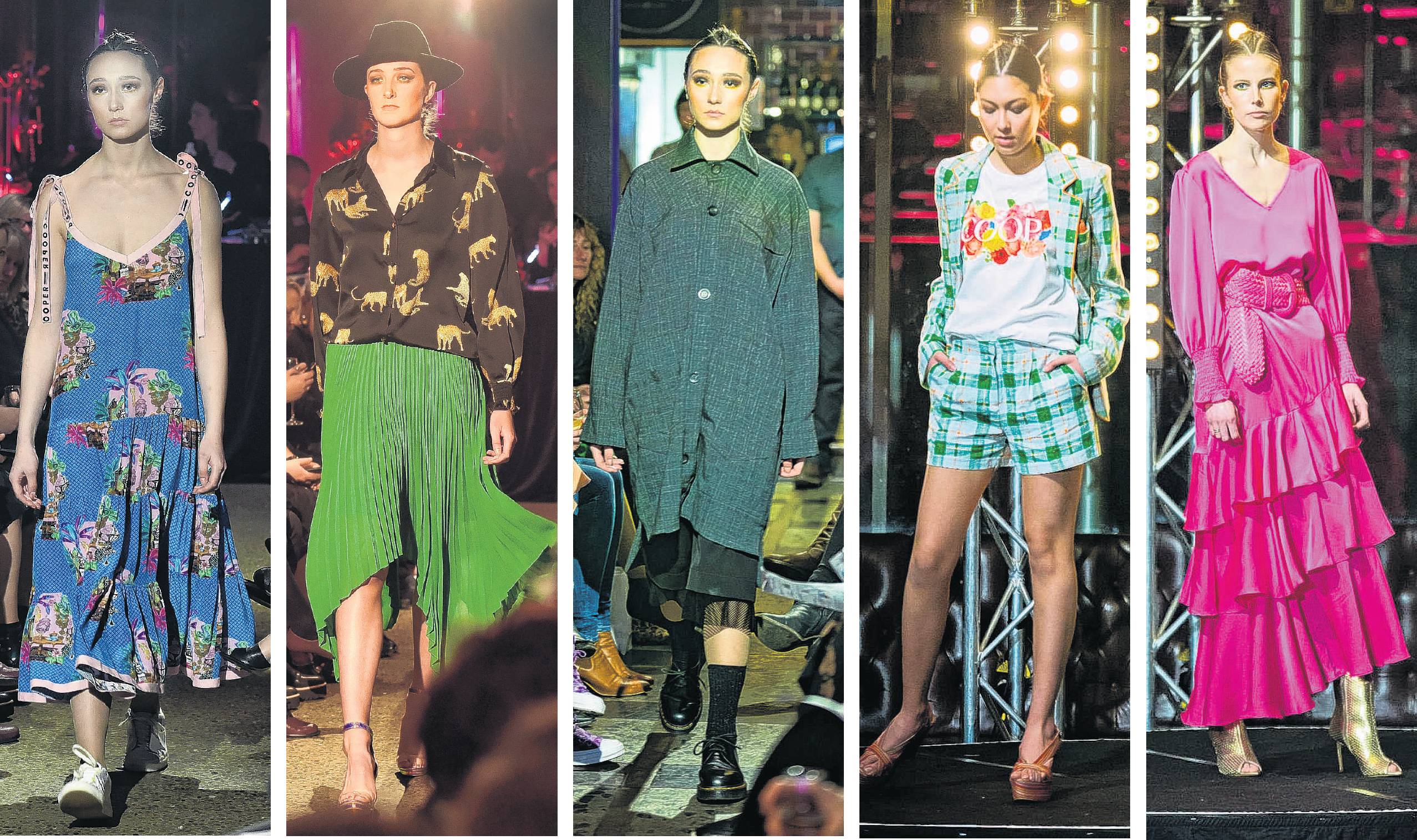 Dunedin fashion supporters got to see a selection of New Zealand designers' latest summer collections at the Fashion for a Cure fundraising event last week. For those who missed out, Katie Day gives a glimpse of what is to come this season.
The trends of summer were distinct - silhouettes captured volume and movement at every turn - vibrant shades of green and pink emblazoned the runway and patterns of plaid could not be missed.
Spring/summer collections from Amaya, Cooper, Kathryn Wilson, Zambesi, Augustine, NOM*d, COOP and Trelise Cooper hit the catwalk at the Breast Cancer Cure Fashion for a Cure event at Emerson's Brewery last week.
It attracted a sell-out crowd, mostly draped in wool and iconic Dunedin black, eager to support the cause and their first fashion show post-lockdown. The air hummed with jubilation.
The runway show opened with local flair, premiering NOM*d's summer collection - the iconic Dunedin label's first showing of the collection.
"The other exciting thing this time round ... nobody has seen it so far, so it's quite nice to be able to put it together," designer Margarita Robertson said.
Models wearing shades of deep blue, cream and plaid, wandered through a labyrinth of seated guests. The exploration of colour continued, featuring subtle hues of pink juxtaposed against gathered shoulder details.
The development and presentation of NOM*d's summer collection felt the impact of Covid-19.
"We're selling the collection, we've had to photograph and do everything long distance, so it's quite interesting to have the actual public be able to see it in the flesh now," Robertson said.
Silhouettes across all collections, captured volume and movement at every turn. Shirts were accentuated at the shoulder or wrist, then drawn in to create bishop sleeves.
Dresses projected an air of nobility, with high gathered necklines while long flowing tiered skirts alluded to the freedoms of summer.
Pants were loose, wide legged, cropped at three-quarter length and styled with cropped jackets and sneakers. Pockets, buttons and belts were scaled up and these outfits were made consistently of heavy cotton or linen.
A signature of femininity brushed across the collections with ruffles and pleats crafting motion on most surfaces.
Fashion for a Cure is a series of fashion shows and fundraising events held across the country annually by Breast Cancer Cure (BCC).
BCC chief executive Phillipa Green said the event was about funding scientific research for breast cancer.
"We're still the only organisation that solely focuses on a cure and basically just does research."
The origin of the event was in T-shirts designed by local designers and sold by women's fashion store Glassons.
"There were some celebrities and designers that collaborated, or put in their designs, and one of them was Andrea Moore. She came up with the idea ... and said, 'Why don't we do a fashion show? We'll put all of these designers together and do a real show!'."
It started off with a show in a car yard in Auckland and has gone from strength to strength.
"We've taken it further than Auckland, right around the country, grown the number of designers and we've had sell-out shows each year."
Fashion for a Cure draws together the talents and generosity of the New Zealand fashion design community to curate an atmosphere of dual purpose, to support women and celebrate life, Green says.
"That was something we could do differently than other charities, to help women get together and support each other, whether they're a breast cancer survivor or just want to protect your mothers or your daughters, for the next generation, then you can come along and support what we do, in a different way. Basically, you're getting something in return for your donation, you're buying a ticket ... but a night out with the girlfriends and celebrating life and celebrating the lives lived."
Moments of quiet were few and far between during the festive affair but patrons listened intently as Otago University Prof Parry Guilford spoke on the importance of cancer research and the gravity of the donations being made.
The event raised $62,775.
Green said the impact of the donations would keep the New Zealand scientists going.
"We have so many in the Otago region doing wonderful things ... It's helping to fund people like him [Prof Guilford] to keep the lantern going in breast cancer research."
The event was a chance to celebrate life and being together again.
"Everybody comes together and feels good about being out, celebrating life and being together again ... While none of us can really stop Covid, we can help [efforts to] stop breast cancer in the future; that's what we can do and that's what we are doing."