A touch of nostalgia, optimism, fantasy and a generous dash of ease mark this year's back-to-work trends. Katie Day observes the looks of 2021 and offers insight for curating a fresh wardrobe.
The new year has us wandering back to work wondering what to wear. A turn of the calendar brings fresh energy, inspiring change and clarity in all areas, providing a fresh perspective to our work wardrobes.
Covid-19 has transformed the way we work: our home and professional spaces have fused as we shelter from a global pandemic.
We exchanged slingbacks for slippers and found comfort, versatility and reliability in our clothing. This year, however, trends with notes of ease, nostalgia, exploration and fantasy are emerging as we continue to adapt and integrate to our current climate.
Designers have taken the time to reflect and refine their collections to meet the needs of today's market, many releasing collections that are a hybrid of optimism and stability.
Garments imbue a spirited optimism, providing the wearer with a pathway of escape into the unlimited destinations of their mind's eye.
The designs also clothe the wearer with comfort, tapping into a collective need for security. The nostalgia of 1990s trends and relaxed tailoring provide effortless comfort and structure to our modern wardrobes.
As we curate our wardrobes with how we feel and want to express ourselves, let's also observe current back-to-work trends.
Relaxed tailoring 
This is all about taking your wardrobe back to basics with classic silhouettes, styles and shapes that fit and playing with sizes for loose, easy comfort.
Think oversized boyfriend blazer with the sleeves rolled up, draped wide-leg trousers cinched at the waist, paired with a soft cotton shirt and iconic sneaker or relaxed loafer.
The key to creating a slouchy effortless back-to-work look in relaxed tailoring is to soften harsh lines with drapey fabrics in gentle tones such as cream, khaki and powder blue.
Extravagant accessories 
Our work meeting spaces have extended online and, with the little screen reflecting our interactions back to us, our awareness of how we show up to meetings is heightened.
Bold, expressive, extravagant accessories are being seen across the globe in Zoom meetings and are one way to embrace and make the most of being on screen.
Large earrings, necklaces, scarves and headbands infuse interest, texture and play into your online and offline meetings.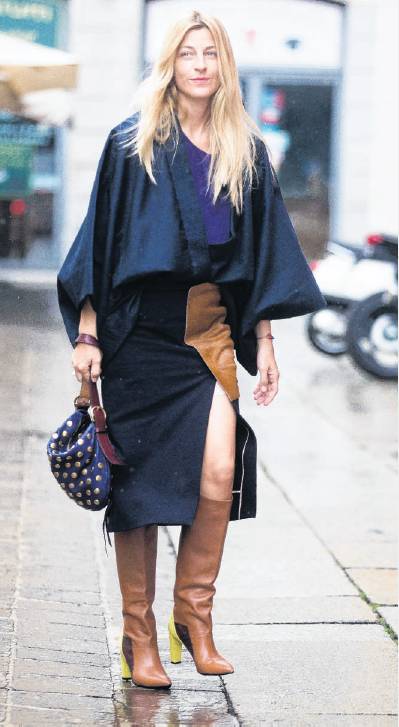 Asymmetry 
As travel outside our borders is extremely limited, fashion is instead seeing its patterns shifting. Exploration of shape and form is taking precedent and asymmetrical silhouettes are here to stay.
Work asymmetry into your professional wardrobe through uneven hemlines of an extended shirts or skirts, alternating sleeve lengths, off centre button stands and garments with uneven distributions of volume gathering or pleating.
There's beauty and lateral thinking to be found in the imperfection of asymmetry.
Nineties nostalgia 
Blasts from the past cue fond memories. Brands are utilising that to emotionally connect with their audiences, providing reassurance and familiarity.
The styles of the 1990s and early 2000s have been reimagined for 2021. Subtle refinements have refreshed nostalgic styles, giving higher waistlines to baggy pants and a softer colour palettes to familiar knit styles, such as the turtleneck and mesh second-skin top.
Dress silhouettes that have also seen a resurgence include the slim-fit cowl neck dress. To freshen your back-to-work wardrobe with familiarity and fun, incorporate any element of the past that sparks a memory for you.
Make your own 
Time spent in lockdown inspired a conscious return to craft or creation and for many that meant dusting off the dressmaking books.
Time for reflection and learning paired with limited access to international fashion, yet more access to online patterns, led to a rise in personal dressmaking.
Exploration and fantasy are to the fore as many dream up their own designs that are full of optimism, joy, ease and nostalgia.