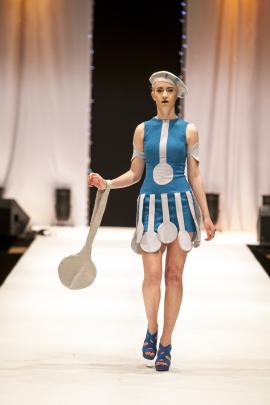 Beginner's luck turned into a supreme award for Hamilton designer Louise Cook at last weekend's WoolOn fashion show, where a hand woven, Japanese inspired piece took out the top prize.
The Otago Daily Times WoolOn Creative Fashion event was the first fashion show Mrs Cook had entered, and she said she was overwhelmed by her win.
''I think it must be beginner's luck.''
Mrs Cook's ''Wool You Love Me?'' entry won the ''handcrafted'' section, and was then chosen as the supreme winner from the nine category winners.
The 100% wool dress, which featured geometric patterns and used a blend of cashmere and Ridgevale Romney wool, was made from a single piece of cloth which Mrs Cook hand wove using the Saori technique from Japan.
The ''freestyle'' hand weaving technique was developed by Japanese weaver Misao Jo about 45 years ago and encourages creativity and irregularity in woven pieces.
Mrs Cook, who has ''always crocheted'', and starting felting about eight years ago, works as a high school English teacher.
She was inspired by a Saori course she did in Tauranga three years ago, and then travelled to Japan about six months after that to learn more about the technique. She returned to Japan last month for another course, this time in clothing design.
She only returned to New Zealand on Friday, and almost didn't attend the Alexandra event on Saturday, as she thought it was ''cutting it too fine'' to travel there the day after returning from her Japanese trip.
WoolOn event manager Martin McPherson said it was ''marvellous'' that Mrs Cook had been able to attend WoolOn, and her entry was a ''beautiful, beautiful garment'' that was technically outstanding.
The event was the last in the 2015 Alexandra Blossom Festival programme.
All entries in WoolOn had to be at least 75% wool. About 600 people attended the fashion shows, which were held on Friday and Saturday evenings.
---
Awards
Streetwear: Winner, Viv Tamblyn, of Gore, with ''Winter Belle''; highly commended, Heather Kerr, of Wanaka, with ''Autumn Style''.
Avante Garde: Winner, Carolyn Laing, of Clyde, with ''Tangled Tequila''; highly commended, Simone Montgomery, of Dunedin, with ''She Wears the Pants''.
Collections: Winner, Daphne Randle, of Alexandra, with ''The Highlanders''; highly commended, Helen Millen, of Picton, with ''Tai Tane''.
Felted: Winner, Heather Kerr, of Wanaka, with ''Mondrian Again''; highly commended, Bev Muir, of Cromwell, with ''Silhouette''.
Handcrafted: Winner, Louise Cook, of Hamilton, with ''Wool You Love Me?''; highly commended, Mary Self, of Wellington, with ''Coat of Many Colours''.
Special Occasion: Winner: Sharon Gilchrist, of Alexandra, with ''Spring Wrap''; highly commended, Laurel Judd, of Napier, with ''Fringe Benefits''.
Machined: Winner: Laurel Judd, of Napier, with ''Diego''; highly commended, Viv Tamblyn, of Gore, with ''Kaleidoscope of Wool''.
Novice U18: Winner: Josephine Reeves, of Lower Hutt, with ''Sixties Style''; highly commended, Mhairi Bronte Duncan, of Dunedin, with ''Summer Fruits'' and Chelsea Matheson, of Port Chalmers, with ''Onwards and Upwards''.
U23 Emerging Designer: Kimberly Ramsey, of Queenstown, with "Unknown Curiosity''.
Supreme Award Winner: Louise Cook, of Hamilton, with ''Wool You Love Me?''
---