With its bold, vibrant, jewel-like colour and sweet earthy flavour, beetroot is the star ingredient in this elegant soup.
Its distinctive flavour partners particularly well with the rich autumnal aromas of mushrooms. Potato thickens the soup while contributing its own earthy flavour.
Red wine vinegar and cumin add a lively edge to the beetroot's sweetness, making for a complex soup. It is really good.
When pureed, the texture should be velvety smooth. To achieve this the beetroot needs to be cooked until very tender. This takes about an hour but as it simmers away gently at the back of the hob this is absolutely no trouble.
Do look for dried mushrooms from China as they are very reasonably priced. Asian food stores and most supermarkets stock them, usually in the specialty foods aisle. I buy both the dried shiitake mushrooms and an interesting looking mixture of dried edible fungi called Assorted Mushroom mix. I have made the soup using both types.
Rex cheese melts
Toasted cheese rolls have been a popular snack in the South Island for more than 60 years. They have been served in cafes, milk bars and tearooms since the 1950s and probably in home kitchens since at least 1960. However, it was the introduction of sliced bread in the 1950s which boosted the popularity of the cheese roll. They became so much easier to make.
The ''authentic'' cheese roll has been defined as having a precooked filling. There are several versions of precooked fillings in circulation and the one I have chosen to use is the Rex cheese filling. Rex cheese spread was a processed cheese sold in tins in Australia and New Zealand during the 1920s. The first homemade version of this appeared in print in the first edition of Dainty Recipes, issued by Dunedin's North East Valley Presbyterian Church in 1926.
The reasons toasted cheese rolls have remained a southern favourite is unclear but it is one of our few distinctive regional dishes.
My grateful thanks to Emeritus Professor Helen Leach and Dr Raelene Inglis for providing this information from their publication: Toasted Cheese Rolls, a regional specialty in New Zealand.
---
Beetrot and mushroom soup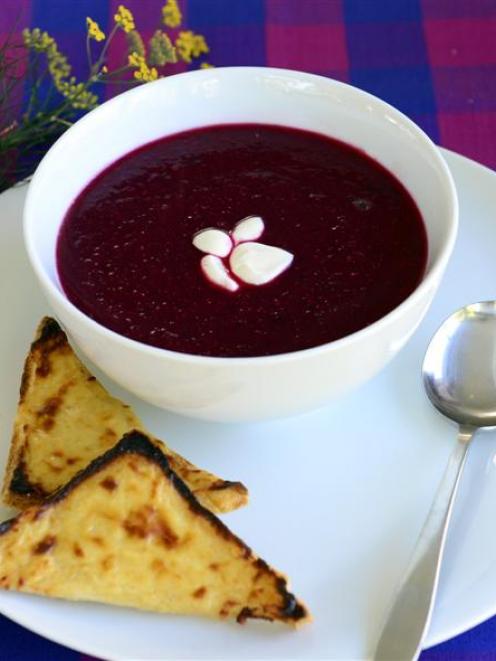 Ingredients
15g shiitake or other dried mushrooms
1 cup warm water
1 Tbsp olive oil
1 large red onion, finely chopped
3 plump cloves garlic, crushed
¾ tsp ground cumin
½ tsp prepared chilli from a jar
650g trimmed beetroot (3-4 medium) peeled and cut into 1cm dice
one medium potato (160g). Choose a floury variety such as agria or desiree. Peel and cut into 2cm dice
3 cups boiling chicken or vegetable stock
2 Tbsp red wine vinegar
salt and pepper
To serve
½ cup sour cream or Greek yoghurt plus extra in a bowl to serve at the table 
Method
Place the dried mushrooms in a small bowl and add the warm water. Set aside to steep.
Heat the oil in a large saucepan over medium heat. Add the onion and garlic and saute for a few minutes until the onion is limp but not brown. Add the ground cumin and the chilli and cook gently, stirring, for another minute. Add the diced beetroot and stir to combine. Add the potato, boiling stock, red wine vinegar and the mushrooms with their soaking water. Bring to the boil, cover with lid, lower the heat and simmer gently for about an hour, stirring occasionally until the beetroot is very tender. Cool a little, then puree in a food processor or blender until smooth.
Return to the saucepan and reheat. Check the seasoning, adding salt and pepper if required.
Ladle the soup into heated soup bowls and swirl in a spoonful of sour cream or Greek yoghurt. Serve accompanied by the Rex cheese melts.
---
Rex cheese melts
For this recipe I have not rolled thin slices of white bread around the pre-cooked cheese filling and toasted it. Instead I have spread the uncooked filling on slices of sourdough or grainy bread and popped them under the grill until the mixture is golden brown and bubbling.
Ingredients
serves 8
125g grated tasty cheese
4 Tbsp standard milk
1 large egg, size 7, lightly beaten
1 Tbsp vinegar
½ tsp mustard powder
1/8 tsp cayenne pepper
slices of sourdough or grainy bread, toasted 
Method
Place all ingredients except the bread in a medium-sized bowl and beat for 20-30 seconds with a fork until a creamy consistency is obtained.
Spread the Rex cheese on each slice of toast (I do not butter the toast) and arrange on an oven tray. Place under a preheated grill until golden brown and bubbling.
---