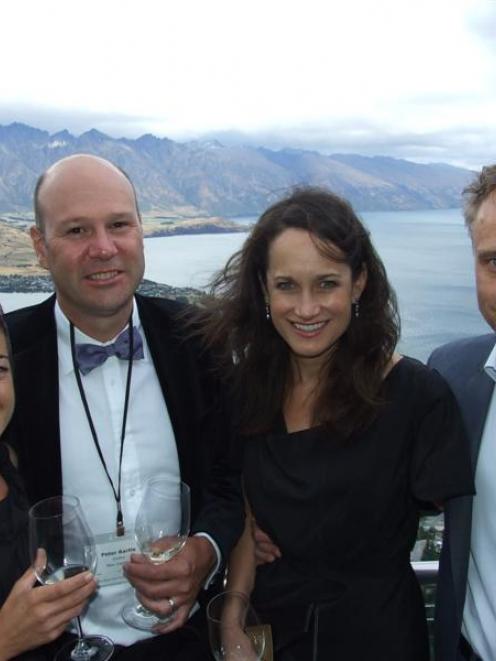 Central Otago wine producers were in town for their annual tasting last week. Having tasted numerous pinot noirs a couple of weeks ago, I took the opportunity to look at the whites on show - particularly the wonderful rieslings, which offer great value for money.
Riesling is a hard sell, several of the producers said.
It polarizes people. On one hand are wine lovers who appreciate its ability to express the place it comes from, its amazing ability to develop with age, its charm, its stylish fruit and variety of styles, from bone-dry to intensely sweet, but always with a lively backbone of acidity, and on the other hand are those who don't understand it and often expect something sweet and simple.
Central Otago riesling may sometimes be sweet but it's rarely simple, and there were several three- or four-year old wines on display which are drinking superbly now - intense, harmonious and delicious. Others were young - 2011 or 2012 - and so fresh and youthful it seems a shame to enjoy them now when, given a couple more years to mature, they will surpass themselves.
Good riesling is the one white wine that benefits from bottle age, which harmonises and integrates the steely acidity and the fruit and any sweetness.
Some of the rieslings that that stood out at the tasting were: the charming, limey Rockburn Parkburn 2009; Rippon's rich, marmalady 2010; Peregrine's fragrant citrus and buttered toast and marmalade 2008; Mt Difficulty's Target Gully fresh, tropical-fruited 2012, Kingsmill's Tippet's Race intense, dry, citrusy 2009, Ellero's textural, nuanced 2011, the first crop from the grapes on their remarkable north-facing slope; Domain Road's intense, marmalady sweeter Duffer's Creek 2011; Ceres' bright, mouth-filling Full Circle 2012; Carrick's complex, textural 2011; Aurum's charming, limey and deliciously mature 2008; Akarua's fresh, lively 2012; Two Sisters' fragrant, beautifully balanced 2008; and Valli's delicate but steely Old Vine 2011 and its luxuriously botrytised, apricoty Dolce Vita Late Harvest 2011.
Riesling, dry or off-dry, is great with seafood of many types. With its lively acidity, an off-dry or medium sweet riesling is a lovely aperitif with nibbles.
For those interested in wine, it's certainly a variety worth exploring.
• There were two other noteworthy things at the tasting: Mt Difficulty was showing a 2012 chenin blanc, its first release and the first commercial chenin I've seen from Central.
It's wonderfully fragrant with herbs and flowers, and made in a sweeter style but with a lively intensity and delicious, steely acidity.
Several growers, mostly from South Africa, where chenin is known as steen, have planted chenin in Central. It's one of the main white grapes of the Loire Valley in France, where it produces a range of styles from sparkling through dry and sweet wines to botrytised dessert sippers.
• Also new at this tasting was Terra Sancta, owned by Mark and Sarah Weldon, who bought the former Olssen's vineyard in Felton Rd, Bannockburn, along with some extra vineyards, one next door and one on the Cairnmuir side of Bannockburn.
After a year's hard work they are presenting their new brand with attractive labels evocative of Middle-earth and nostalgia for ancient maps. "Terra sancta" means "sacred earth" or "special dirt" and the owners aim to nurture their vineyards and make wines that reflect them.
Weldon, a former chief executive of the New Zealand stock exchange, says he aims to over-deliver in terms of quality and value and to build relationships with customers by producing top level wines that are well priced.