Being able to share her many years of baking knowledge appealed to Allyson Gofton when the idea of writing a new cookbook was raised. She tells Rebecca Fox about her passion for the changing way we eat.
What people will eat in the future is changing - just like it did back in the late 20th century when New Zealanders discovered things such as hummus and pesto.
New Zealand food writer and chef Allyson Gofton is keen to ensure that the new generation of Kiwis have the skills to adapt to these changes.
"It was an eye-opener to how skills have not been transferred down the generations.
"Kids today will live a terribly different life."
In her latest cookbook, The Baker's Companion, Gofton imparts the knowledge she has gained over 17 years as a food writer.
A champion for simple, economical, nourishing food delivered with love, Gofton decided to go ahead with the book after realising many people did not understand the need to beat, or knead or whip during baking.
"I wanted to show why you are doing what you are doing, but not in a technical book. So you know if you don't do it why the cake collapses."
The result is a series of basic recipes which can be transformed into other treats — a butter cake can become a lamington, a fruit cake transforms into a white chocolate cake.
"It's a foundation. From that you can change ingredients."
She also wanted bakers to know that if they did change the ingredients what the implications would be.
"That if you use oil instead of butter you won't get the same outcome."
It has been a stressful 12 months for Gofton, who has not only put the book together but moved from Auckland to a life-style block in Cambridge.
Gofton and husband Warwick Kiely had been contemplating the move after returning from a trip to France.
Their time in France had shown Gofton the family could make a home wherever they were.
The idea of living in Cambridge came after visiting son Jean-Luc, who was boarding at St Peter's College. He had been struggling with the long-term effects of a concussion, but found the routine of the college worked for him.
"We looked at Cambridge with new eyes and with Olive-Rose about to start year 7 decided to go."
So Gofton is spending the next few months settling in to her new home before she starts thinking about her next project.
Last year, she did some work for the New Zealand Nutrition Foundation in schools educating young people and their parents about the changing world of food.
"Things are changing whether we like it or not. People need to cook nutritious food without the stress or guilt. The most important thing is they have have a nourishing diet."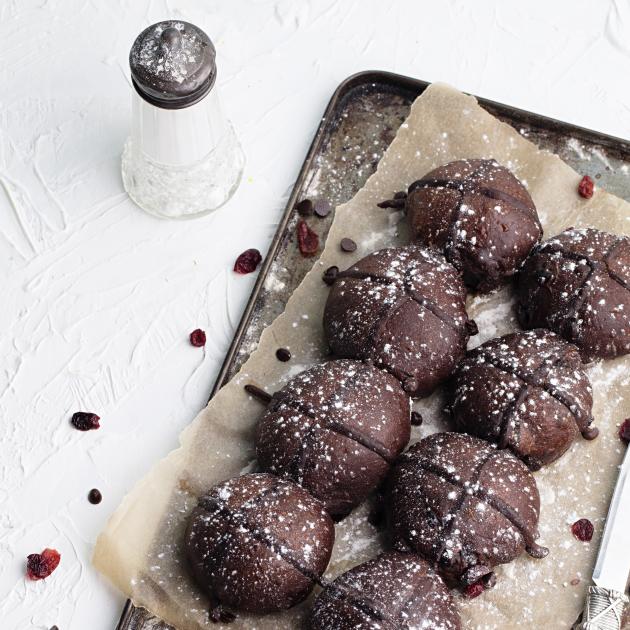 Chocolate hot cross buns
Rejuvenate hot cross buns with a rich chocolate dough, flecked with chocolate chips and dried cranberries.
MAKES 12-16
Prep time 1 hour
Cook time 20-25 minutes
Prove time 45 minutes
INGREDIENTS
3/4 cup dried cranberries
2 Tbsp brandy
1 and 1/2 cups tepid water
1/4 cup caster sugar
2 Tbsp honey
1 Tbsp salt
75g butter, softened
3 and 1/2 cups high-grade flour
1/2 cup cocoa powder
5 tsp active yeast mixture (dried yeast with bread improvers)
1/2 cup chocolate chips
Crosses
2 Tbsp flour
1 Tbsp  cocoa powder
1/4 tsp baking powder
1 Tbsp softened butter
2-3 Tbsp milk
Sugar glaze
2 Tbsp boiling water
3 Tbsp caster sugar
Optional
12 tsp orange blossom water
METHOD
Mix the dried cranberries and brandy together and set aside.
Into a bread machine, put the ingredients in the following order: tepid water, sugar, honey, salt, butter, flour, cocoa powder, then yeast. Set the machine to dough setting. Once the dough is ready, turn out on to a floured surface and deflate gently.
Scatter over the cranberries and brandy as well as the chocolate chips and knead in gently. Cover and rest for a further 10 minutes.
Preheat the oven to 190degC (170degC fan bake). Set the rack in the centre of the oven. Grease a baking tray.
Divide the dough into 12-16 even-sized pieces and shape into rounds. Place on the prepared tray about 2cm apart. Cover with a clean tea towel and leave in a warm place for about 45 minutes until doubled in size.
To make the mixture for the crosses, sift together the flour, cocoa powder and baking powder. Rub in the softened butter, and add sufficient milk to make a smooth paste. Fill a piping bag with the mixture and pipe crosses on top of the buns.
Bake the buns in the preheated oven for 20-25 minutes or until they are well risen and sound hollow when tapped underneath.
Meanwhile, make the sugar glaze. Stir the boiling water and sugar together in a bowl until the sugar has dissolved. If needed, heat for half a minute in the microwave. Once dissolved, add the orange blossom water if using.
Remove the buns from the oven and quickly brush with the sugar glaze. Transfer to a cake rack to cool. Serve warm.
These buns keep well in a bread bin for 2-3 days.
To make by hand
Prepare the cranberries and brandy as above.
Stir together the yeast, honey and ½ cup of the tepid water and set aside for about 5-8 minutes until the yeast dissolves and becomes slightly frothy.
Sift the sugar, salt, flour and cocoa powder into a large bowl and make a well in the centre. Pour in the yeast liquid, remaining tepid water and butter and mix with one hand to form a sticky mass. Turn out on to a lightly floured board and just bring together. It will look untidy. Cover with a clean tea towel and leave for 10-15 minutes.
Push the dough out a little and add the cranberries, brandy and chocolate chips. Fold the dough up like a three-folded business letter and begin to knead. The dough will look almost as if it is about to separate into sections. Don't worry  just keep kneading until you have a smooth, supple dough. Dust the board with flour only when needed.
Transfer to a greased bowl, cover with greased plastic wrap and a tea towel and set aside until doubled in bulk. Turn out and shape into buns, then proceed to bake as above.
Tip: If wishing to use active dried yeast in this recipe, allow 21/4 tsp.
Variation: Classic hot cross bun: Omit the cocoa powder and replace with flour. Use mixed dried fruits in place of cranberries, and omit the cocoa in cross ingredients too.