For Grenville Caughey, spending two days tasting beers from around the country has been an unforgettable experience. He tells Rebecca Fox about the career change that gave him the opportunity to learn from the best.
Intimidating.
That is the one word Grenville Caughey keeps coming back to when he talks about his experience sitting alongside New Zealand's top beer judges, brewers and writers at the New World Beer & Cider Awards judging in Christchurch last week.
"They're all well known and they've all got incredible palates."
As Otago Polytechnic Brew School's top student in 2020 and the recipient of the Otago Brew School Scholarship, Caughey, from Invercargill, was named as one of seven associate "in training"' judges for the awards.
It meant spending two days in one of the small teams — there were 34 judges all up — blind-tasting around 40 to 50 beers each per day to find the top 30. The teams discussed each entry, debated their points in-depth and rated each one on technical excellence, balance, mouthfeel and drinkability.
"It was pretty special."
It is a long way from Caughey's previous life as the head of the saw doctor team at Niagara Sawmilling Company, where he was responsible for ensuring the forestry company's saws were kept sharp and straight.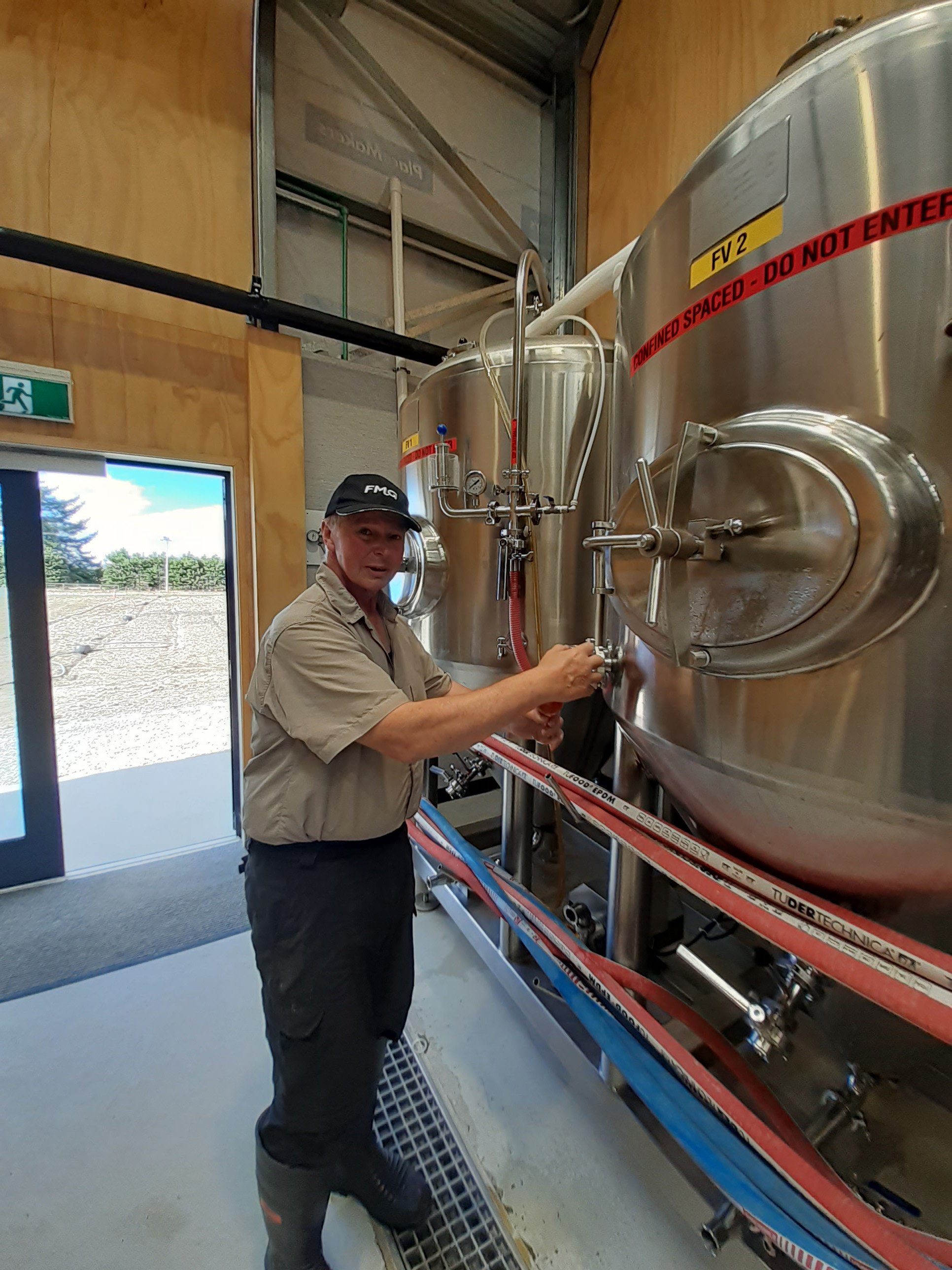 "Your job every day was to put out a good saw. Then it would come back to you blunt or worse. You are doing the same thing every day."
Caughey was at the Dunedin Craft Beer & Food Festival when he saw a flyer about the brew school.
Already a keen homebrewer, he got into all-grain brewing about four years ago.
"I saw the flyer and thought I could give it a crack. Making a great beer sounded pretty rewarding."
He enrolled in the Cromwell-based brew school, with the plan to open a taproom in Invercargill after completing the course, serving great beers on a small scale.
The idea was to commute between Invercargill and Cromwell for the course, but that changed when his wife, Barbara, decided she liked living in Central Otago. The couple have three adult children.
"She followed me up and we got a little place."
Luckily, they had moved in and bought the materials needed to renovate their home before lockdown so they were able to do the work. He spent the remainder of his time reading about brewing, looking at course material online and tasting different beers.
He admits the change from a full-on day job to studying, with its more relaxed timetable, was challenging.
"I was used to hitting the ground running at 6am and not getting home until after 6pm some nights. So it was quite a change for me."
Caughey also had to learn about computers and chemistry, which he had to really focus on.
His hard work paid off when he was named the top student for 2020 and given a job at the Brew School's commercial brewery supervising students. With 18 students this year, the school's biggest class yet, they have divided the group into three to enable them to all fit into the brewery.
"I know my way around a brewery pretty well now. I'm really there to make sure the brewing goes right."
Caughey admits making the career change had been quite daunting.
He gave up a secure, well-paid job and had to rely on his wife to support him for a year.
"It's a big step to take but its been good for both of us."
'Hazy', 'sour' beers having their day
New Zealand's top beer trends are getting further and further away from the South's traditional favourite, Speight's, beer writer Michael Donaldson says.
Fresh from leading judging at the New World Beer & Cider Awards, where 650 beers, ciders and seltzers were judged, Donaldson says it is the "hazy" and "sour" beers which stood out.
"New Zealanders are getting more adventurous. They're a long way from Speight's with its caramel, sweet, subdued hops flavour."
Three or four years ago, hazy beers hardly rated a mention but this year made up 15% of field, the second-largest category, while there were nearly as many "sours" as pilsners or lagers.
Hazy beers are brewed to appear cloudy and are usually bright orange in colour. Often referred to as New England IPA (they were created in Vermont in the United States), they feature flavour characteristics of peach, apricot and passionfruit.
There was quality to back up the number of entries, with at least five that could make the top 30 of the competition, Donaldson says.
"That's quite a big number proportionally, but it reflects the entry numbers and the popularity of the style."
Donaldson believes New Zealand's tastes have traditionally leaned towards sweeter beers, so the new hazys which are fruity, sweet, with a creamy luxurious mouth-feel, tap into that.
"As an entry-level beer they are really good. They are finding an audience that normally doesn't drink beer."
Sour beers also stood out with a range of beers entered. Fruit flavours included guava, passionfruit, boysenberry and nectarine. Donaldson predicts about 12 will make the top 100.
And for the first time, the panel also judged seltzers.
"It was an interesting experience."
• The resulting New World Beer & Cider Awards Top 30 will be announced later this year.