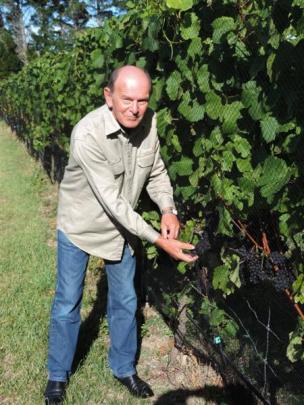 Here in the South we tend to focus on Central Otago pinot noir, but a recent visit to Martinborough reminded Charmian Smith that it, too, is a specialised pinot noir region with its own character.
An hour or so's drive over the Rimutaka Hill north of Wellington, Martinborough is a destination for wine and food lovers, with many cafes and accommodation options both in the compact township and in surrounding vineyards.
Established in the early 1980s, a few years earlier than Central, the oldest vineyards on the outskirts and within the township are more than 30 years old, but many others have sprung up further south, particularly along Te Muna Rd and Dry River Rd, which are all on similar old river terraces.
Like other small wine regions it attracts a cross-section of people seduced by the vineyard lifestyle, some small and eccentric with their own ideas of how their wine should be, others large and well-resourced like the Foley Family, which owns wineries in California and Marlborough as well as Martinborough.
A recent visit to the region by members of Wine Writers of New Zealand introduced us to some of the characters, and some new producers, as well as offering an opportunity to catch up with long-established ones and taste current releases, culminating in a tasting of old vintages of pinot.
• Lance Redgwell, of Cambridge Road Estate, a tiny 2.2ha vineyard planted in the township in 1986, describes himself as a ''rustic old hippy''.
He is modest and laid-back, but serious about his biodynamic viticulture and winemaking.
He proudly showed his new 675-litre ceramic egg-shaped vessel that he believes will add another layer of complexity to his wines, different from what you get from a barrel or tank.
It's a bit like an old amphora used for winemaking in ancient times, and the shape allows the currents in the liquid to rise up the sides, collect at the top then drop down through the middle to the cooler area at the bottom, he says.
As well as a concentrated pinot noir and spicy syrah with lovely fruit expression, he produces several blends.
I particularly enjoyed the dry, mouth-filling Papillion 2013, a blend of gruner veltliner, sauvignon blanc, riesling and pinot gris, and the lively, peppery Dovetail 2011, a blend of 71% pinot noir and $29% syrah.
• Another producer new to me was Hamden Estate, south of the village on Dry River Rd.
Jo and David Iggulden lived in Taranaki for years, where David still works part-time as a lawyer, but planted their vineyard between 2001 and 2007.
David's great-grandfather was born in Featherston in 1861 and he has relatives in the area.
Their wines, made by Strat Canning, of Margrain, are fresh with a flinty, mineral undertone and well priced at $20 for whites and $25 for the pinot noir.
Look for the grassy, minerally 2012 sauvignon blanc, the 2011 lime-marmalade and steely riesling, and the savoury, flinty pinot noir 2012.
• Cabbage Tree Vineyard was planted in 1998 by Winifred and David Bull, who are self-taught and do everything themselves.
Their wines are certainly individual: a dryish, nutty semillon, a big, creamy, slightly sherryish chardonnay, and a big, overripe pinot oozing dried figs and prunes.
www.thecabbagetreevineyard.co.nz
• Poppy and Shayne Hammond grow, make and sell their own wines at Poppies, a stylish new tasting room, cafe and venue.
They wanted a place where one of them was always available to talk to customers, they said.
The former school friends had lost contact until they met years later at a friend's wedding.
Poppy, a winemaker, was working in Martinborough and Shayne, a chef, retrained as a viticulturist and now manages their leased vineyards.
They sell platters so people can enjoy their wine and develop a lasting memory of where it is from, they say.
It proved so popular that what they thought was a year's worth of wine sold out in three months.
Their 2012 pinot is perfumed, elegant, concentrated, bright and delicious.
www.poppiesmartinborough.co.nz
• At Margrain, Strat Canning was pressing the chardonnay for sparkling wine, mostly sold at the cellar door and restaurant.
Among many other fine wines available is a fascinating chenin blanc from 30-year-old vines planted by pioneer Stan Chiffney.
Their mouthfilling 2012 oozes Granny Smith apples and has a fresh crisp finish - excellent with pork belly, Canning says - and the zesty 2013 is more in the Cox's orange spectrum with a bright, mouth-filling finish.
Chenin is a long-lived wine, well worth cellaring.
• One of the leading Martinborough producers, Palliser Estate is also one of the oldest.
Winemaker Allan Johnson produces a range including a lovely, nutty sparkling wine, an intense lime-marmalade riesling, a couple of stylish sauvignon blancs, and several pinot noirs, Pencarrow, Palliser and a series of ''Great Dog'' pinots, the pick of the crop in fine vintages and named after various now deceased winery dogs.
The current vintage, The Great Paloma 2011, a blend of six barrels, is rich with prunes, spice, and complexity.
• Next door to Palliser is Nga Waka, named after the three hills to the east said to be the upturned canoes of mythical Maori explorer Kupe.
It was established by Roger Parkinson in 1988 and he aims to make wines that work with food, with balance, structure, concentration and flavour.
I particularly enjoyed the chardonnays, the crisp, citrusy 2013 with well-integrated oak and the toasty, creamy 2012 Home Block.
• Martinborough may be best known for pinot noir, but it produces some superb rieslings and chardonnays.
From a tasting of current releases I noted the mouthfilling Coney Ragtime Riesling 2011 with hints of lime marmalade, buttered toast and a crisp, long finish; the perfumed, lively Margrain Gewurztraminer 2013; and a host of crisp, textural, citrusy chardonnays, restrained and elegant, such as Nga Waka 2013, Ata Rangi 2012 Petrie and Craighall chardonnays, Martinborough Vineyard's 2012 and Escarpment's 2012 chardonnay.
Pinot noir from Martinborough tends to have savoury hints and well-defined tannins, which is different from Central Otago's more fruit-filled pinot.
The 2011s appeared restrained but harmonious, ripe and well balanced.
Among many good 2011 pinots were Schubert's Marion's Vineyard - complex and harmonious with hints of forest floor; elegant, integrated Martinborough Vineyard; well-structured Escarpment; and minerally Te Hera Reserve.
• The tasting of 17 pinots from 1996 to 2003 was a highlight.
With age pinot changes from garnet to brick colour and becomes more savoury, developing mineral undertones as the fruit integrates, mellows and finally disappears.
The most drinkable were 10-12 years old, still with fruit and structure and all the lovely tertiary characters - forest floor, strawberry, gamey and complex.
Most were closed in screw caps which certainly had not hindered the wine's ability to mellow and develop.
In fact, the four closed with cork seemed to have aged least well.
Those that stood out as enjoyable and complex were: Ata Rangi 2002 and 2003; the intense and well-structured Margrain 2002; the savoury, gamey Martinborough Vineyard 2000; the lively Martinborough Vineyard Reserve 1998; the mellowed but still fresh Palliser 1999; and the attractive Palliser 2000.
The gentle nature and mellowed character of old wines can be charming but they are possibly not for those who prefer the fruit-forward flavours of young wines.
It is often said that a region cannot produce great wines if they cannot age.
Although winemaking and viticultural practices have changed in the past couple of decades, Martinborough can certainly produce age-worthy pinot.
• Charmian Smith visited Martinborough as a guest of Wines from Martinborough.