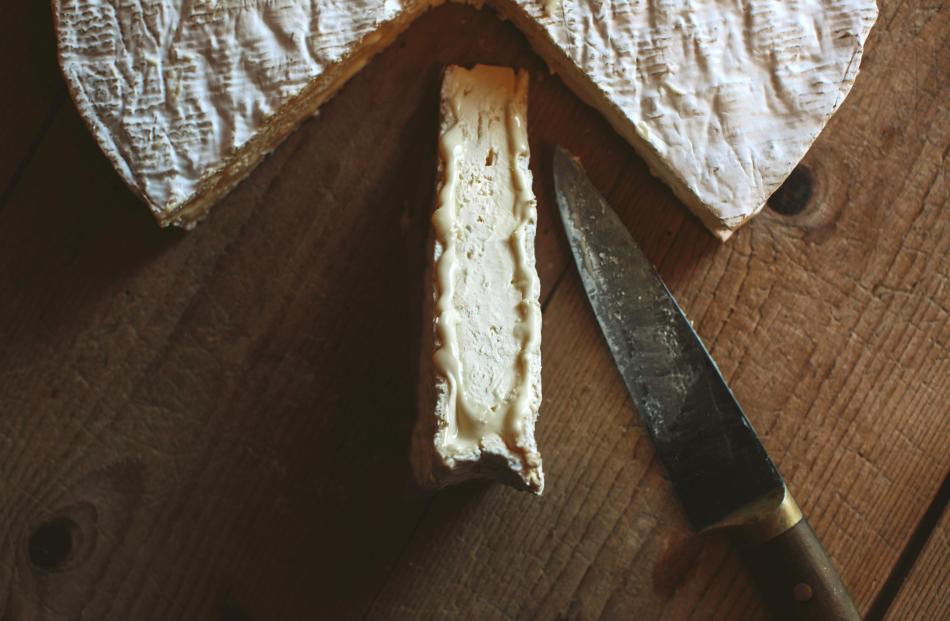 The variety of cheeses entered in the New Zealand Champion of Cheese Awards provide a dilemma for cooks in how to best use them. Rebecca Fox talks to cheesemakers and a chef about how they use the dairy goodness in their cooking.
''Quality over quantity.''
That is the single message from cheesemakers and chefs about using cheese in cooking.
While many people may use the everyday cheddars and parmesans for everyday cooking and save the ''good stuff'' for a cheese platter, there are other ways.
The recent New Zealand Champions of Cheese trophy list is a showcase of the diversity of the country's cheese from the organic cumin seed gouda, the buffalo milk ricotta, brick cheese to sheep milk camemberts and goat parmesans.
Dunedin chef Andy Aitken has been a ''cheesaholic since he was a wee man'', so devising a menu showcasing cheese - especially the award-winning champion cheeses - is his ultimate job.
''New Zealand produces a lot of wonderful cheeses.''
The Emerson's head chef's soft spot for cheese often shows in unusual ways - such as a blue cheese semifreddo. Yes, Aitken likes to surprise people with cheese desserts.
The key is to not use too many cheeses in one dish, especially if trying to showcase a particular type.
''Use the good stuff; quality over quantity.''
That is not to say he does not enjoy an airy cheese souffle or the creaminess of feta in a salad.
''I'm a sucker for a cheese scone.''
He has also been known to infuse the rind of a good parmesan in olive oil to pour over ice cream, watching the syrup solidify as it hits the cool ice cream.
Cheese can either be the foundation or a subtle flavour touch to a dish.
Blue cheese brings out the flavour in wild food dishes, adding a rich creaminess and balancing the flavours.
In a simple cheese sauce, it adds a smooth silkiness to the finished product.
The opportunity to work with this year's top cheeses had given Aitken an opportunity to get out of his ''bubble'' and learn more about cheese varieties.
He is a great fan of Whitestone's Ohau Goat's Blue and says the nearer most cheeses are to their best before date the better.
''In New Zealand, we are so cautious, but for me cheese has to be oozing, almost walking.''
That ageing process gave different cheeses different flavour characteristics and required different uses in a dish.
Aitken likes to store his cheese wrapped in parchment and in a container in the chiller, but it has to be served at room temperature.
Ask Whitestone Cheese's Simon Berry what his all time favourite way to eat cheese is and he will tell you it's Windsor Blue and fresh sliced tomato on Vogel's toast.
''Cheese gives anything that 5% magic.''
He says a sprinkle of blue cheese on broccoli elevates the simple green vegetable, as does adding it to pears and walnuts on a pizza or melted on a baked potato.
''Just adding brie to a pizza takes it to the gourmet level.''
To add a twist to the classic bacon and egg pie, he suggests adding some brie or blue cheese.
People are starting to appreciate specialty cheese more these days and it is more of a staple in people's shopping baskets than ever before.
''People are getting to understand flavours more; five years ago, not so much.''
Consumers are also becoming more sophisticated in their taste and use of cheeses.
He suggests people experiment with different cheeses on food.
''It's pretty hard to mess up and if you're disappointed, try a new combination.''
Cheese is always good in a sandwich, says Berry, and even better toasted. He urges people to try using a brie, blue or harvarti.
''Just try it and see what happens.''
Whitestone has had a good year at cheese competitions, winning accolades at the world's biggest cheese competition for its Ohau Goat's, Windsor and Shenley Station blues and its Lindis Pass Camembert and Farmhouse.
It was named the country's favourite cheese company at the New Zealand cheese awards.
Helen and Richard Dorresteyn, of Clevedon Buffalo Co, cook with their cheeses all the time.
Their cheeses scooped the awards this year, winning the top title of Outstanding Food Producer Supreme Champion for their marinated buffalo cheese and also the Champions of Cheese Artisan Award for their buffalo ricotta.
It was a great way for the pair to mark their 10th anniversary of making a variety of cheese - mozzarella, bocconcini, yogurt, marinated cheese, and ricotta - from 150 riverine water buffalo on land south of Auckland.
An electrician and art teacher, the pair changed their careers when they realised there was an opening for artisan cheese at the farmers' market they ran.
''It's been hugely exciting to see it become a business, for us to become farmers and cheesemakers.''
Mrs Dorresteyn says the best way to eat mozzarella is torn on salads in the summertime or with grilled fennel and served with thinly sliced prosciutto or ham, layered through eggplant or torn through pasta in the cooler months.
She has also tried crumbing the small balls in pako crumbs and shallow frying them until crispy.
There is also nothing better than a toasted cheese sandwich in the cooler months, she says.
Their fresh ricotta was great on pizza or crumbled through a pea risotto.
''It doesn't need to be cooked very long under a grill. Just one or two minutes and it'll fluff up. Try it with honey and cinnamon on toast.''
It also made wonderful gnudi - small dumplings like gnocchi - served with a rich tomato sauce.
''It's very comforting. I also love it with giant ravioli with pumpkin and thyme.''
The ricotta also makes a super easy cassata for dessert.
Unfortunately, although they sell their ricotta at their local market, it is not yet sold in supermarkets.