Working in Dunedin's first five-star hotel kitchen is a long way from Darren Smith's days as a car painter. He tells Rebecca Fox about his journey.
Darren Smith's southern roots are spelled out in one item on his new restaurant menu — the cheese roll.
Yes, as a nod to the region, Smith has included the southern delicacy on the menu at new Dunedin restaurant The Press Club at Fable Dunedin (the former Wains Hotel).
"There is nothing more southern than a cheese roll, apart from maybe whitebait, but it's not in season all the time."
His boss, group executive chef Jinu Abraham, approved of the southern touch.
"It's now one of the most popular items on the menu. Everyone in the Auckland head office can't get over the cheese roll thing," Smith says.
Most people will recognise the base of the recipe as being fairly traditional, but it is the side dish of pickled cucumber that elevates it.
"It cuts through the richness, provides some freshness."
Smith, who was born in Ranfurly, is just settling in to his new job at Dunedin's first five-star hotel.
It is a job he could not resist seeking, although he left it until the very last minute to do so.
"I thought it was time for me to make a name for myself."
Smith has been in hospitality for 27 years but started out as a car painter. He decided crawling around on concrete floors was not really for him and ended up "falling into" baking, working for Dunedin bakeries such as Norths and Frews.
His father worked at Norths Bakery, so he grew up on fresh bread.
It was working as head baker at the former Valentines restaurant in Dunedin that set him on a different path.
"Working with the chefs there got me into the cooking side of it."
He decided to go to Otago Polytechnic to get some training as a chef.
Smith followed his mentor, the late Andrew Booth, to Lake Tekapo where he did his "second apprenticeship".
"It's taking ingredients and making them into something special, especially down here where we have the best produce, the fish, the best lamb, the whitebait, the oysters — you can't go wrong."
Jobs in various restaurants and pubs followed, including Rosebank Lodge in Balclutha.
Most recently, he ran his own Rent-a-Chef business — providing staff to cover for holidays and sick leave in hospitality businesses around the region, including Wains Hotel.
"We covered for everyone from five-star lodges to pubs. We got around. You have to be versatile. I made some great friends out of it, worked with some awesome chefs."
His cuisine can be described as international with a good helping of locally-grown produce, he says.
One thing he has enjoyed about setting up the kitchen has been the visits to farms and producers of the produce they are using.
"It's amazing. I could take you to the paddock where they grow. I went to school with the guy who grows the lamb."
He has a focus on sustainability of ingredients, for example, only cooking fish that is long-line caught.
But he has not forgotten his baking roots and has also enjoyed developing sweet treats for a high tea.
"It's all about the finishing touches, the garnishes, being handmade. I like making things look like you wouldn't want to eat them, like it's art."
One thing he likes is the ability for all the kitchen staff to have an input into the dishes they serve.
"I don't run the kitchen by myself. I can't do it without them. I'm fortunate I've been able to put together a good team."
Darren Smith's cheese rolls 
Serves 4
1½ cups mild grated cheese
(I use Totara Whitestone)
¼ can (250g) Nestle reduced cream
½ cup cream
1 packet onion soup mix
1 tsp mustard powder
10 slices white sandwich bread
To serve
Dijon mustard
Method
Mix together all the ingredients except the bread.
Spread generously on the bread slices and roll.
Roll individually in plastic wrap and refrigerate for 2 hours.
Grill in panini/sandwich machine and serve with Dijon mustard.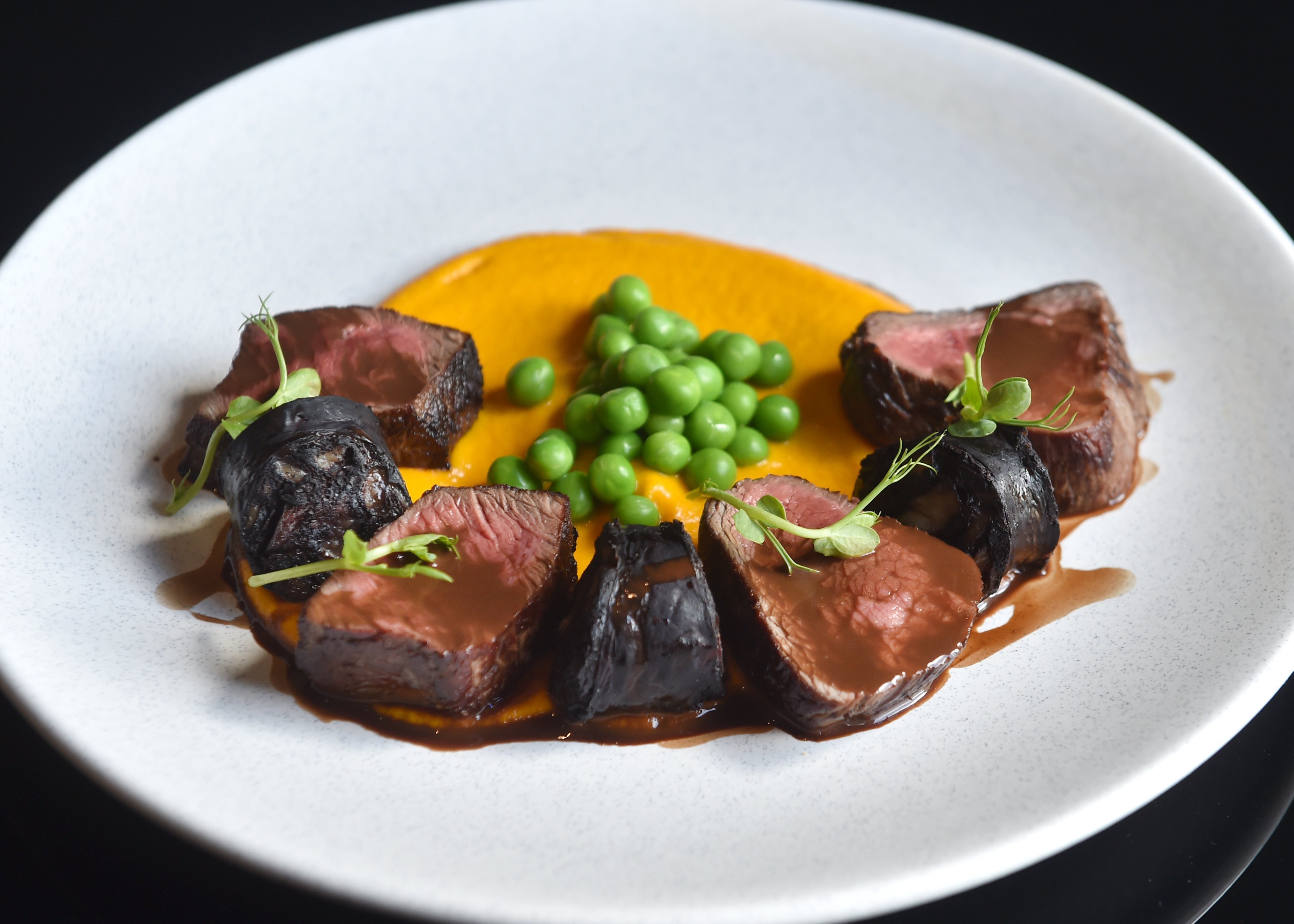 Otago wild fallow and boudin noir with carrot puree and chocolate jus
Serves 4
480g wild fallow rump or venison denver leg
160g venison boudin noir or blood sausage
500g carrots, peeled, cut into rounds
½ tsp curry powder
¼ tsp turmeric powder
2 Tbsp olive oil
350ml red wine
500ml beef stock
30g dark chocolate
To taste
salt
Method
Make the carrot puree in a sauce pot. Add sliced carrots, spices, olive oil and salt and one-third of a cup of water and bring to a gentle simmer. Keep the carrot mix covered with parchment or baking paper cut to fit inside the pot. After 10 minutes, check if carrots are cooked. Blend into a fine puree, add more salt if needed and reserve.
Reduce the red wine to almost half in a sauce pot, skim the top and add the beef stock. Bring to a simmer and reduce until it is a glaze. Take off the heat and add in the chocolate, stir, reserve.
Char-grill or pan fry on high heat the venison on all sides. Cook in a hot oven for 4-5 minutes. Rest and coat with melted butter. The meat should be medium rare.
Slice boudin noir and pan fry, reserve.
Spoon the carrot puree into the centre of the plate, place 120g of fallow and 40g of the boudin noir per portion. Place grilled vegetable of your choice (or blanch some peas and coat with olive oil) on the plate. Finish with a drizzle of the chocolate jus.