Richard Bullock, of Pure New Zealand Ice Cream in Wanaka, sent me some samples of his ice creams recently as his unusual flavours are now available in Dunedin at Deep Creek Deli (Eskrick Butchers) at the Gardens.
A chef by training, he and his wife Tracey sold the last of their Sydney restaurants about three years ago and moved to Wanaka, where they set up their ice cream business - ice cream and desserts had become a passion by then. They use cream, milk, eggs and sugar as the base rather than emulsifiers, gelatine or other additives as some of the mass-produced ice creams do.
But it's the unusual flavours that appealed to me; many have been inspired by chefs wanting something unusual. He is working on a roasted black sesame and vanilla one for a Marlborough restaurant.
Like other specially created flavours, that restaurant will have it to themselves until they take it off their menu - then it will be available in the regular selection of flavours.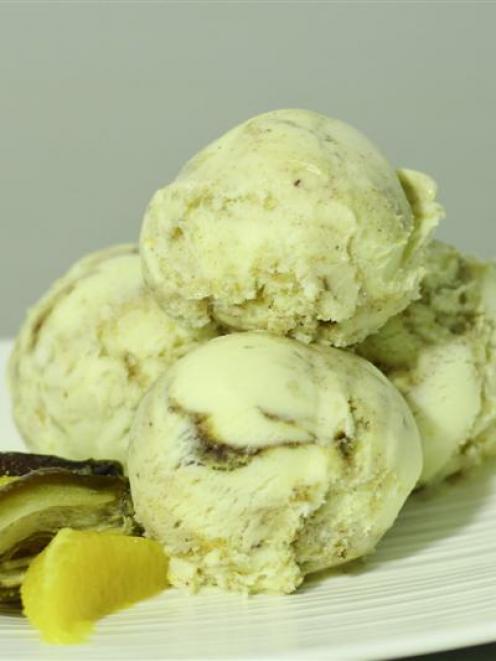 I particularly liked the creamy latte flavour of the espresso, which is made by infusing the milk with freshly ground coffee beans. A versatile and nicely balanced ice cream.
Fig and honey - he uses local bush honey - is rich and textural with pieces of fig and a definite honey flavour, and the mascarpone date and orange is extra rich, with homemade mascarpone and streaked with date and orange puree.
But it was the surprising intensity of lime in two of the award-winning samples that caught my attention. The unusual berry fusion Thai coconut and lime is lively with lime, a background of coconut with the berry providing an understated burst of flavour.
That was a result of experimenting with daughter Lara combining two separate flavours, he said.
The highlight, though, was kaffir lime and ginger, fresh and exotic, with limey flavours but not too sweet. It was a joint winner in the open creative section in the New Zealand Ice Cream awards last year.