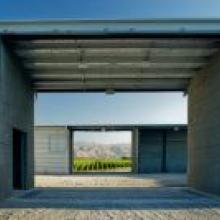 Tucked away up the Waihopai Valley in Marlborough, the new Ara vineyard has been under wraps for several years, but it was recently launched to New Zealand trade and media with a splash.
A handful of British wine press and merchants were also invited, and they had an advantage over the New Zealanders as the Ara brands had already been launched there.
Winegrowers of Ara is a grand vision headed by chief executive Damian Martin, formerly chief viticulturist for Corbans (to whom he recommended the purchase of this block about 10 years ago) and later for Montana, when it purchased Corbans.
It turned out land developer Greg Olliver was interested in the land for a vineyard ''to make lots of different Coleraines''as he described it, and contacted Dr Martin who led the development.
Ara (''pathway'' in Maori and ''altar'' in Latin) is a 16,000ha river terrace up the Waihopai valley, lifted above the rest of the valley by the Wairau fault. Dr Martin considers its old, relatively infertile soils different from other viticultural areas in Marlborough and especially suitable for grapes.
So far about 400ha have been planted in sauvignon blanc and pinot noir, New Zealand's leading export varieties, but in about 140 different blocks depending on soil type.
The plan is to make ''composite'' wines from many blocks as well as single-block wines. So far, there's a textural Composite Sauvignon Blanc 2006, a slightly green Composite Pinot Noir 2006, and pinot noir from 2006 and 2005 under the Resolute label, of which the complex, charming and spicy 2005 was drinking very well. Made by Sam Weaver, and mostly to be exported, some bottles will no doubt appear on wine lists and wine-shop shelves soon.
One of the country's leading viticulturists, Dr Martin has been able to put into practice many of his ideas, from close planting to computer mapping and computer-controlled viticulture.
Water pumped from the Wairau and Waihopai rivers is stored in a reservoir called Lake Pinot, and each vineyard block is separately plumbed with sprinklers for frost and irrigation, with wireless-controlled valves, probes and temperature gauges.
Tractors that straddle the narrow rows can spray six rows at once, and a GPS system registers where the tractor is and controls the spray or other operations.
Dr Martin's vision includes not only the viticulture but also the concept and design, and a design master team has worked together from the outset, designing everything from the wine brand and intriguing labels, to the philosophy, company culture, landscape and architecture.
The opening was held at the Dart, a new operations building shaped like a paper dart with its point into the prevailing wind and a large courtyard. It houses machine storage and workshops and offices, as well as an oasis from the heat or cold of the vineyard for the staff.
There will be more of these operations buildings as more land is developed, as well as a winery, and tasting room.
Winegrowers of Ara is certainly a big project with a grand vision. It reminds me of that of Hawkes Bay-based Craggy Range, another grand scheme, built on the vision of a leading viticulturist (Steve Smith in Craggy's case), where the owners have invested largely and no expense appears to have been spared.
Winegrowers of Ara is owned by Landco, whose major shareholders are Greg Olliver and the Todd family.
They are cagey about how much has been invested, although Dr Martin says the project will cost ''a couple of hundred million dollars'' and they have spent about a third of that so far.
They expect to have a positive cash flow in the next two years.