Many of us are guilty of throwing out food from the fridge that's gone to waste - but when you add it up, Kiwis are wasting over 157,000 tonnes of food a year.
While there's a lot of fruit and vegetables being thrown away, bread is the top culprit at just over 15,000 tonnes a year – that's 29 million loaves wasted. New Zealanders throw out about 12,000 tonnes of leftovers every year, too.
In her new book Waste Not Want Not, Sarah Burtscher looks at the top 10 foods we tend to waste and pairs them with yummy recipes - including Forgotten Vegetable Soup and Easter Spiced Whole Orange Cake.
Although Sarah has run restaurants in Christchurch and Tekapo, she describes herself as a 'home cook'.
"I cook from the pantry, the fruit bowl and the fridge," she told Nine to Noon's Kathryn Ryan. 
People just don't seem to know how to save certain foods from being inedible, Sarah says.
"If you've burnt the cake just cut the top off and put the icing on the unburnt bit."
If bananas are your guilty throw-away item, Waste Not Want Not includes a great recipe for Banana Peel Cake, Sarah says.
"[Or] I like to peel [the banana]. You can put your peel in water and keep it for 24 hours and then feed your plants from that water – it's a really good way of using up that banana skin."
More waste-saving tips from Sarah: Ageing potatoes can be cut up and thrown into a soup to bulk it up, the sticky remains of jam in a jar can be thrown into a smoothie, cheese scraps can go onto a pizza, butter wrappers can be saved to grease cake tins.
Sarah's recipes:
Forgotten Vegetable Soup
Serving Size: 6 good bowls of soup
This soup is a fabulous cleanout for your fridge, literally having a look at what you have forgotten in the fridge veggie drawer!
I call it a flexible framework recipe, you can use all sorts of different ingredients but the basic theory remains the same.
2 tbs olive oil
1 onion, roughly chopped (use up odds and ends if need be)
2–4 garlic cloves, smashed and roughly chopped
2 cups chicken/veggie stock – use your Stock Box broth
2 dried bay leaves (add once you put in the stock)
1–1½ cups milk/milk alternative (add at last step)
salt and pepper, to taste
Flexible Ingredients
In this recipe I used what I list below, but you can use most fridge-kept veggies, or potato or kumara – just use what you think would go together, remembering that they are all going to be whizzed up together at the end.
2 rashers bacon, cut up (optional)
1 parsnip
¾ very limp cauliflower (if no cauliflower or broccoli you'll need 2 medium potatoes/kumara)
4 stalks celery, if leaves not too old you can add a handful, keep the others for a broth
You will need:
Clean hands
Chopping board + knife
Heavy-bottomed pot
Wooden spoon
Wand/Blender
Method
Chop the vegetables up roughly.
Saute the bacon, onion and garlic in olive oil.
Add the rest of the ingredients and cook off a bit, for approximately 10 minutes or so. Pour in stock to just cover all ingredients.
Add the bay leaves and simmer till all veggies are tender.
Remove from the heat, fish out the two bay leaves and blend until smooth, I like to use a wand, then add 1–1½ cups milk.
Taste and season if it needs more salt or pepper.
I serve this with Cheesy Salted Scones or crusty bread and butter.
TIP: If wanting to freeze, don't add the milk. Add it in when thawed and re-heating.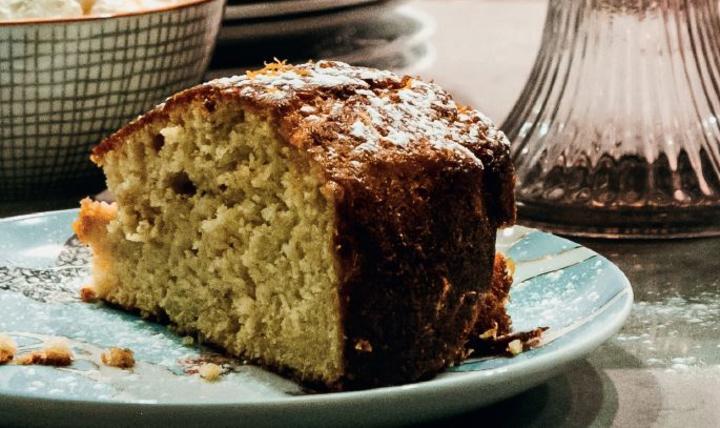 Easter Spiced Whole Orange Cake
You will need:
Clean hands
20cm tin (or smallish tin), greased and lined with baking paper
Cake rack
Mixer/Bowl
Whisk
Wooden spoon/Spatula
Pot for glaze
Zester/Grater
Ingredients
250g sugar
100g butter
3 eggs
275g all-purpose flour
3 tsp baking powder
1 tsp allspice
2 tsp cinnamon
⅓ cup Greek yoghurt
1 large orange, washed and cut into pieces, removing pips, and pureed in a processor
a little bit of fun, if using (see below)
Method
Preheat the oven to fan bake 180°C.
In a mixer, beat together sugar and butter till creamed.
Add eggs one at a time and beat well after each egg. (If I am in a rush I add all at once.)
Sift in the flour, spices and baking powder and fold in with a wooden spoon or spatula.
Once all blended together, add the yoghurt and pureed oranges.
Here you can add the 'little bit of fun'. I put in whisky (and of course a small taste test to check it's not off, haha).
Fold in, but do not overbeat.
Pour cake mixture into your lovely pre-prepared tins.
(I generally forget to do this and run around like a mad thing prepping them at this stage.)
Pop into the oven and bake for 45 minutes.
Check after 30 minutes, as it can cook more quickly depending on your oven.
If it looks done and a testing skewer comes out clean, take out and rest on a cake rack.
Glaze
1 orange - zest and juice
⅓ cup sugar
Place ingredients in a pot and gently simmer until a smooth consistency.
Pour over cooled cake and dust with icing sugar and extra orange zest. Serve with a smile and whipped cream.
The top food waste products in New Zealand:
Bread
Leftovers
Oranges and mandarins 
Apples
Bananas
Potatoes
Poultry 
Rice
Lettuce
Beef
Sarah's book Waste Not Want Not will be available on bookshelves from April 10.