The finals of the 2018 Bayer Young Viticulturist of the Year competition were held in the Wairarapa at the end of August and the winner was announced at the Bragato dinner in Wellington on August 30.
Six regional finalists from across New Zealand competed in the BioStart Hortisports race, and tackledpractical and theoretical challenges before addressing delegates at the Bragato Conference on challenges to the wine industry that are specific to their region.
At the dinner, Felton Road Wines' Annabel Bulk, representing Central Otago, was named as the winner, having been runner-up in last year's competition.
Annabel's prize package includes use of a Hyundai Kona for a year, a $5000 Agricultural and Marketing Research and Development Trust travel grant, $2000 cash, Bahco golden secateurs, glassware and a leadership week meeting industry leaders from the wine industry among others.
She will also represent the wine industry in the New Zealand Young Horticulturist of the Year competition in November.
Hearty congratulations to Annabel (only the second Otago winner in the competition's history). Congratulations also to runner-up Scott Lanceley, from Foley Family Wines in Wairarapa, and third place-getter Jake Dromgool, from The Landing, in Kerikeri.
Two new Central cellar doors for wine lovers
Having moved its winery to larger premises, Rockburn Wines cellar door found a temporary home over the summer at the Gibbston Hotel in Gibbston Valley.
That temporary home has now become permanent, with the cellar door open afternoons, seven days a week.
Cloudy Bay has also recently announced it has opened The Cloudy Bay Shed on its Northburn vineyard.
It is now open Tuesday-Saturday, but this will increase to seven days a week over the summer months.
Check its website, www.cloudybay.co.nz, for more details.
2014 Mt Difficulty Single Vineyard Manson's Farm Late Harvest Pinot Gris
Price: $30 (375ml)
Rating: Very good to excellent
Bright, clean and fresh nose with notes of fresh grapes and spiced stonefruits. Suppleness to the texture, subtlety to the flavours adding spiced pear jam and
grilled nuts to the mix on a palate with noticeable sweetness. Quiet richness that grows in the glass. This would be a cracker with freshly cut fruit.
2017 Framingham Noble Riesling
Price: $39.99
Rating: Excellent to outstanding
Enticing nose of golden peach, citrus, beeswax and musk: an ethereal fragrance. Sumptuously textured adding apple, and mandarin, before a toffee apple note joins the fun. A fine acid line through the wine stops the sweetness from ever becoming cloying. Purity, complexity, with a piquant, savoury/sour hint on the finish bringing real zest to the long close.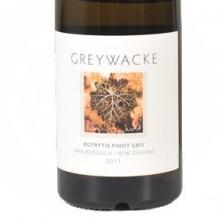 2011 Greywacke Botrytis Pinot Gris
Price: $38
Rating: Very good to excellent
Relatively subtle nose of smoke, apricot kernel and musky botrytis. Lush and textural, playing in an intriguing bittersweet spectrum as the canned tropical fruits marry with apricot kernel, a savoury musky note, hints of iron and stones and a little warm glow on the close. A lower sweetness level and clear savoury notes would make this a good food pairing.