Christmas certainly puts a strain on your wallet!
With impending summer holidays for many, Christmas present-buying, the huge shop for Christmas lunch or dinner and various festive-season get-togethers, there is always pressure on the finances, while families have the added burden of holiday activity or school holiday programme costs.
With this in mind, I've selected wines from recent tastings that fit the summer drinking mode without costing the earth.
Promo pricing should see the whites drop below $15 and, while value is a relative thing with pinot noir, these offer two very different stylistic choices, yet bang for buck.
2018 Invivo Marlborough Sauvignon Blanc
Price: $18.99
Rating: Excellent
Intensely zesty and fragrant nose offering nettles, cut grass, green capsicum and smoke. Creamily textured with lovely purity, echoing the nose, adding youthful gum esters. Refreshing acidity nicely balanced by that sweet fruit core that does show a whisper of sweetness on the long finish. This is right in the slot and already drinking really well.
Delicious.
2018 Thornbury Marlborough Sauvignon Blanc
Price: $14.49
Rating: Very good
Subtle nose with citrus, grape, cut grass and bonfire embers. Creamy, supple palate with lanolin, citrus, green capsicum and cut grass, a softer mid-palate at first that sees the acidity and freshness perking up with aeration before the long zesty finish brings it nicely to a close.
A bit of a crowd pleaser.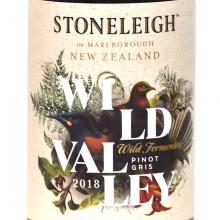 2018 Stoneleigh Wild Valley Wild Fermented Marlborough Pinot Gris
Price: $17.99
Rating: Excellent
Smoky hints, toast, a little struck match, the stonefruits lurking. Full-bodied and textural palate with lovely ripe pear, spices and smoky nuances and while fruit sweet is relatively dry. Real intensity of flavour on the palate with a long, appealingly fruit-driven finish.
Lovely mouthfeel and wonderful drinkability.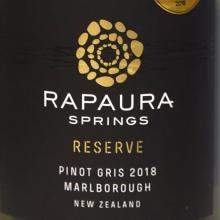 2018 Rapaura Springs Reserve Marlborough Pinot Gris
Price: $14.99 (on promo)
Rating: Good to very good
Subtle but attractive nose, purity to the pear fruit with notes of gum and flower blossom. Gentler, yet varietal fruit expression with a little sweet and sour note adding zest, while a chalky touch gives grip to the mid palate before the dry, spicy finish. This builds in texture and richness with aeration.
Uncomplicated and easy drinking.
2017 Ostler Waitaki Valley Pinot Noir
Price: $29.90
Rating: Outstanding
Subtle yet beguiling nose of red fruits, dried herb and tilled earth: develops a wonderful florality with time. Crunchy, bright fruits, tart cherry, cranberry, a sweeter element underlying; this is finer-boned, lighter bodied, with an aerial quality, yet no mistaking the intensity here. Grows superbly, gaining lovely balance, while retaining that salivatory crunch that draws you back.
Ethereal!
2018 Providore First Edition Central Otago Pinot Noir
Price: $25
Rating: Very good
Vibrant and youthfully fruited with notes of wild rose and wild strawberry. Strawberry and cherry lead on the palate with some firm, chewy tannic grip and zesty acidity. A brash youthfulness to this with good fruit intensity.
This is unashamedly bold and bright, a fruit bomb of sorts but with good underlying structure and perfect to drink now.