There can be a perception that great vintages are always the hot, sun-kissed years but this isn't necessarily the case, particularly when it comes to pinot noir.
Long, slow ripening allows for a delightful buildup of flavours rather than just ``sugar ripeness'', while cooler nights help to retain the acidity that provides freshness and balance - 2017 is an exemplar of this.
Sure, viticulturists and wine-makers love to see hot, sunny weather, too, with settled weather approaching harvest always a boon, but like many things in life - everything in moderation!
2017 Tarras Vineyards Central Otago Pinot Noir
Price: $39.95
Rating: Excellent to outstanding
Fragrant and alluring, florality hinting at violets, spice and a melange of fruit. Richness yet delicacy, suppleness and lovely texture on the front palate, with a little chewiness adding interest on the finish. This firms up a little with aeration, showing its youthful aspects, yet has lovely integration and balance already.
Delicious and well priced.
2017 Valli Bannockburn Vineyard Pinot Noir
Price: $69.99
Rating: Very good to excellent
Dried herbs, rosewater, rose petals, fresh, youthful distinctly fragrant. Chewy and crunchy on the front palate with cherry, red fruits, graphite and earth, a powerful wild herb note coursing through its veins as some raspberry notes build. Is that a little whole bunch stalk element in there, too?
Young, tightly wound and desperately needing some time.
2017 Black Peak Wanaka Pinot Noir
Price: $42-$45
Rating: Excellent to outstanding
Powerful and intense nose, the raspberry evolving to plum with nuances of wood smoke. Rich and silky on the palate, spice notes to the fore, evolving plum and wild herb flavours in support. Tannins building and while this is youthful there is lovely integration and balance. For all its inherent power, there is a quiet elegance, too.
Drinkability, yet obvious potential too.
2017 Mt Difficulty Bannockburn Pinot Noir
Price: $47
Rating: Excellent
Bonfire smoke, a little stuck match, raspberry jam, building in fragrance. Leads with sweeter berry compote, moving to a darker fruit spectrum with dust, smoke and savoury nuances, a whisper of pepper too. A youthful lip-smacking chewiness flows to a lovely, long finish with a graphite hint hanging on the close.
A brooding darkness to this adds to the intrigue.
2017 Mount Michael Central Otago Pinot Noir
Price: $39.99
Rating: Very good
Fragrant nose of thyme and lavender with florality and ripe, sweet fruits. Powerfully sweet-fruited entry, the richness and boldness giving immediate appeal. There's good depth of fruit here, nicely integrated, with that sweet fruit flowing right through the wine, a wisp of tannin showing itself on the close.
Appealing and already drinking well.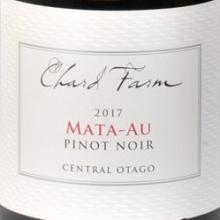 2017 Chard Farm Mata-Au Central Otago Pinot Noir
Price: $45
Rating: Excellent to outstanding
Fragrant and floral, with bonfire smoke, wild herbs and plum. Powerful fruit, a deeper register, spices, plum, just ripe dark cherry and smoke. Delightful texture here, a creamy silkiness that flows through the mouth, offering lovely integration, balance, and elegance.
The palate fleshes out nicely with a lip-smacking juiciness giving zest to the long finish.