I always look forward to the annual Gimblett Gravels Dozen selection. I approached the 2017 edition with added interest due to the reputation of the vintage.
Wine-makers openly admit that they faced numerous challenges that year - two tropical cyclones pounded the North Island - yet the old adage ''when the going gets tough, the tough get going'' was never truer.
Through all the trials and tribulations, some smart wines have been produced. The Bordeaux blends showed the challenges a little more, yet the syrahs at right were a wonderful surprise.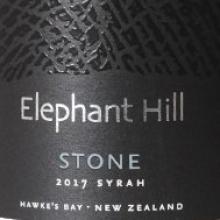 2017 Elephant Hill Stone Syrah
Price: $75
Rating: Excellent
Bold and attractive nose, raspberry, dark fruits, spice, dusty and earthy, with smoke and oak perfumes developing. Rich and full in the mouth, dark fruits, black pepper and savoury notes to the fore. Initially comes over as supple and in the slot to drink now, before the tannins and acidity creep up on you.
This tightens a little before opening up and fleshing out again.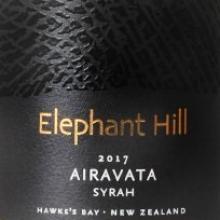 2017 Elephant Hill Airavata Syrah
Price: $120
Rating: Excellent to outstanding
A little subtle at first yet quietly beguiling with tilled earth and savoury notes, darker fruits, oak scents and a little funk. Not overtly sweetly fruited yet there's no doubting the richness with lovely depth and weight, complexity and balance. There's a coolness running through the wine, a fresh mint-like note with fine tannins and a long, long finish.
Power here, yet finesse.
2017 Trinity Hill Homage
Price: $145
Rating: Excellent to outstanding
Powerfully perfumed, almost violetty, the fruit backed by savoury elements, along with subtle spice and pepper notes. Richly fruited yet dry, not a fruit bomb but lovely depth, showing a grainy, chewy, more structured palate for the longer haul. White pepper moves to black, savoury elements build, the fruit swells, the tannins become supple, and there's a delightfully long close.
Potential.
2017 Squawking Magpie Gimblett Gravels Syrah
Price: $33.95
Rating: Excellent
Fascinating nose with red and dark fruits, earthiness, a mushroom-like funkiness and perfume. Brighter acidity lends a cooler feel in the mouth as the red fruits, black pepper and black tea course through the mouth augmented by savoury elements with time. Chewy tannins and a chalky close show its youthful side.
This is built for the long haul, but the elements are there.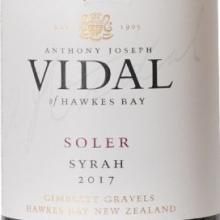 2017 Vidal Soler Syrah
Price: $34.99
Rating: Very good to excellent
Perfumed darker fruits, sweeter elements, blackberry and spice. A cool wellspring runs through this, with racy acidity lending a sweet 'n sour feel. Deceptively tannic with surprising weight, the red fruits merging with ripe cranberry and spice as this begins to flesh out and open up.
The acidity feels high to me, but this grows on me as it opens up and grows.
2017 Smith & Sheth Cru Heretaunga Syrah
Price: $40
Rating: Excellent
Juicy fruits on the nose, blood and iron filings, spices, blueberry and perfumed florals. An interesting nose that would be at home in a northern Rhone line up. Fascinating, complex palate, hints of that ferrous quality, stony minerality and sweet fruit hanging on the mid palate.
Bright acidity, powerful tannins, real grip to this and another wine built for the longer haul.