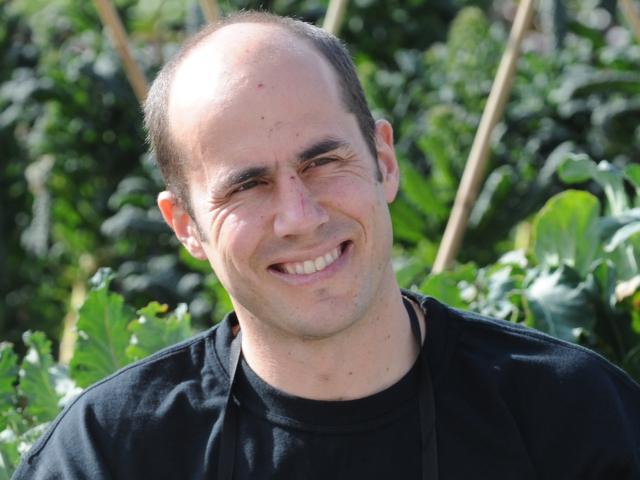 Christmas is a personal time and rightly so. It's a time to reflect and reconnect with family and friends. For some it's the tradition and the rituals around it that everyone loves: the tree, a turkey with stuffing and all the trimmings.
For others, it's a rather more relaxed affair. I subscribe to the latter, as the big day is a treasured day off. As such, I try and keep it as stress-free as possible with less time in the kitchen and more time on the front lawn with a cricket bat or a water pistol.
Hot smoked salmon is utterly delicious and perfect for any picnic or feast. Smoking your own takes it to the next level and is really easy. Served with warm Jersey Bennes tossed in mayonnaise, you could well stop right there, but opening a few presents can require a little more, so move on to a simple roast leg of lamb with a festive salad of Christmas colours.
A quick mint sauce and it's time for that swim or a puzzle, if you prefer. Any self-respecting feast requires a dessert that is both a crowd pleaser and has the wow factor to pull them back to the table.
Your Gran knew how to feed a crowd, so dig out her old jelly moulds, and put them to good use. Who can resist that magical wobble and next to an equally impressive panna cotta, it's game over!
Then it's time to find a quiet place for a luxurious nap in the shade or, more likely, back to the pitch or over to the neighbours.
Either way, no matter how you spend it, these are special times. Merry Christmas everyone.
Butterflied leg of lamb with roast cauliflower, festive salad and mint sauce
SERVES 6-8
Ingredients 
1 leg of lamb
salt and pepper
olive oil
1 head cauliflower
2 small courgettes
½ cucumber
½ small red onion
1 beetroot, cooked
½ raw beetroot, grated
1 cup Italian parsley, picked
1 cup mint, picked
1 cup spring onions, finely chopped
½ cup chives, chopped
seeds from 2 pomegranates
cider vinegar
extra virgin olive oil
edible flowers, optional
Mint sauce
Method
Heat oven to 200degC. With a sharp knife, open up the leg of lamb, removing the bone in the process, so that it is one flat piece, roughly the same thickness throughout. (Butterflying lamb speeds up the cooking time.)
Heat a little olive oil in large frying pan over a high heat and colour the lamb well on both sides before placing in the oven skin-side down for 5-10 minutes. For nice pink lamb, the meat should feel just firm to the touch and the blood will just begin to run.
Remove the lamb from the oven and allow it to rest skin-side down.
Meanwhile, trim excess stalks and leaves from the cauliflower. Slice into finger thick slices and spread out on a baking paper lined oven tray. Drizzle generously with olive oil, season lightly and roast in the oven until the edges turn golden brown and the cauliflower is tender when tested with the tip of a small knife.
While the cauliflower and lamb are cooking, chop the remaining vegetables into a small dice and place them in a bowl along with the grated beetroot, herbs and pomegranate seeds.
Mix together, finish with cider vinegar and extra virgin olive oil to taste and set to one side in a serving bowl.
Return the lamb to the oven briefly to bring back up to temperature before carving and serving on a platter, with the cauliflower, salad and mint sauce all to one side.
Hot-smoked salmon with new potatoes, salad greens and creme fraiche
SERVES 6-8 PER SIDE OF SALMON
New potatoes
1kg boiled new potatoes, preferably Jersey Bennes
1 side hot smoked salmon
1 cup mayonnaise
½ cup chopped parsley
salt and pepper
6 cups salad greens
¼ small red onion, peeled and finely sliced
I small bulb fennel, finely sliced, optional
juice of I lemon
extra virgin olive oil
200g creme fraiche
Method
Bring a medium pot of water to the boil and warm up the potatoes for a minute or two before draining well and reserve to one side. Arrange the salmon on a platter.
Add the mayonnaise and parsley to the potatoes, stir to combine and season to taste. Toss the salad greens together with the onion, fennel and dress with lemon juice and olive oil.
Place the potatoes and salad either on top of, or to the side of the salmon and serve with creme fraiche.
Hot smoked salmon
1 side of salmon, skin on
3 cups soft brown sugar
½ cup table salt
1 litre cold water
1½ cups Manuka woodchips
Method
Place salmon, skin-side up in a plastic container large enough to accommodate the salmon (cut the salmon in half if necessary).
To make the brine, whisk sugar, salt and water together in a bowl and pour over the salmon.
Cover container with lid or plastic wrap and place in fridge overnight or for a minimum of 3 hours.
Place a sheet of aluminium foil in the bottom of a fish smoker (available at most camping or hardware stores) and sprinkle woodchips evenly over the foil.
Remove salmon from brine and place skin-side down on a smoking rack in the smoker. Cover smoker with lid and place over a med-high gas flame on your barbecue or place smoker on the ground outside and light a small dish of methylated spirits underneath. If required, place a weight on top of the lid to prevent too much smoke escaping.
Smoke for 12-15 minutes until salmon is just cooked and able to be flaked. If you are using the methylated spirits or a low flame it may take longer.
Remove salmon from the smoker, allow to cool enough to handle and remove any pin-bones with tweezers. Turn salmon over and remove skin and the blood-line. Best eaten on the day, otherwise refrigerate in an airtight container for up to 4 days.
DIY mayonnaise
MAKES 500ml
2 free-range egg yolks
2 tsp Dijon mustard
1 clove garlic, peeled
juice of 1 lemon
400ml canola oil
100ml olive oil
salt and pepper
Method
Place egg yolks, mustard, garlic and lemon juice in a food processor and blend.
While blending, slowly add canola oil and then olive oil until a thick mayonnaise is formed.
Season to taste with a little salt and pepper and adjust with a little hot water to thin if necessary.
Panna cotta with strawberry jelly
SERVES 8-10
Panna cotta
3½ gelatine leaves
150ml cold milk
900ml cream
120g sugar
zest of 1 lemon
¼ tsp vanilla bean paste
1 cup strawberries, hulled and sliced
½ cup sugared almonds, optional
extra jelly juice
Method
Spray a medium-sized round bowl well with canola spray and set to one side. Break gelatine sheets into thirds and place in a separate bowl with milk to soften. Place half the cream into a small saucepan with the sugar, lemon zest and vanilla bean paste.
Bring almost to the boil over a medium heat then remove from heat and pour on to milk and softened gelatine. Stir until gelatine is completely dissolved.
Half-fill a separate bowl with ice and place the bowl containing the panna cotta mixture on top. Stir often with a whisk to prevent gelatine setting on the bottom of the bowl as it cools.
In a separate bowl, whisk remaining cream to a soft peak. When the panna cotta mixture starts to thicken, whisk in the cream, then pour into the prepared bowl and refrigerate overnight.
When ready to serve, place a large plate on top of the panna cotta and carefully flip the bowl and plate over. Carefully lift the edge of the panna cotta mould. The panna cotta should slip out of the mould, but if not create an air-pocket on one edge and it will release. Top with sliced strawberries, sugared almonds, if using, and drizzle with leftover jelly syrup. Serve immediately.
Sugared almonds
6 tbsp sugar
1½ cups water
150g natural sliced almonds
70g sugar
Method
Place the first measure of sugar and water into a small pot. Bring to the boil and reduce to a light syrup. Meanwhile, mix the almonds and the remaining sugar in a bowl.
Add hot syrup to almond sugar, mix, then spread out on a baking paper lined oven tray and bake at 150degC until golden and crunchy.
Strawberry jelly
2kg strawberries, hulled and sliced, fresh or frozen
1 cup water
1 cup caster sugar
8 leaves gelatine
1 punnet extra strawberries, to decorate the jelly with
Method
Place the sliced strawberries into a large pot along with the water and sugar and gently bring to a simmer over a medium to low heat.
Meanwhile soak the gelatine sheets in a bowl of cold water to soften. When the strawberries are nice and soft and beginning to break down, remove from the heat and strain through a fine sieve or piece of muslin over a bowl, allowing the liquid to pass due to its own weight. Pour into a large jelly mould or bowl with a capacity of 1 litre.
Chill in the fridge until completely set, preferably overnight. Allow the remaining fruit pulp to continue to strain overnight.
Any extra liquid that comes through can be saved to pour over the jelly or panna cotta later.
When ready to serve, dip the mould into hot water and gently tip out on to a plate or bowl. Jelly keeps fine in the fridge for up to one week but who wants to wait that long.