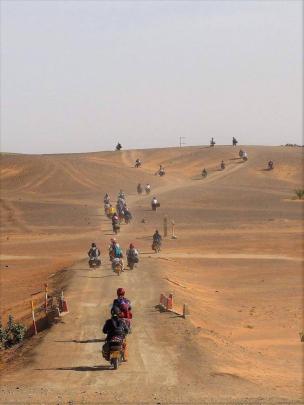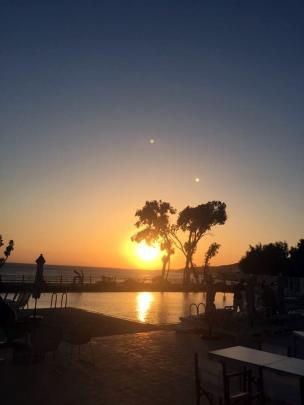 Winter is always a good time to plan an escape, so when some old friends from London suggested a reunion in Morocco under the guise of a charity motorcycle race, I didn't need much encouragement, Bevan Smith writes.
The fact that we would be riding kids' ''monkey bikes'', which are totally unsuitable for desert travel, only added to the appeal.
The rules were simple: get to the finish line in seven days. And the advice was nearly as succinct: north is Spain, east there are minefields, south is the disputed zone and west is the sea.
Forty of us set off on 48cc of pure thunder and, within minutes, were headed to all points of the compass, determined to make the most of the time we had as we made our way across this magnificent country.
Our days soon fell into a rhythm of early breakfasts of excellent Moroccan coffee, apricot jam and hard-boiled eggs before setting off to the ''roar'' of our engines.
Up into the High Atlas mountains, through stunning gorges and past ancient desert fort towns.
Lunch became a welcome break to the constant vibration of small wheels on bad roads.
Tagine stands and charcoal grills dotted the streets of even the smallest towns and the hospitality was always warm, if not fast.
Each meal starts with an offering of local olives and Moroccan bread to while away the time until the food arrived.
Bemused locals would discuss the diminutive size of our bikes and kids would ask for a ride.
I would tease them in return by asking directions to places such as Casablanca and Tangier - hundreds of kilometres to the north.
Their laughter was immediate and infectious, and even more incredulous when we revealed our true destination to the west.
Apparently there is something funny about asking ''which way is the ocean'', when you are in the middle of the desert.
Our run to the coast was a gruelling 10-hour, 400km leg broken only by a quick lunch and two stops to refuel.
Somewhere along the way the body does its best to numb itself from the ride ahead, so when we started to smell the ocean it felt like we were in a dream.
A gorgeous sunset only made it feel more surreal as we slowly walked across the golden white sand to dip our hands and boots in the Atlantic.
A shower, a cold beer and a tagine was all that we wanted - and not necessarily in that order.
Refreshed, and rested we undertook the last leg north to the official finish line - 1700km in all, with no breakdowns or punctures.
What we did get was fantastic food, cheeky kids, sandstorms, wizened old men, wheat fields, lunar landscapes, donkeys, lizards, goats, overladen trucks, Humvees, roadworks, camels, palm trees, watermelons and smartly-dressed policemen.
All in all it was a humbling and wonderful experience.
It is said that travel is fatal to prejudice. So true. If you want to find out for yourself, then try pastilla, and ride a Monkey bike through Morocco for yourself!
(If you want to follow our adventures feel free to visit our Facebook page, The Lords of Westbury-Monkey Run April 2017.)
- Chef, restaurateur, author and father of two, Bevan Smith is the owner of the award-winning Riverstone Kitchen, north of Oamaru. His life revolves around food. Sharing that passion is central to his philosophy that all people should and can eat well.
Bessara - Moroccan street soup
Serves 4
Ingredients
500g lentils or dried fava beans, soaked in cold water overnight
6 cloves garlic, peeled and crushed
1 litre of water
⅓ cup olive oil
1 onion, peeled and finely chopped
4 tsp ground cumin
4 tsp sweet smoked paprika
juice of 1-2 lemons
black pepper
extra virgin olive oil
1 lemon quartered
chilli flakes, optional
Method
Drain the lentils or fava beans and place in a pot with the garlic and water.
Bring to a simmer and cook for 5-10 minutes removing any scum or froth that may form before covering with a lid and cooking for a further 30 minutes or until the lentils become very soft and almost mushy (fava beans will take about an hour to cook).
Meanwhile, heat the olive oil in a pan and sweat the onion until very soft before adding the spices and cooking them for a minute, then remove from the heat.
Once pulses are cooked, add the onion mixture and blitz in a food processor until smooth, adding extra water as needed to make a thin consistency. (Bessara is generally not a thick soup but you can adjust to taste).
Place soup back in a pot, add lemon juice and bring to a simmer. Adjust seasoning to taste and finish with a dash of extra virgin olive oil, extra lemon on the side and a pinch of chilli flakes if the mood takes you.
Pastilla of chicken, almond and rose water
Makes 10 mid-size pastilla
Ingredients
¼ cup olive oil
meat from 1 boned out chicken or 6 boneless thighs, skin on
1 tsp cumin, ground
1½ tsp coriander, ground
salt and pepper
1 cup blanched whole almonds
2-3 medium size brown onions, peeled and finely sliced
1 tsp ginger, ground
1 tsp cinnamon ground
1 pinch saffron
2 cups water or stock
1½ cups ground almonds
2 Tbsp orange blossom water
10 filo pastry sheets
80g butter melted
1½ Tbsp icing sugar
Method
Heat olive oil in a large heavy-based frying pan. Season the chicken on both sides with a little of the cumin, coriander, salt and pepper and fry skin side down in the pan until well coloured.
Turn chicken over and cook for a minutes before removing and reserving meat to one side. Meanwhile, pour boiling water on the almonds and soak for 10 minutes before draining and putting to one side. Add the onions to the pan and sweat for 5-10 minutes or until very soft.
Add remaining cumin, coriander, ginger and half the cinnamon to the pan and cook for 30 seconds before adding the saffron and water or stock to the pan and bring to a simmer. Cut up the chicken into 2cm-3cm pieces and return to the pan. Cover and simmer until the chicken is just cooked.
Remove meat from the pan and reduce the remaining liquid until about half a cup remains. Return the meat to the pan, mix to combine, remove from heat and allow to cool.
Roughly chop the blanched almonds and place in a bowl with the ground almonds and the orange blossom water. Mix to combine.
Preheat oven to 200degC. Place a sheet of filo pastry on a work surface. Lightly brush the edges with melted butter and fold the corners of the pastry towards the centre in a series of 4 triangle folds.
Brush edges of pastry with a little more butter. Place two dessert spoons of the almond mixture in the centre of the pastry. Place 2-3 spoonful's of the chicken mixture on top and fold over the edges of the pastry towards the centre to cover and seal.
Brush with butter and place on a baking paper-lined oven tray. Repeat with the remaining sheets of pastry until all are filled. Bake until crisp and golden brown. Remove from oven and dust with remaining cinnamon and icing sugar. Serve and swoon as necessary.
Note: Pastilla can also be made as one large pie in a large frying pan to share.
Fish tagine with red peppers, tomato, black olives and garlic
Serves 4
Ingredients
chermoula (see below)
600g Brill fillets
3 Tbsp olive oil
4 garlic cloves, peeled and sliced
15 cherry tomatoes
5 roast peppers, cut into strips
16 small waxy boiled new potatoes, such as Jersey Benne or Ratte
handful black olives
100ml water
salt and pepper
Chermoula
2 garlic cloves
1 tsp salt
2 tsp cumin, ground
½ Tbsp red wine vinegar
juice of 1 lemon
1 tsp paprika
1 small bunch coriander, roughly chopped
1 Tbsp olive oil
Method
In a mortar grind the salt and garlic to a paste. Add the cumin, lemon juice, red wine vinegar, paprika, coriander and olive oil and mix to combine.
Preheat the oven to 200degC. Cut each fish fillet into 3-4 pieces. Rub two-thirds of the chermoula into the fish and allow to marinate for 10-20 minutes.
In a medium sauce pan, add two Tbsp of olive oil and fry the garlic until light brown. Add the tomatoes and cook until softened slightly. Stir in peppers and remaining chermoula and season lightly. In a sauce pan or tagine, spread the potatoes evenly over the base.
Place two thirds of the pepper and tomato mix on top, followed by the fish with the remaining pepper mix on top of each piece of fish. Scatter with olives, add water and drizzle with remaining olive oil.
Place lid on top and over a medium heat and bake in the oven for 15-20 minutes or until the fish is just cooked.
Remove from oven and rest for 5 minutes before removing lid and place in the middle of the table on a heat proof board or cloth. Serve directly from the frying pan or tagine with a simple chopped or mixed leaf salad and crusty bread on the side.