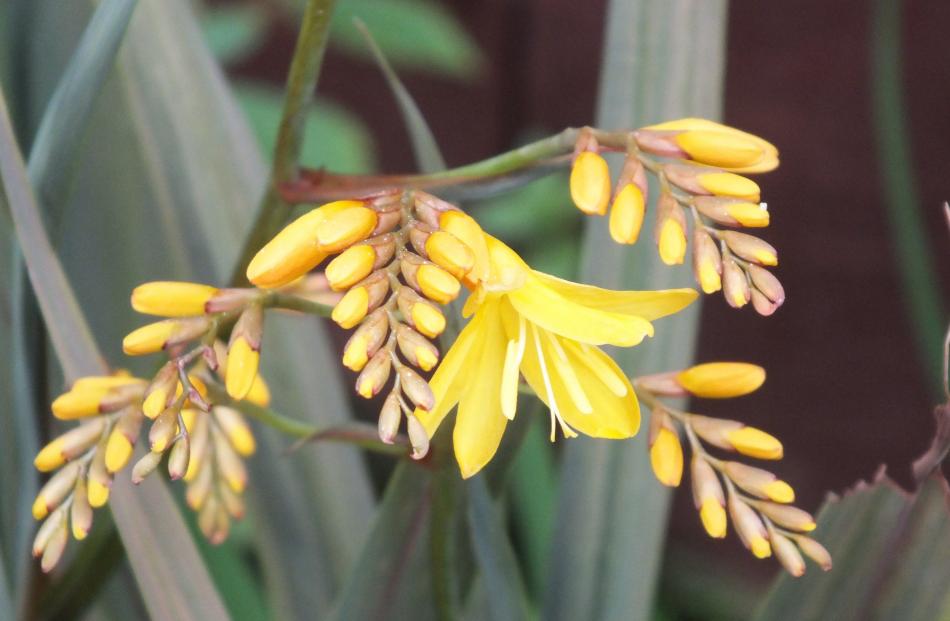 Gillian Vine looks at the more desirable members of the montbretia clan.
Say montbretia and gardeners tend to screw up their noses, as if you'd mouthed a rude word.
That's because Crocosmia x crocosmiiflora, the plant commonly called montbretia, is an invasive weed, colonising the edges of ditches and stream sides. It is difficult to get rid of because its corms grow in vertical chains, the youngest at the top of the heap pushing the lower corms deep into the ground, and any old corms torn off will grow.
Happily, there are other crocosmias that are good garden subjects. There are eight species, of which Crocosmia masoniorum, with its arching flower stems, and yellow-flowered C. aurea are sold here. These two, along with C. pottsii and C. paniculata, have been used in hybridising programmes, resulting in a range of red, orange and yellow flowers.
During the past few years, breeders have moved closer to pink with the introduction of varieties such as Scotland's salmon-coloured Culzean Pink, alas not available in New Zealand.
Severn Sunrise (1990), which can be bought here, has orange flowers that fade to salmon pink.
Until this flurry of interest in pink, most of the crocosmia cultivars available had been around for decades, some for a century or more.
The weedy montbretia dates back to 1870 and, despite creating that horticultural monster, we cannot write off the contributions of its breeder, Frenchman Victor Lemoine. Best known for his lilacs, he hybridised crocosmias until 1908 and although most of the dozens he produced are long gone, a few are still around.
One is Solfatare (sometimes spelled Solfaterre), first listed in his 1888 catalogue. Instead of the usual mid-green, gladiolus-like leaves, Solfatare's are dull bronze and the flowers yellow.
Two English ''oldies but goodies'' are Lady Hamilton and Star of the East, both bred by George Davison in Norfolk, in 1906 and 1910 respectively. Lady Hamilton has yellow flowers and Star of the East pale orange.
Deep-red Lucifer is the crocosmia most often seen in our garden centres. Lucifer's breeder, Englishman Alan Bloom, crossed C. masoniorum and C. paniculata to get a taller plant and the result was a hit from its debut at the Chelsea Flower Show in 1966. Lucifer went on to receive the Royal Horticultural Society's prestigious Award of Garden Merit. Bloom bred two other fine reds, tall Bressingham Blaze and lower-growing Vulcan.
To me, though, the prettiest English variety is Emily McKenzie, outstanding for its orange-yellow flowers with maroon throats. It can be difficult to track down (I was given mine by a kind neighbour) but Marshwood Gardens, in Southland, now lists it.
Crocosmias have two important attributes. Firstly, they flower when other late-summer bloomers are starting to look a bit tired and secondly, they are no-fuss plants that don't mind what type of soil they are popped into.
Their only requirement is ground that does not dry out in summer, so they are unsuitable for hot, dry places. They are happy in sun or semi-shade and, unlike most corms, do not rot if their feet get very wet in winter.
Plant them in spring but choose carefully where to grow them, as crocosmias' habit of heading down as far as possible on those vertical chains of corms makes it almost certain they'll pop up in the old location if you decide to move them.
If clumps get too big, lift them in autumn after the tops have died down and replant the best-looking corms.
For those that are staying put, some growers say to let the foliage remain until spring but I trim off the dead tops in autumn and mulch with compost, which keeps them happy.