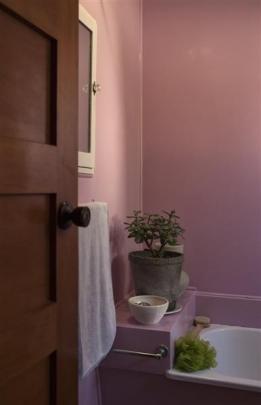 An avocado-green kitchen, geometric wallpaper and pink bathroom animate this Dunedin state house. It gracefully handles the overlaid tastes of its past two owners and teaches us a few things about the way we once were. It is one of 14 state houses in almost original condition explored in the new book, Beyond the State: New Zealand State Houses from Modest to Modern, by Bill McKay and Andrea Stevens, with photography by Simon Devitt. Kim Dungey reports.
Unlike in Auckland and Wellington, state housing areas in Dunedin have generally not been subject to gentrification, given there is not the same population pressure that brings the city-fringe suburbs in orbit of the urban worker.
The neighbourhood of Calton Hill shows how few regional design variations there were in early state houses.
From Kaitaia to Bluff, the cottage style was standard issue despite differing climates and landscapes.
But if the cottage suited anywhere in New Zealand, it would certainly be the windswept hills of Dunedin.
In a climate not unlike that of the United Kingdom, from where the cottage style hails, the houses have to stand up to some icy weather.
Their compact forms and narrow eaves make for strong, stout structures dotted along the hillside; sealed to the wind but with enough glazing to make the most of the sunshine.
Aaron Kreisler, a curator at Dunedin Public Art Gallery, has owned his Calton Hill state house since 2009.
He found it in near-original condition and loved its character and unpretentiousness.
''When I first visited the house, it was obvious that it was well cared for,'' recalls Aaron.
''It had a good feel and hadn't been mucked around with. And there was something about the light and the way it was placed on the land that gave it an aspect almost like a bach. In summer particularly, it feels like you are slightly escaping the city.''
It has a traditional state house layout: kitchen facing east, living room facing north, and bedrooms on the corners.
Having lived in the house now for several years, Aaron feels he has grown into it.
Instead of adapting the house, he has adapted to it. While others talk about opening their state house up, he has come to terms with its defined, box-like rooms and the division between indoors and outdoors.
It helps that there are a lot of windows for a house of its size, and through every window a view to the garden, neighbourhood or paddocks below.
When studying an intact layout like this one, there are many clues to what was important and how we lived in the post-war period - or at least how the government architects saw it.
The kitchen - planned as an efficient workroom for a single female cook has a stainless-steel sink, flour and sugar bins, food safe and pot and crockery storage, and is next to the back porch.
It is a compact zone, where domestic chores could be carried out as quickly and efficiently as possible.
The kitchen has views over the backyard where children might play, and a generous rear porch where family and friends were once expected to take off their shoes and hang their coats.
''I remember when I was a kid going around to a friend's state house and you would always go to the back door,'' Aaron recalls.
''There were politics of going to either the front door or the back door, and the front door had another level of formality to it. You knew you had done something wrong if you knocked on the front door.
"The back door was used most and it was where all the gumboots and gear was dropped off.''
The bathroom is a surprisingly perfunctory space.
It is tiny and speaks of a very different attitude to what is seen nowadays as an indulgent daily ritual. Bathrooms were certainly designed as utility spaces.
But tellingly, the previous owner, who purchased the house from the Government, painted the room a deep purply pink; a nod perhaps to the fact that bathing, even in a state house, had to have some luxury.
But the thing you really notice when visiting these houses is how little storage space they had compared with today's homes.
We don't take up more space, but our stuff seems to; indeed, significantly more.
A standard-issue wardrobe for those times was about a metre wide.
With all the consumer temptations thrown at us today, this would barely be enough for a coat collection.
''There's this fascination now for people making their mark with these uber-sized houses,'' reflects Aaron, ''where your kitchen has to be a chef's kitchen and your bathroom a large walk-in space.
"The addiction to spending is huge. We are the generation that is allowed to carry large amounts of debt.
"And so the state house presents a different set of attitudes about ownership. That's part of its interesting appeal: it wasn't about being indebted.''
Aaron has personalised his house in small ways, but has been very selective when peeling back layers: keeping some while discarding others, then overlaying his own.
Avocado-green kitchen cabinets remain, but turquoise wallpaper went; pink bathroom walls have stayed, but patterned carpet was lifted to show the timber floorboards.
''When I bought it, every room was a different colour and I wanted to keep that variation. I re-wallpapered the small bedroom with a 1980s geometric pattern, because I like the idea of using wallpaper again. And I find the house flows well. It is an easy house to live in.''
• Reproduced with permission from Penguin. Copyright text: Bill McKay and Andrea Stevens, 2014. Copyright photography: Simon Devitt, 2014.
---
Read it
• Beyond the State: New Zealand State Houses from Modest to Modern, by Bill McKay and Andrea Stevens, is published by Penguin Group NZ (RRP $75).
---