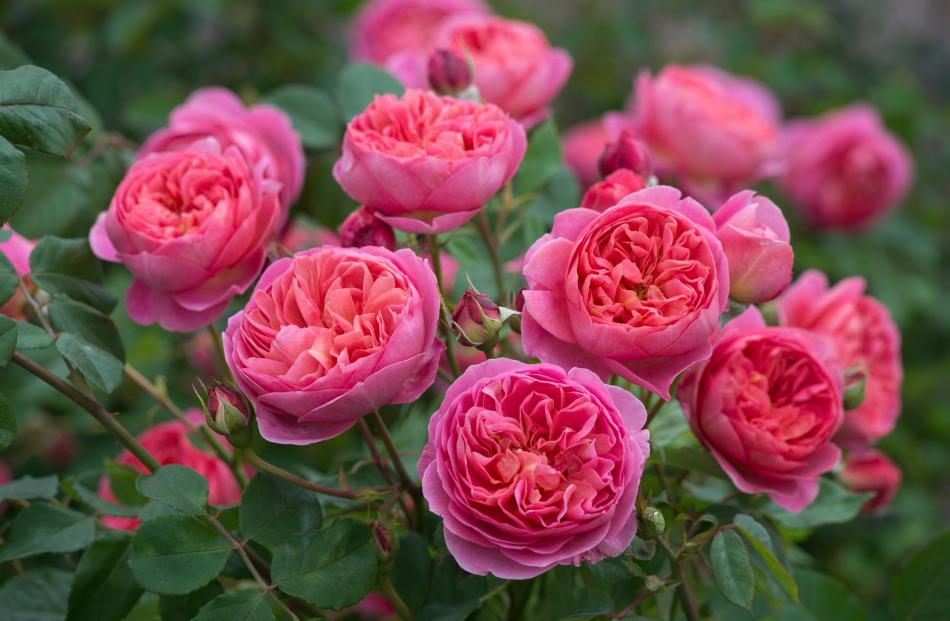 A University of Otago residential college is taking a rosy view of its silver jubilee. Gillian Vine reports. 
It's 25 years since Queen Mary maternity hospital was revamped as Hayward College, a residential college for 162 University of Otago students.
The college was named after brother and sister Jock and Vera Hayward, in recognition of their contribution to health and education in New Zealand. Mr Hayward was registrar of the university from 1948 to 1974 and Miss Hayward was a long-serving member of the Otago Hospital Board.
The family connection continues, as Mr Hayward's granddaughter, Professor Janine Hayward, chairs the college's advisory council.
When Hayward College considered how to mark its quarter century, Prof Hayward initiated contact with leading New Zealand rose breeder Rob Somerfield and the process moved from there.
Head of college and rose-lover Pauline Donovan welcomed the idea.
"I love his roses. I've got lots of them," she said.
"I talked to Rob and thought he wouldn't be interested, but he was."
A potential problem was that to get a rose from the initial crossing of varieties through to naming and marketing usually is a 10-year process. Ms Donovan was lucky, though, as Mr Somerfield had an unnamed, ready-to-roll rose he thought might be suitable.
"He sent a photo and we loved it," she said.
The dark red blooms have an appealing old-fashioned look and are produced on a bush of medium height, with flowers ideal for picking.
"They have no perfume but very good vase life," Ms Donovan said.
She is delighted that Tasman Bay Roses has added Hayward College to its list of new roses available this winter, as it makes it easier for alumni to obtain bushes. People living in Otago and Southland will be able to obtain Hayward College from mid-June at Nichol's garden centres in Dunedin, Invercargill and Cromwell.
"We're not making any money out of it," Ms Donovan said.
"It's just for our 25th birthday."
"And we're trying to link the rose to what we do."
That includes designs on mugs and T-shirts, as well as a special rose pin that will be given to winners of the Hayward Prize.
The prize was established in 2015 by the Brown and Hayward families and is awarded annually to an outstanding student (or students) of the college. Last year, two prizes were awarded and as well as the rose pin, each will be given a Hayward College rose bush.
There might be a whiff of oak
Another David Austin rose, Boscobel, is being released this year.
Boscobel is described as having well-formed rich salmon blooms with a strong myrrh fragrance.
It is an upright, medium-growing plant with dark green, glossy foliage. With good repeat flowering and exceptional health, this variety is promoted as suitable for any garden.
The rose was named for Boscobel House in Shropshire, in the north of England.
Built in 1632, the house is famous because the future Charles II hid in an oak tree in the grounds while being pursued by Cromwell's soldiers during the English Civil War.
Roses in order
Promoting new and recent releases of the world's favourite flower is the aim of the New Zealand Rose Review 2016-17.
"We've had reports on 91 newer varieties, the most ever," review editor Hayden Foulds said. He believes the reports from around the country will help give rose lovers guidance when ordering for this winter's  planting.
Produced by the New Zealand Rose Society (NZRS) with the support of leading rose nurseries and breeders, the full-colour guide features top roses chosen by members of the society, who vote for their favourites in a number of categories.
Winning roses from rose trials held at Palmerston North and Hamilton are also featured and there is an article on fragrance in roses.
The New Zealand Rose Review 2016-17 costs $9.50, including postage, and can be ordered at www.nzroses.org.nz or from the NZRS secretary, Mrs Heather Macdonell, PO Box 66, Bunnythorpe 4867.