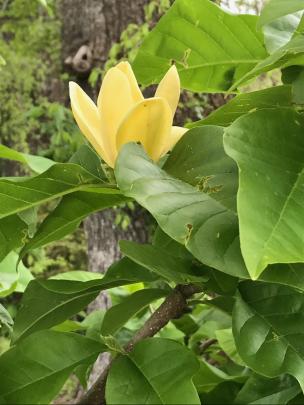 Gillian Vine appreciates a garden view through new windows. 
Revamping a garden to make it a more suitable setting for a house is not unusual. Less common is changing a building to showcase a garden, yet that is what has been done with the Heritage Dunedin Leisure Lodge hotel.
With almost 1ha of garden, which includes some fine old trees, the property is described by hotel general manager Leigh Stock as "an oasis in the north end of Dunedin".
"People love being out in the garden," he says, "and this hotel sits perfectly for the Japanese market."
For Kiwis, who make up some 60% of guests, it is popular as a wedding venue, with facilities for up to 110 guests.
Stock came here three years ago from Edgewater Resort and his first actions were to "move out of the '80s" by improving the entrance in Duke St and double-glazing windows in guest rooms.
Then, so the gardens could better be appreciated from the public areas of the hotel, he had the windows there enlarged. A deck was built to enhance the indoor-outdoor experience and Stock says guests have been delighted with the changes.
Some ask why the hotel restaurant and bar are named McGavin's and he says this reflects the site's history.
The property was, for many years, the site of McGavin and Co's brewery, established in 1882 by Scotsman George Lindsay McGavin. He had come to Dunedin in 1861 after a period working in the Victorian goldfields, where he apparently had considerable success.
McGavin and his partners bought an existing brewery, rebuilding most of it but retaining the 1871 malthouse, now known as the Oast House.
In 1949, R. Powley and Co took over McGavin's Union Brewery and brewing ended in 1958.
However, it is the Oast House that attracts the most attention. Probably a lucky survivor when State Highway 1 work resulted in the demolition of the rest of the near-derelict buildings, it is built of locally quarried bluestone and surrounded by gardens and lawns.
Peter Cunningham is responsible for the gardens and the immaculate lawns are a reflection of time spent as a greenkeeper before he joined Leisure Lodge.
Spring colour begins with daffodils, Dutch irises, flowering cherries, greeny-cream rowan and the pale foliage of silver birches. Next come the azaleas and rhododendrons of every imaginable colour that are a vivid feature from September to early December. Less obvious is a yellow-flowered magnolia, while Chatham Island forget-me-not adds a blue note by the front door.
Roses dominate in summer, while in autumn the deciduous trees light up the garden. Tucked away in the northern corner by the Leith is my favourite, an unidentified hawthorn with spectacular shiny red foliage in April-May.
Even in winter, the Leisure Lodge garden is appealing, although I think I'd rather sit with a coffee looking at the view than walk on the frosted lawns.
From jam to gin 
"No-one could accuse me of speaking with a plum in my mouth, but if they did it would surely be a damson," writes Lynda Hallinan in Damson, From Hedgerow to Harvest.
"Wee purple plums", damsons were the only fruit that grew on the Waikato dairy farm where Hallinan lived as a child and her book reflects her lifelong love of the tart fruit.
They've been grown in New Zealand for at least 170 years, she says,  the first trees having been imported from Tasmania in 1849.
Despite that, they rather fell by the wayside and are only now regaining their popularity as an ingredient in everything from jam to gin.
Hallinan's research for the book took her to England, where efforts are being made to retain and promote the numerous heritage varieties. Incidentally, we have just one kind of damson and it doesn't have a name.
Damson, published by Foggydale Farm Press, has oodles of history and practical advice — Hallinan even finds a use for the stones.
There are lots of recipes, from cupcakes and chutneys to cordials.
Of course, damson gin is included, too.
Damson would make a great gift for a gardener or cook.