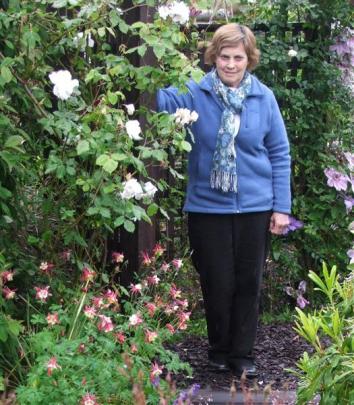 Dunedin is looking rosy during the next couple of weeks, Gillian Vine says.
Everything is coming up roses in Dunedin, or so it seems, with the Otago Rose Society's annual show this weekend and a major heritage rose conference starting next Friday.
As always, the rose show showcases the cream of the crop and, for those interested in buying new roses, it is the place to compare different varieties and make informed choices.
A popular feature last year - having experts on hand to identify roses - returns and anyone can take along a mystery rose to have it named.
There will be displays by Heritage Roses Otago, the Dunedin Botanic Garden, the Otago Iris Society, the Dunedin Sugarcraft Guild and the Otago Lily Society, as well as plants for sale and raffles.
For society secretary Marilyn Langford, it's a busy time but she still manages to keep her own garden looking lovely, despite recent cold, wet weather. She does not go for formal rose beds but intersperses roses with other shrubs, including rhododendrons, and pairs clematis with her climbing roses, among them deep red Birthday Present, white patio rose Taffeta, which she likes for its long-lasting flowers, and the almost thornless heritage variety, Madame Alfred Carrière, a noisette bred in France in the 1870s.
Heritage roses are naturally the focus of the national conference of Heritage Roses New Zealand (HRNZ), which also opens next Friday.
"We have about 150 people coming, from all over New Zealand, Australia, England and the United States, which is fabulous," HRNZ national president Fran Rawling says.
The conference opens with a floral demonstration by South Australian floral artist David Ruston, who produces huge displays representing different centuries.
"He's just amazing," Mrs Rawling says.
Mr Ruston is president of the heritage roses "shoot" of the World Federation of Rose Societies and HRNZ is delighted to have him back in Dunedin, as he was a popular participant in HRNZ's 2005 international conference in Dunedin.
A newcomer to the city is American Gregg Lowry, of Sacramento, California. A world authority on the conservation of old roses, he is the guest speaker at the conference dinner, while the other overseas speaker is Peter Boyd, of England.
There will be pre- and post-conference tours to see important heritage rose collections in Southland and Central Otago. On Monday, December 3, planting of the new Nancy Steen Garden at Columba College will take place in recognition of the role Mrs Steen played in saving heritage roses. One of her granddaughters will be among those planting roses in the new garden.
---
See it
• The Otago Rose Society show, at Forbury Park Raceway, Victoria Rd, Dunedin, is open to the public from 1pm to 5pm tomorrow and 10am to 3.30pm on Sunday. The $5 admission (children free) includes morning or afternoon tea.
• Heritage Roses New Zealand still has a few places available for its two-day pre-conference visit to Southland gardens. For details, contact Ann Williams, phone 489-6641.
---