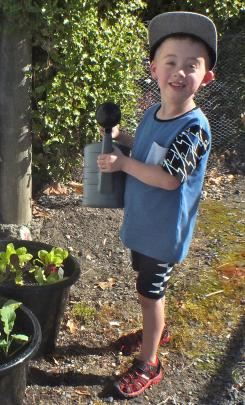 Start them young is the motto of a Dunedin gardener. Gillian Vine reports.
Harley Richardson is a parent's dream. He loves his vegetables and, although only 4, is as keen as his mum, Jazz Rowe, to grow them.
"Harley is quite a sponge and likes to learn," Jazz said.
He is a dab hand at watering, while his little brother Jordan (2) is almost as keen on gardening, demonstrating what to do by wielding a trowel in the garden his mother has created from a battered wheelbarrow.
Originally, Jazz wanted to build raised beds, a project she still hopes to undertake at her rented home in Dunedin. Instead, being on a tight budget, she started late last year with the barrow. Missing one handle and looking very battered, unsurprisingly it cost nothing and it took imagination to see a use for it.
"I had grown vegetables before but that was in a dedicated vege garden," Jazz said.
"This is an experiment to see what we can grow in a small space."
A solo parent with a part-time job as a beautician, Jazz is very budget-conscious and feels she makes significant savings by growing some of her own vegetables and herbs. Home-grown is fresher and chemical-free, important to her, too.Inspired by the range of produce a neighbour grows in raised beds, this season she has used the barrow, as well as buckets and troughs, to grow two kinds of lettuce, spinach, silverbeet, broccoli, leeks, kale, chives, mint, basil and parsley.
"Radishes grew like weeds and Harley loves them," Jazz said.
In common with other gardeners this past season, she found her spinach went to seed and carrots were very slow to develop.
However, the silverbeet thrived, pleasing because the family eats "so much spinach and silverbeet", and leeks are developing after a slow start.
Broccoli is another important crop for Jazz and her current concern is whether the buckets she is using are going to be big enough for the plants, particularly the cavolo nero (black kale) she has planted.
"I make a lot of broccoli soup," she said, adding that she recommends soup as a good way to get a child to eat vegetables.
The Little Garden  seeds that were free with supermarket purchases last year helped keep the cost down but she did not stint on soil mixes, initially buying bags of vegetable mix and compost, then combining equal amounts to fill her containers. Looking back, she thinks that rich combination — not the season — may have accounted for the failure of the spinach and the fact that her mint died.
"Maybe I should have made the majority of it with potting mix.
"She believes the keys to success are 75% what the growing medium is and 25% position.
"The good thing about the wheelbarrow is I can move it around and choose the best place for it.
"Jazz enjoys gardening with her boys but also loves it for herself.''I like projects, so the garden is my present project," she said.
Looking ahead, she said: "I'd like to pick up other old wheelbarrows and develop a wheelbarrow collection."