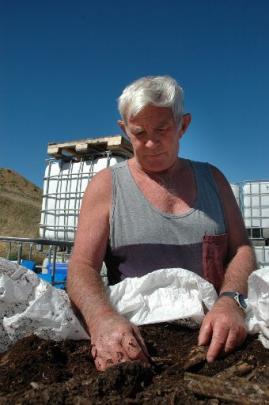 Following a recent visit to Dunedin by Ray Annan, a couple of people called the council complaining of a fishy smell in the Octagon.
He was indeed responsible, but it is expected his visit will have left more than a passing malodour.
The ''fish smell'' was from a compost tea Mr Annan had applied to the soil around the Octagon's trees, as part of an effort to return them to health.
The science behind the treatment is that if the soil is healthy, then the plants in the soil are likely to be in fine fettle also.
In January 2010 it emerged a fungal disease was attacking the Octagon trees.
Mr Annan, who runs the business Biology@Work from Springvale, near Alexandra, says part of the issue with the trees was a lack of air in the soil, and therefore a lack of beneficial micro-organisms.
''We are attempting to repopulate that soil with micro-organisms as well as provide the trees' canopy with the same.
''This time last year, you almost needed lights on under the trees because the foliage was so lush, but last winter in Dunedin was very cold and wet, which didn't help the trees,'' Mr Annan said.
''It takes about six to eight weeks after spraying [with compost tea] before you will notice an improvement. We hope to spray them again in early spring.''
What Octagon passers-by are likely to notice is the improved foliage. What they are less likely to twig to, but just as important, will be the world around the trees' roots.
It is down there that Mr Annan has been focusing his attention in recent years, working to understand the ''soil food web''.
After working in the pip and stonefruit industry in Marlborough, Mr Annan moved to Central Otago to be closer to family.
It was there he started developing his understanding, a process that involved conversations with, among others, Cheryl Prew of the Soil Foodweb Institute New Zealand laboratory in Roxburgh. In her lab, Prew analyses soil samples from a biological perspective.
The founder of the Soil Foodweb Institute, Dr Elaine Ingham, has been one of the leaders of a growing international appreciation of how soils function.
As a result of this work, questions have been raised about the traditional approach of simply adding artificial NPK fertiliser to maintain soil productivity. In this world, compost is king.
Healthy soil is made up of billions of microbes, bacteria, nematodes, ciliates, flagellates and so on.
The interconnecting relationships between these life forms generate energy, nutrients and complex interactions with plants.
Combining consultancy work with hands-on compost tea brewing and the application of biological teas and microbial inoculants, Mr Annan works on projects all over New Zealand.
Clients range from dairy farms to pip and stonefruit orchards, and vineyards. Municipal parks and golf courses are another growth area.
Mr Annan says farmers are starting to look for alternatives. As their farms need more fertiliser every year, costs are soaring while animal health is declining.
It is not a phenomenon unique to New Zealand, nor a new problem for that matter. In the vineyard, his biological applications lead to nutrient-dense grapes with more complex flavours.
Among the benefits for the wine-grower is fewer chemicals being needed in the wine-making process.
The Queenstown Gardens have been following a regime of applying compost tea, neem and fish emulsion, with great results, allowing staff to cut out the use of chemicals on the roses.
The use of fewer chemicals in our landscapes is a win in anybody's book, Mr Annan says.
He looks forward to when the country's farms, golf courses, schools and public spaces become safer places to play and work after the replacement of intensive chemical regimes with biological treatments.
Mr Annan says he takes much of his inspiration from naturally healthy self-managing ecosystems, where there are no chemical inputs but biology is definitely at work.
If he had to nominate a favourite member of the underground world, they would be mycorrhizae.
They are a wonder organism of the soil food web and one to be encouraged. Mycorrhizae are a fungus that have a symbiotic relationship with tree roots.
The tree feeds the mycorrhizae and the mycorrhizae help feed the tree, expanding its reach into the surrounding soils, often by metres.
Compost teas can be as simple as putting compost in a bucket of water, mixing well and applying to your garden. In the process, those few handfuls of compost go a long way to adding bacteria and fungi to your soils.
The kind of compost teas Mr Annan makes are a bit more complex in their production. Often made in a specially designed and built container, anything from 20 to 1000 litres of compost tea are made at a time.
Into a specially built giant ''tea bag'' (think mesh bag with a zip) goes a selection of ingredients, including compost, worm castings and seaweed.
Other ingredients added to the water can include molasses, fish fertiliser and humic acid.
These ingredients are then aerated for 12 to 48 hours. It is similar to a spa bath, with lots of bubbling air passing through the water, promoting rapid bacteria and fungal growth.
The final brew is then applied either as a soil or foliar spray, biologically inoculating the soil.
What it means is that small amounts of compost can be used effectively to create and spray a compost tea over large areas.
Ben Elms, also known as Dr Compost, is a soil enthusiast and composting educator.
What can you do in the home garden?
- Till the soil as little as possible. Look at some ''no-dig'' techniques as an alternative for your vegetable garden.
- Try to grow more ''nutrient-dense food''. Encourage the microbial activity in your soils by applying fish-based fertilisers and seaweed-based products. Better still, make your own.
- Keep recycling your food scraps using worm farms and compost bins.
- Compost, compost and more compost. If you have a limited supply split your garden into thirds and apply to a third of your garden each year. A little can go a long way.
- Compost your manure, but check its source. You don't want any worm drenches or antibiotics present.
- Stay away from anything that ends in ''cide''. Pesticide, herbicide, fungicide, they're all detrimental to your plants, the soil and you.
- Check out the shelves at your local garden centre. The range of biological products for the home gardener is growing every year.