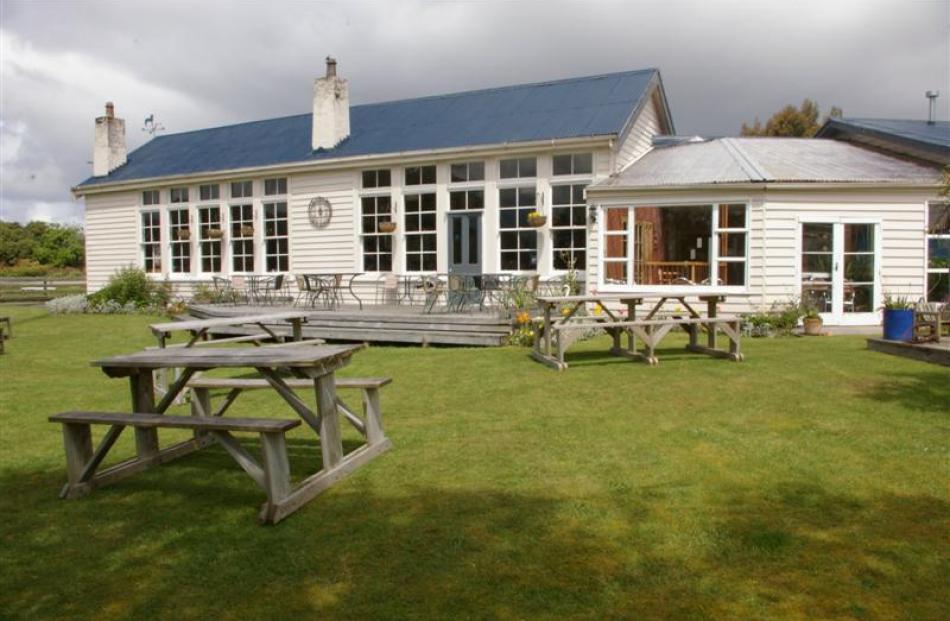 In a series featuring some of Otago's cafes, Hamish Maclean travels to the small Southland spot of Niagara, to find a family-run business with a focus on home-made and healthy.
The family that runs Niagara Falls Cafe has inherited a lot of history with the building, but a stamp of eclectic, organic thinking blends old and new.
The cafe's focus on homemade, healthy food is popular with residents and visitors alike.
Sue Thompson runs the cafe with her son, her daughter and her son-in-law.
Her daughter, Laura Fairweather, better known as the New Zealand cyclist who brought home three medals - a gold, silver and bronze - from the 2012 London Summer Paralympics, piloting blind cyclist Phillipa Gray, sees herself as a chef, she says. She's food conscious.
''She's an athlete so she's very careful about what she puts in her body,'' Mrs Thompson says.
The family has been transforming the cafe since January 2011.
Situated 10km from Curio Bay, along the Southern Scenic Route at Niagara, the cafe's menu caters to local tastes with a number of whitebait dishes.
The new gift shop, a bookshelf really, traverses Kiwiana - plush kiwi and pukeko, or birdlife tea towels, sit beside local eggs, woollen hats and hand-made baby booties. The breakfast menu puts a Catlins twist on classics.
The Niagara Special, cinnamon-infused french toast, sauteed bananas and bacon, maple syrup and freshly whipped cream, or Catlins Benedict, homemade bread, free-range eggs, and Niagara smoked salmon satisfy the taste buds of small-town New Zealand and worldly travellers who account for about 80% of those who stop in.
The cafe operates as a pit stop for drivers looking for cake and a coffee, or Bailey's hot chocolate, but dinner is served as well.
Pan-seared blue cod or vegetarian burger are on the menu.
The attached greenhouse features deck chair seating, a freshly painted mural, cacti and a sign that reads, ''Be nice or leave.''
But in the main, the cafe recalls the one-room schoolhouse it once was.
Children once learned their reading, writing and arithmetic at Niagara School, established in 1893.
Janice Broad has fond memories of the place from when she was a pupil there in the 1960s and 1970s.
Her teacher, future All Blacks assistant coach Tony Gilbert, would take the children outside to play rugby or netball.
There's garden seating there now.
She's got a farm just up the road and is a regular.
She spoke with the Otago Daily Times after having lunch with her mother, daughter and grand-daughter.
''It would never have occurred to me when I went to school here that I'd be having a cafe lunch here,'' she says.
When the family has more time, a garden is planned to grow vegetables for the cafe.
There's a bluegrass festival with camping in the paddocks at the end of summer.
The Waikawa Museum just down the road is constructed in three parts: the old Waikawa School building and the old Tokanui School building bookend the old Niagara Sports Pavilion.
Its collection, spanning the history of South Catlins' sawmilling, fishing, farming and shipwrecks, is worth a stop, and if you want to work off the hollandaise, a walk around the rocks at Curio Bay is not far off.
---
Recipe
NIAGARA SMOKED SALMON
(Served with Catlins Benedict)
Ingredients
Stewart Island salmon fillets
Method
Rub with iodised salt.
Cover with cognac. Rub with brown sugar. Add lemon juice.
Bag and seal, let marinate in the chiller for three days
Hot smoke for about 15 to 20 minutes
---