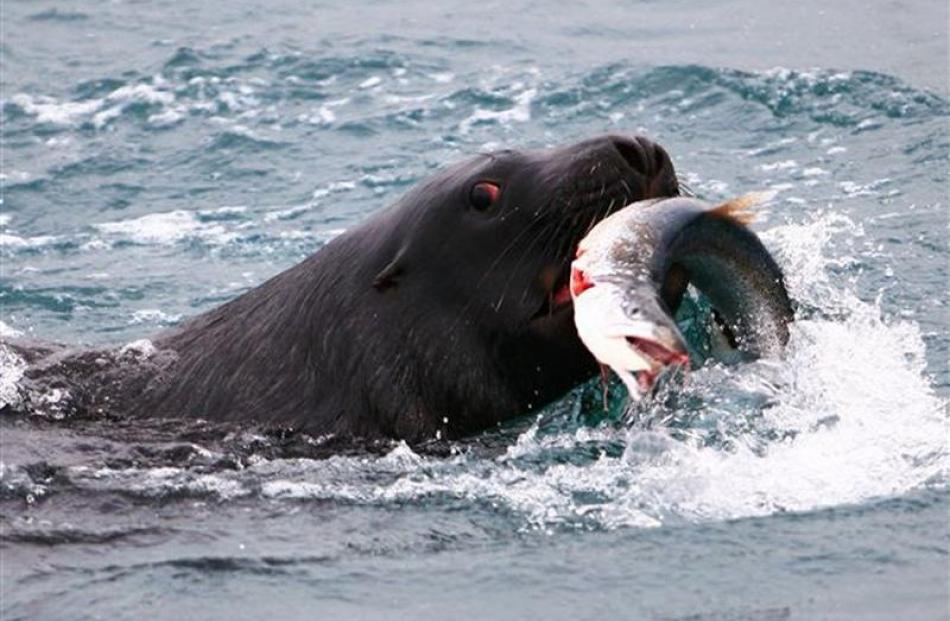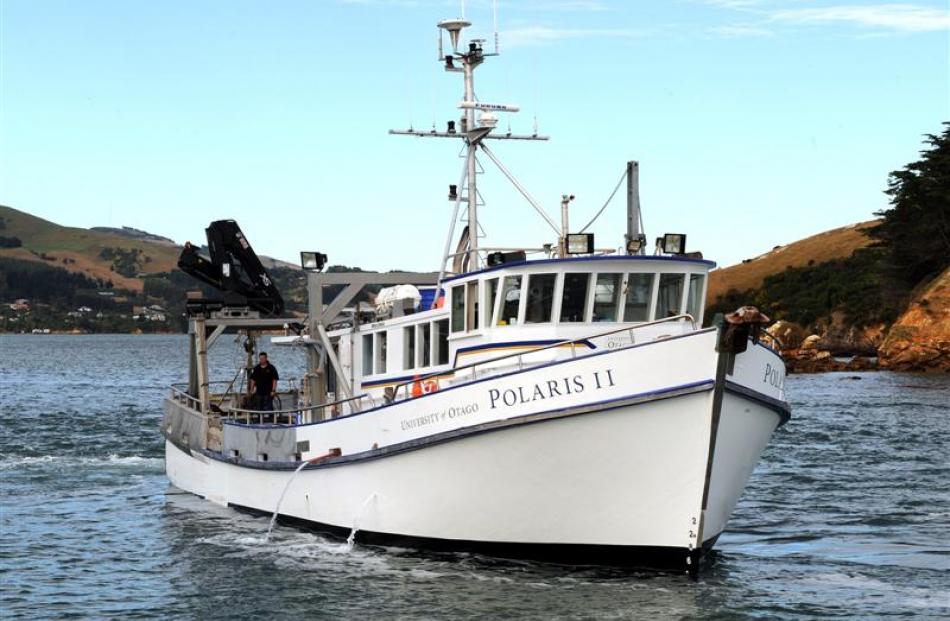 Two Dunedin brothers have been in a prime position to witness changes on Otago Harbour in recent years. Kim Dungey reports.
Dunedin brothers Sean and Phil Heseltine love their ocean-going lives but are concerned about some of the changes they have seen.
These include reduced public access to Otago Peninsula beaches and the depletion of fish stocks in some areas.
One of the brothers skippers award-winning tourist vessel Monarch; the other is the crewman on the University of Otago research vessel, Polaris II.
Those jobs, along with years of recreational fishing, diving and boating, put them in an ideal position to observe changes on the sea.
However, they emphasise their views are personal ones, not those of their employers.
"One of the things that is a bugbear of mine is the closure of a lot of [Otago] peninsula beaches," says Sean, who, before working on Monarch, was a signwriter,schoolteacher and deckhand on the university research vessel Munida.
As youngsters, he and his brother played at Papanui Beach and surfed at Pipikaretu Beach, but now members of the public trying to gain access are likely to be met by a guide or a farmer and turned away.
"It's a bit controversial for local people who remember the chance to wander at will around these places."
The sheer number of independent tourists wanting to see wildlife free of charge has caused problems, the 44-year-old says. Access to Pilot's Beach was modified after a well-known travel book advertised "free penguin viewing at dusk" and restrictions could follow in the future at places such as Allan's Beach, Boulder Beach, Sandfly Bay and Victory Beach, which would be "sad for regular local users".
The presence of sea lions at Aramoana and Tomahawk beaches in recent years also changed the way the public could move around those beaches and people have been criticised for walking dogs on Allan's Beach for the same reason.
While it is "great" New Zealand sea lions have returned to the Otago coastline and they need to be protected, he hopes wildlife tourism does not become too regulated.
"When you travel overseas you see how lucky we are to be able to walk out free of charge at the moment and go see these things. I don't want that to change."
The keen diver would like to see a marine reserve around Purakaunui and Aramoana, saying fish and paua have been dramatically depleted in a short time as more people have been doing dive training and boats have become cheaper.
And he suspects there is a link between sonar gear used by seismic survey vessels and fewer dolphin sightings in Otago Harbour.
"There could be other factors involved but it is my belief that dolphins, with their sensitive echo location [system], just don't like the pulses being sent out. I draw similarities between this and the known problems around Canada with whales holding their heads out of the water or fleeing frantically when sonar vessels are operating."
"There are now laws in Canada that control use of powerful sonar in areas where marine mammals are found frequently."
He also questions whether, after "200 years of environmental degradation" from foreign species being introduced into New Zealand, salmon should be released into Otago Harbour to compete with other fish and sea birds for sprat, yellow-eyed mullet and munida.
"It's like stoats, ferrets, cats and native birds ... We would never do that again, never release an introduced predator into the forests. So why are we doing it on the harbour ... It's unusual that it's not been publicly challenged in any great way.""Then again, I'm quite happy to go catch salmon so maybe I'm being two-faced." he says, adding that by speaking out on such issues he risks getting a "hard time" from the boating fraternity he is part of.
Phil Heseltine (42) is unworried about salmon releases and says seismic survey vessels generally stop operating when marine mammals are about. But he shares his brother's concern about access to the "back beaches" that were their playground as children and agrees that Purakaunui where they and their father once dived for paua has been "totally hammered".
While Sean has seen the eastern side of Otago Harbour become shallower over the years, both men say the water quality has improved now raw sewage is not pumped directly into it.
"There's also been a definite seasonal change," Phil says, adding he thinks this is of a cyclical nature rather than down to global warming.
"Our summers are a lot later than they used to be and a lot of the school fish and birds are here later in the year ...I think the water temperature is up a bit."
While Monarch rarely ventures more than a mile and a-half from shore and its skipper gets sick in certain sea conditions, Phil Heseltine can be away for up to seven weeks when working in the subantarctic ocean.
On one trip to the Campbell Islands, when they encountered 8m-10m of sea and 50-60 knot winds, the students and academic staff on board "disappeared downstairs" for two days, he recalls.
"There's a lot of them don't cope with it too well. But every trip down there, the weather's generally pretty borderline."
"It's quite exhilarating when you're sitting there looking at it, until you think about where you are and what you're in. It's quite a small boat to be working in an area like that and you're 400 or 500 kilometres from land so ...you're on your own pretty much."
However, the job also gives him the chance to see things the public may not be aware of, such as the sheer number of foreign fishing boats working in the area and sea lions feeding on albatross.
The 21m, round-bilged Polaris II has side-scan sonar equipment, sleeps 16 and is mostly used by the university's botany, chemistry, marine science, surveying and geology departments. However, it has also done private work, checking Meridian Energy's monitoring buoys in Deep Cove and Milford Sound, and putting equipment off Cape Saunders to measure wave heights and water currents for oil and gas company OMV.
While Phil is helping students to study climate change, trace the Akatore fault line out to sea or use a sub-bottom profiler to date when lakes in Fiordland filled with salt water, Sean is showing the public the best of Otago Peninsula.
The older brother does his best to make sure passengers see a variety of wildlife, from albatross to fur seals and dolphins.
Two more unusual sightings were two blue whales, which swam past Taiaroa Head following a Greenpeace vessel, and a sunfish cruising along at sea one calm morning, he says.
"My favourite part is being at Taiaroa Head because that's where the animals are. There's always the chance a whale will swim by or that you'll see a sea lion eating a fur seal. It's not the nicest sight to look at but it's ...nature in the raw."
Raised at Broad Bay, the pair grew up around the water.
Their father, Clive, was a Portobello marine laboratory technician and crewman on Munida and took the family on day trips in his 30ft clinker boat, built about 1902 as an oar and sail fishing vessel.
His sons began racing out of Broad Bay and Port Chalmers as soon as they were old enough to be "thrust out in a terrified state" in small Optimus yachts and Phil still sails competitively.
Both of them are practical by nature, Sean doing maintenance work on Monarch and former cabinetmaker Phil helping to refit Polaris II, an former long-line tuna fishing boat, in 2007. Both live in Port Chalmers, in sight of the water.
"I guess the harbour gets into you and you can't get away from it," Sean says. "You're more watchful of the weather and the tides ... It just becomes part of you. It's home."
While both enjoy spending their work and leisure time on the water, they also rib each other about who has the better job.
Phil says he operates in a more diverse area and his brother is probably jealous of the wildlife he gets to see, giving the example of the hundreds of southern right whales Polaris II encounters at Port Ross in the Auckland Islands.
Sean enjoys seeing many of the species Phil does, from just outside Taiaroa Head, and returning to the comfort of home each night. He also points out that Monarch skippers - including wife Rachel - contribute in a small way to wildlife data by keeping daily records of what they see.
"I guess they're doing the research and, in a way, we're presenting the findings."
While the pair say both types of work have their place, for Sean there is something more important.
"Research and tourism both foster preservation and that's the bigger picture."