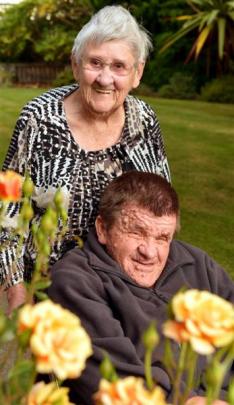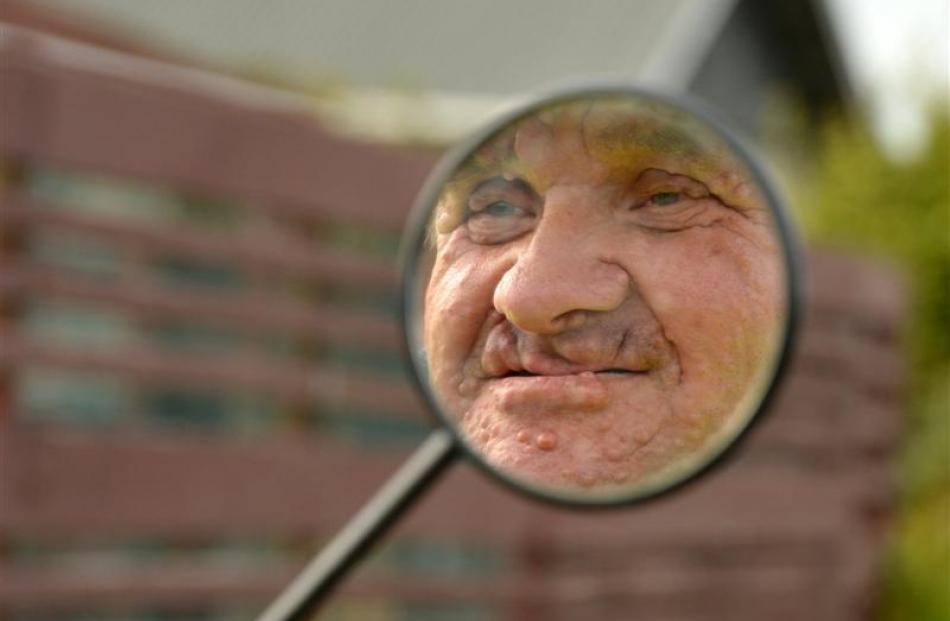 Afflicted by a rare disfiguring disorder and an intellectual disability, Alan McDowall could be excused for being unhappy and isolated. But the Invercargill resident is just the opposite - cheerful, outgoing, and determined to continue enjoying life as long as his body allows. Allison Rudd met the inspirational Alan and his devoted parents, Val and Ian.
On the day I first meet Alan McDowall, he is in a wheelchair, a brightly-coloured plaster cast covering one foot and ankle. He's off work for a few weeks and largely confined to home while first one of his feet, then the other, is straightened to make it easier for him to walk.
Is he in pain?
''No'', he says, flashing what I soon discover is his trademark smile.
The lack of pain is probably the only positive consequence of his having a rare and life-threatening disorder - neurofibramatosis.
The genetically inherited disorder causes nerve tissue to grow tumours, anywhere in the body. They are not cancerous, but grow so prolifically both in and on the body they affect every aspect of the sufferer's life.
Most sufferers are of normal intelligence; Alan's intellectual disability is coincidental.
While not painful, the tumours are unsightly, and Alan and his parents know others sometimes find Alan difficult to look at.
In too many operations to count at Southland and Dunedin hospitals, tumours of varying sizes have been removed from most parts of his body including his head, face, neck, back, legs and knees.
''But not my arms,'' he says, waving them about.
He has had two operations to remove tumours growing into his spine and to brace his head and neck.
Another huge operation in 2009 involved taking the fibula bone from his leg, cutting his throat from ear to ear and fixing the leg bone vertically from his breastbone to below his chin to help support his neck and head.
From soon after Alan was born, in 1973, his mother Val knew there was something wrong with him. While his twin sister Diane was progressing as expected, Alan's development was delayed and he was very slow to sit up or crawl.
Then the diagnoses came - neurofibramatosis coupled with an intellectual disability.
The McDowalls had never heard of neurofibramatosis.
''I couldn't even say it, let alone spell it,'' Val says.
They were told Alan might not live past early adulthood. He has proved that prediction wrong and is now 40.
From the start, the McDowalls' philosophy was to give Alan as normal a life as possible.
Like their other four children, Alan had his daily chores do do.
He attended the special unit at Ruru School before being among the first group of intellectually disabled children in Invercargill to be mainstreamed. He went to Waikiwi School and Collingwood Intermediate, returning to Ruru for some classes.
At his mainstream school Alan had buddies - fellow pupils who looked after him.
Those buddies and their parents have remained lifelong friends. Alan still rings the mothers of two of his buddies every night, Val says, and the buddies, now living out of Invercargill, visit from time to time.
In his teens Alan was a Scout, and a highlight for him was attending a jamboree for the disabled in Australia when he was 14.
Alan's tumours did not begin to grow until he was about 4. The first grew into a large flap across his lower back and was removed when he was about 7.
His health problems escalated when he was in his early 30s. The two spinal operations came first.
His parents did not realise it at the time, but the tumours at the top of Alan's spine were growing so rapidly they were paralysing him and could easily have killed him.
Ian relates the story.
''Alan came home from work one day holding his head up. We knew his neck had an S-bend in it because of a tumour pressing on it and that his head was going forward.
''We took him to Kew [Southland Hospital] where the staff were waiting for him and took him away for an X-ray. He was taken immediately to Dunedin Hospital to have $20,000 worth of metalwork inserted into his neck to brace it.''
There were risks with the operation - a possibility of the surgery failing and Alan being paralysed permanently, and a chance he would die on the operating table. Alan made his own decision, his parents say.
''Tell [the reporter] what you told us,'' Val instructs.
''Can't walk, can't move, die,'' Alan says.
''That's right,'' his mother says.
''He didn't want to be stuck in a bed. He was willing to take the risk.''
After the operation Alan spent two and a-half months in hospital struck down by infections. When he returned home he was paralysed for a time and had to be hoisted from his bed into a wheelchair.
When Alan's movement returned, everyone was anxious, including Alan.
''He kept putting his hand under his head to hold it up. He was scared it was going to fall forward and damage his neck,'' Val says.
''That's right,'' Alan says, nodding a little and indicating his neck is strong again.
Unfortunately, the metalwork failed and Alan's partial paralysis returned. Two years later, in 2008, it was back to Dunedin Hospital for the old metalwork to be removed and to have new bracing inserted.
The McDowalls have a souvenir of the first operation - Alan's cousin Anne turned the rods and screws into a sculpture.
But the most radical operation was when specialist spinal surgeon Bruce Hodgson decided to use Alan's fibula to brace his neck and head.
Again, Alan agreed to the operation knowing it might not be a success.
The McDowalls remember surgery day vividly. The operation took 13 and a-half hours and they spent that time at a relative's home in Dunedin.
''Every now and again someone would look at the clock and the time seemed to be moving very, very slowly. As the hours went by we were fearing the worst,'' Val recalls.
Then they got the good news that the operation had been a success and Alan had come through it well.
A constant in Alan's life has been his work at the Southland disAbility Enterprises workshop in Invercargill for the past 19 years, first crushing cans and now in the packaging room stuffing envelopes and packing products for various Southland companies.
The organisation expanded at a new site in central Invercargill two years ago and now carries out a range of services including processing all the kerbside recycling collected in Invercargill, Gore and rural Southland.
It employs 112 staff, 81 of whom have permanent or severe disabilities.
Workshop manager Ian Beker says Alan is typical of most of the staff.
''He won't let anything get in his way. He just gets on with it.''
Mr Beker remembers Alan's parents coming to him and asking for his advice when Alan was rushed to hospital for his first major spine operation.
''They asked me what I thought they should do. I told them to ask Alan. He made his own decision.''
Mr Beker says Alan has a keen sense of humour and enjoys socialising with his fellow workers at the regular socials and camps.
''For most of them, this place is like family.''
Alan returned to work part-time last week after his enforced break while his feet healed.
Being at home curtailed one of his favourite leisure activities - getting out and about.
Increasing mobility difficulties saw him progress from his beloved bicycle to a mobility scooter about five years ago. Now one of his greatest pleasures is to whizz into town and go shopping for his favourite purchases of lollies and chocolates.
On summer evenings Alan often goes out on his scooter again after dinner.
''Car out Dad,'' he tells his father, meaning he wants his scooter out from the back of the garage.
His parents comply and are happy to see him disappearing off down the street.
They worry about him, but they know he needs his independence.
Another favourite pastime is watching television. His parents are amused that he prefers crime and medical dramas which involve blood and surgery.
The McDowalls do not know what is in store for Alan - whether his tumours will get worse or whether he will require more operations.
They will continue caring for him and giving him the best quality of life they can.
They brush aside compliments about their devotion to their son.
''As parents, that's what you do. Basically it's a job which had got to be done,'' Ian says.