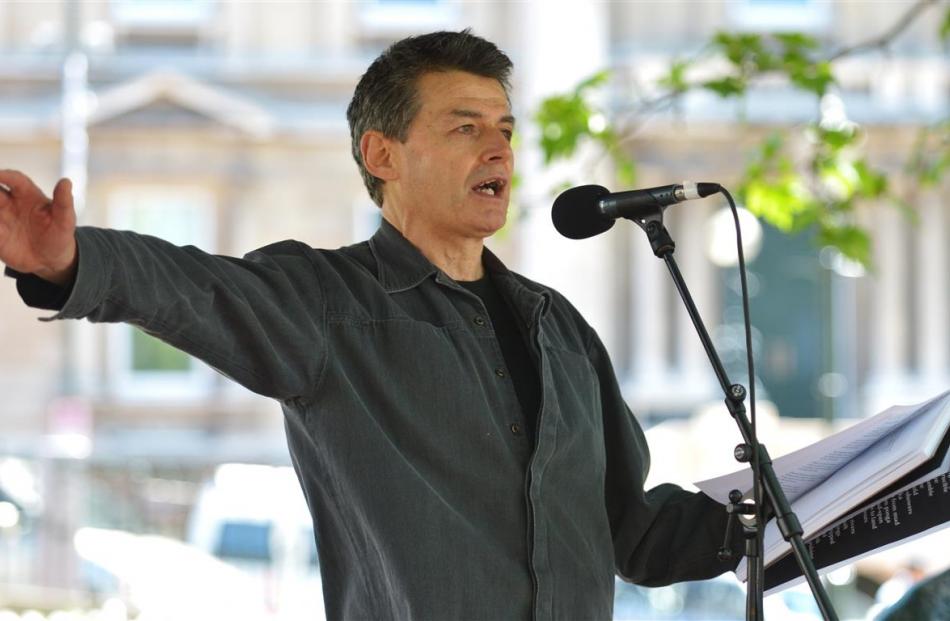 Passionate, prolific and private, award-winning poet David Eggleton clearly enjoys acts of subversion, writes Shane Gilchrist.
During an interview one cool, grey day in Oturehua a few years back, poet and writer Brian Turner once commented how little time he had for observation dressed up as fact.
That implied warning has stuck, a quiet, wise reminder of the importance of words.
Turner could have put it another way: handle with care.
With that in mind, make what you will of the following. It is, after all, merely perception.
Yet it is worth mentioning, if only to clarify why the following 2000-odd words about David Eggleton contain little reference to family or friends, even if relationships are, for some, the central nervous system upon which many an artistic impulse has been carried.
The observation is this: it seems Eggleton values his privacy as much as he does words.
      And in that light, to mention the Dunedin poet, writer, editor and critic lives a (long) stone's throw from the former home of Charles Brasch is to risk the possibility of Eggleton issuing a few choice ones under his breath.
But there you have it.
Should Eggleton feel the need to head out of the gate and off for a walk (apologies to Lynley Dodd), he'd barely warm his legs before passing the house of the man who, in 1947, founded Landfall with the intention of stimulating a vigorous and critical cultural life in New Zealand.
That task now falls to Eggleton, who, since 2011, has been responsible for the breadth and depth of New Zealand's foremost literary magazine.
A few recent editions of Landfall are scattered on a coffee table as Eggleton takes a seat (only to swap it for a more comfortable one soon after) and, beneath a massive wooden aeroplane propeller suspended from the ceiling, launches into a conversation that offers an insight into his many and varied endeavours.
The principal reason for the chat is the fact his 2015 collection, The Conch Trumpet (Otago University Press), won the poetry section of the 2016 Ockham New Zealand Book Awards earlier this month.
Yet, within the pages of The Conch Trumpet there is a satirical rumination on the nature of gongs, the poem New Zild Book Awards Considered as a Five-Horse Race begging the question: does Eggleton put much store in such events?
"The poem is intended to be a musing,'' he says, stressing the pause between those last two words.
"It's about having fun with the whole concept; otherwise it could take itself too seriously.''
Eggleton regards The Conch Trumpet as part of a continuum that began in 2006 with Fast Talker, followed by Time of the Icebergs in 2010; so he suspects the award was an acknowledgement of three substantial collections within a decade.
"Going back to this idea of the awards as a five-horse race, in fact, there were 49 books of poetry entered this year. That's a big field. It was narrowed down and I eventually scampered away the winner, by luck or chance or whatever.''
The judges of the national awards put it another way: "The choice of David Eggleton's The Conch Trumpet is in part a tribute to decades of resounding poetry with a distinctive Pacific voice and vision ... In huge sentences and tumbling metaphors he catches up his audience and makes his world public. He has an acute sense of the physical landscape as alive and present - but also of its history, in word and action.''
Any examination of Eggleton's methodology risks entering a paradigm once described by British poet Philip Larkin, who said: "I can't understand these chaps who go round American universities explaining how they write poems: It's like going round explaining how you sleep with your wife.''
Still, Eggleton is happy enough to offer insights, many of which are accompanied by a movement of hands equal parts flourish and fidget, not unlike how he would deliver a poem.
"I take my analogies from the real world. I want to make people think about the world in different ways.
"Other poets might concentrate more on personal relationships. My poetry is more about a sense of me as a New Zealander. It is a bit of an old, cliched theme but I try to reinvent it, to make it new.''
Eggleton's source of inspirations is far-ranging: from the scattered, staccato call-and-response chat of online media to news headlines, to the beauty of New Zealand, to commentaries on the societal effects of neo-liberalism.
"Sometimes my poetry may have a subversive element in the use of words. Someone might think that isn't language that a poet should use. But I believe all language should be available for poetry. It feeds off the dynamics of a society.
"You pick up a word and dribble it on to the court and move it around; you get the word up and slam dunk it.
"The poet is the conscience of society, fulfilling the outsider voice, the independent voice. It's a role I see as important. Not everyone feels that way, but I do.
"I've been committed to being a writer. And, come hell or high water, I have stuck to that.''
Eggleton says his mind is "almost always in a kind of overdrive''.
He typically has a range of projects bubbling away simultaneously and admits he's rarely, if ever, satisfied with what he's done.
His list of achievements is long, ranging from his early forays into performance poetry to albums on which his words are set to music, to commentaries on others' music, to working with fashion designers and artists, to critiques of other writers' work (for which he has won several awards).
"I enjoy collaborations,'' Eggleton says.
"I bump into people and say, 'what are you doing? Do you want to do this?' I actually work in a random, roundabout fashion. I might binge on creative writing for a while and shut everything else out.
"It is very much about time management these days. Pragmatism is crucial if you are to survive as an artist, particularly if you are an unusual or marginal artist.''
• Galvanised by his Ockham win, Eggleton hopes to publish a new collection of poetry next year.
He also has a long-term plan to write about what it means to be a New Zealander in this day and age.
He also helps produce the Auckland-based Phantom Billstickers Cafe Reader, a quarterly zine featuring poems, short stories, artwork, interviews and non-fiction narratives. As an illustration of Eggleton's many hats, a copy sits on his coffee table, adjacent to the heftier Landfall.
"Every six months a new Landfall appears. I have to sort through all the submissions and choose the best.
"There is a tremendous heritage to Landfall. I'm honoured to be part of a tradition that is continuing into the 21st century.''
As per his writing, Eggleton regards the editorship of Landfall in a wider sense; specifically Dunedin's literary landscape, the residents of which (be they part-time or permanent) include Brasch, James K. Baxter and Janet Frame, among many others.
"Dunedin ... achieves more than you'd expect from a city of its size. Partly that's because of the institutions here, including the university and art gallery.
"But clever individuals have come here and helped develop that ... New Zealand's most important writers have strong associations either through the university's Burns Fellowship or because they are from the South Island, which is kind of like a repository of some of the country's most potent national myths. These have been handed on to younger generations.
"People have come from elsewhere and found a place that offers a lot.''
Indeed, Eggleton is one such person. Initially, he had left Auckland in the late 1970s with the intention of exploring New Zealand.
He arrived in Dunedin and found it had everything he needed.
"It was like New Zealand's best-kept secret, in a way. Then the Flying Nun thing happened. I lived here for a couple of years before heading back to Auckland. Then in 1990, around the time I got the Burns Fellowship, I moved here and have lived here since.
"Even though I have lived in Dunedin for 26 years, I have lived away for some time, including in Australia. I like travelling and would do more if I had more money. However, staying put means you have a good look around. And New Zealand is a great place to be.''
• Wherever he is, Eggleton will stand and recite his poems with a certain gusto, yet he maintains he is "pretty quiet''.
Look up "quiet'' in a thesaurus and you'll find a range of synonyms, including "private''.
What he means is he'd prefer to go about his business without talking too deeply about his own history.
"Let's just say I've done lots of interviews over the years and been portrayed in certain ways,'' he says.
"Fair enough; you have to simplify things for people to understand. But I'm a bit of a complex persona and I like to be doing lots of different things. If people can't get their heads around that, then too bad. I'm just going to go ahead and do it anyway.
"In a way I'm happy in an interview to be a persona of a certain kind and leave it at that.''
Eggleton doesn't give away his exact age, but he was born in 1952. At the suggestion that would put him in his mid-60s, he responds: "There is a tendency in New Zealand to reduce everything to simple statistics ... you get forced into categories. There are all these baby-boomers coming through and I guess I'm part of that group. But what does that mean? So many kinds of people make up baby-boomers.
"I don't see myself as a stereotypical older person. Nor do I see myself as forever young. It's not about that.''
Eggleton lives in a house he describes as belonging to the remains of a commune, a family trust that charges an "extremely modest'' rent.
He says he likes being close to the centre of things.
That's good, because he lives in an area of town where various old manors have metamorphosed into multi-bedroom student accommodation.
Not quite party central.
He'd like to think he's still a student in some ways. He still believes in the value of education for knowledge's sake. He says he has never been interested in making money.
"I've never had that attitude. I think it's because of where I come from. I grew up in South Auckland, in Mangere East in the 1970s. At that time it was a very hard place, very macho.
"I come from a bit of a rebellious background. I grew up in Fiji for some time. I lived on an island called Rotuma, part of a Polynesian group of islands annexed by the British in the 19th century and taken into the Melanesian group in Fiji.
"So it was kind of like living within a minority within even the Fiji group.
"The colonial and post-colonial eras have had a big influence on my family and, consequently, on me.
"I left the island when I was 9. But I had lived in Auckland when I was 1 and 2. My parents had moved to New Zealand in order to have their children made New Zealand citizens. They then moved back to Fiji. My dad is from New Zealand but he was working for the New Zealand Government in Fiji at the time.''
Eggleton says his family is now "scattered'' around the South Pacific. His Polynesian mother lives in Sydney; his father died in 2013 (he dedicates a poem to him in The Conch Trumpet titled Between Two Harbours); he has a brother, Tonu Shane Eggleton, an acclaimed artist who provided a half-dozen woodblock images for the latest collection.
"There are various cultural aspects to all this. I can't explain it simply, so I will need to write it all down.
"Those things should perhaps be unpacked in a memoir. It's a complicated story.''