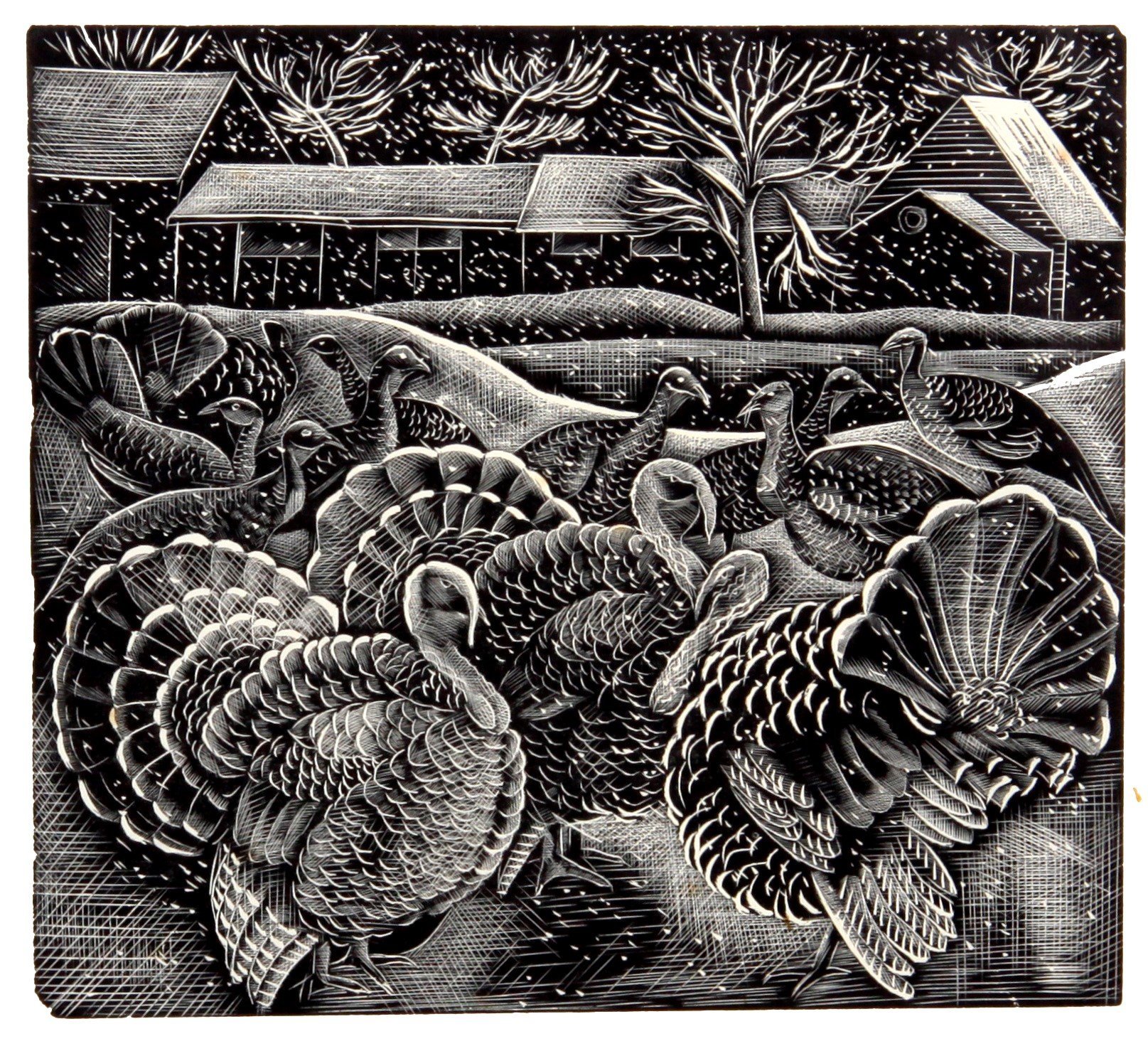 In March 1920, a group of artists, including Lucien Pissarro, Noel Rooke, Gwen Raverat and Eric Gill, founded the United Kingdom-based Society of Wood Engravers.
Established to promote and celebrate wood engraving as a legitimate medium for artists, a focus was placed on the use of oil-based inks and the mechanical printing press. The Society, which celebrated its 100-year anniversary in 2020, built an international membership base that welcomed artists, collectors and engraving enthusiasts.
One member was Mary Elizabeth Groom (1903-1958), a 20th-century British artist, book illustrator and print-maker.
Groom studied at the Grosvenor School of Modern Art, London, followed by Leon Underwood's Brook Green School of Art in the early 1920s. Groom was also a member of the English Wood Engraving Society and produced illustrations for Golden Cockerel Press.
The Dunedin Public Art Gallery's collection holds one work by Groom, a wood engraving called Turkeys in the Snow (1930). This rafter of turkeys is a strong example of Groom's characteristic use of black ink outlined in white to create depth, texture and movement, as well as her strong attention to detail.
In 1953, Sir Rex Nan Kivell, the New Zealand-born director of the Redfern Gallery in London and an avid collector of British prints, gifted editions of Groom's Turkeys in the Snow to public collections across New Zealand, including Dunedin Public Art Gallery, Christchurch Art Gallery Te Puna o Waiwheu and Museum of New Zealand Te Papa Tongarewa.
Turkeys in the Snow can currently be viewed in the "Animal Painting" room within "Style & Substance: A journey through the collection" exhibition.