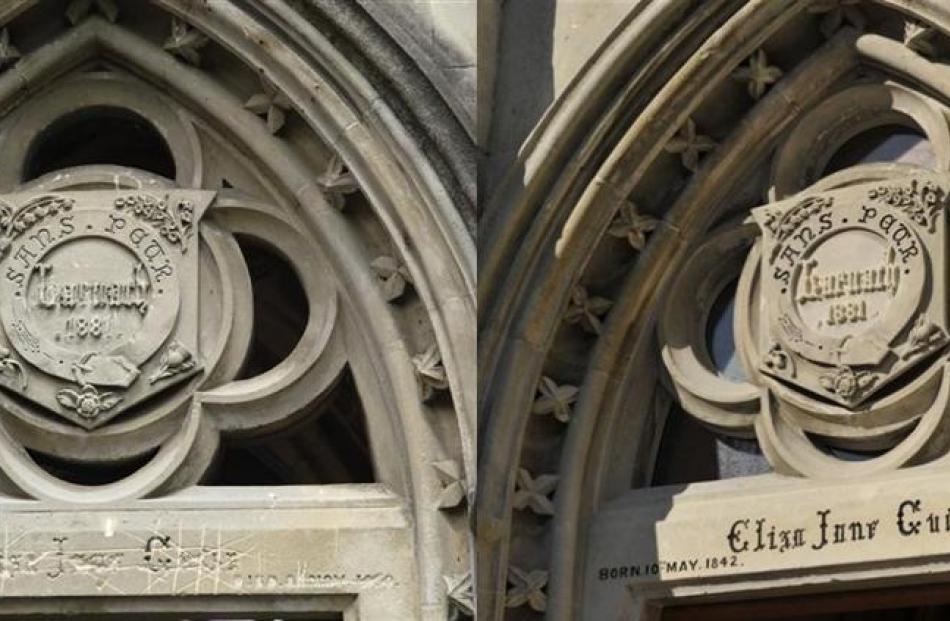 The most striking memorial in Dunedin's Northern Cemetery once again soars proudly heavenwards after years of neglect, vandalism and desecration. Charmian Smith reports on the restoration of Larnach's tomb.
After seven years in the planning and 18 months' work, Larnach's tomb in the Northern Cemetery is looking pristine with restored finials and crosses, new window tracery and stained glass, new doors and wooden floor - all replicas of the originals.
In the 130 years since it was built, wind and weather wreaked havoc on the Oamaru stone and slate of the Gothic-style mausoleum and it was continually vandalised. The stained-glass windows and stone mullions were shattered, the doors broken and torn from their hinges, the walls defaced with graffiti, many stones smashed and pulled apart, and even the coffins in the underground crypt opened and some of the bodies desecrated and bones removed.
In the 1970s Larnach's skull and other bones were found, returned to the vault and the floor concreted over by Barry Barker who, with his wife Margaret, had recently bought and was restoring Larnach Castle.
However, the tomb continued to attract vandals and many drunken parties were held there, judging by the evidence left over the years.
According to stained-glass artist Peter Mackenzie, while he was working on the windows some people who came to see what was happening told stories of previous exploits.
"People loved to party in this building because, site visitors recalled: 'You could get drunk with your mates, shelter from the rain and if it was really cold, light a fire.' But it got smoky so they smashed the top windows to let the smoke out," Mackenzie said.
Larnach's few descendants were unable to afford to keep repairing the constantly vandalised tomb and although the city council owned the cemetery, it could not spend public money repairing individual memorials.
However, in the mid-1990s the council undertook to make the tomb safe for the public. The steeple, which appeared to sway in the wind, was stabilised and the roof weatherproofed. It had to be repaired again after an arson attack in 1999.
However, the rest of the tomb was derelict when Stewart Harvey, chairman of the Historic Cemeteries Conservation Trust of New Zealand, instigated a conservation report in 2006. By early last year he had raised $345,000, initially with a grant from the Dunedin Heritage Fund. Other sources contributed: the Lottery Grants Board, Heritage and Community Trusts, Southern Trust and Macmillan Trust, and work was able to start.
Much research has gone into what the mausoleum originally looked like.
Heritage consultant Guy Williams, who managed the restoration, said all the restoration and replication was closely guided by evidence from the fabric, photographs and drawings. It was not easy to get the Historic Places Trust to agree to replication in a restoration project so the resource consent application had to be specific about how it would be approached.
He revised the only existing plans, which differed from what had actually been built. One of the most significant finds was the cartoons of the glass in the windows, he said.
With the help of the late John Salmond, descendant of J. L. Salmond, a business partner of the original architect R.A. Lawson, Mackenzie found about a dozen previously unknown tomb drawings, including the window cartoons, in the firm's archives.
"Historically there had been many reports done on this building but they all referred to the one drawing, a proposal put to Larnach, but that wasn't what was built. It was modified at least four times, probably five, before they settled on the design. It became more elaborate, grander and larger, with a taller, finer spire and grander windows and ornaments, much like everything Larnach did," Mackenzie said.
According to Williams, reconstructing the stained-glass designs in detail took a lot of detective work, including an archaeological dig last summer and sifting broken glass from soil around the tomb to identify colours, shapes and patterns, and analysing old photographs, and the degraded drawings. The windows now show heraldic devices of Larnach and his related families, and his award of the order of St Michael and St George.
"Some of his intention with his heraldic devices - some of which he magpied - was to display the fact that he was going to be knighted, which was promised by the prime minister, who got sacked, so he never achieved it," Mackenzie said.
The glass is protected by armouring, security cameras, alarm systems and lighting installed around the tomb.
Stonemason Marcus Wainwright replaced most of the window mullions and one complete tracery, plus finials and crosses, as well as cleaning and repairing other damaged stonework. It was challenging, but old photographs showed what the crosses and finials were like, as they differed from the available drawings, he said.
The experience of working on the tomb felt unusual, in that it was a historic building still in its original use and in an unchanged environment. It was built as a tomb, still in use as a tomb, still in the same ownership, and so was different from almost all other historic buildings in Dunedin, he said.
"As a stonemason I find it very special working here and even though Larnach has now been gone for over 100 years, it sometimes feels the stonemasons have only just left and that history is actually not so long ago," Wainwright observed.
• Official opening
Dunedin Mayor Dave Cull will officially open the restored tomb today at 1pm. 
---
LARNACH
William James Mudie Larnach, banker, businessman, politician, government minister, and builder of the grandiose house, The Camp, now known as Larnach Castle, on Otago Peninsula in the early 1870s, built the mausoleum in 1881 as a memorial to his first wife Eliza Jane Guise. She died suddenly on November 8, 1880, of an apoplectic fit, now called a stroke. Her name and dates of birth and death can be seen carved on the door lintel.
No stranger to flaunting his prosperity, however precarious it ultimately proved to be, Larnach engaged the notable Dunedin architect R. A. Lawson to design this Gothic memorial for her. Subsequently also buried here were Larnach's second wife Mary Cockburn Alleyne, Eliza's half-sister, who died of blood poisoning after an operation in 1887; his eldest daughter Kate Emily Larnach, who died of typhoid in Wellington in 1891; and Larnach himself, who committed suicide in Parliament buildings in 1898.
It is said to have been due to the parlous state of his finances, but others speculate it was because of an affair between his third, much younger wife, Constance de Bathe Brandon, and his younger son Douglas.
In 1910, Larnach's elder son, Donald Guise Larnach, who also committed suicide, was buried here too.
Larnach, despite his reputed wealth and love of conspicuous display, died intestate and the scattered family was torn apart by legal battles over what little remained of his property.
---