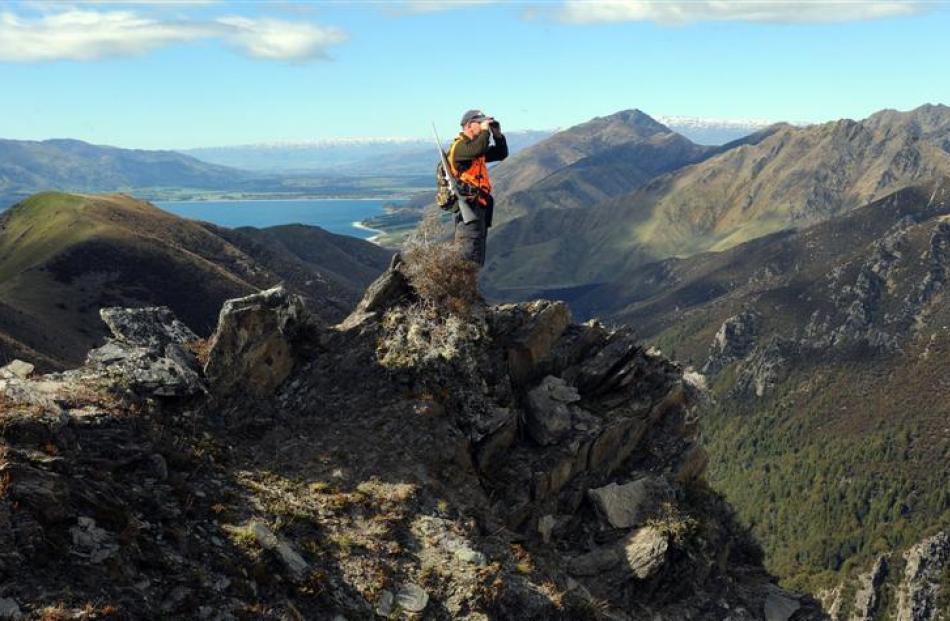 A firearms licence is far easier to get than a licence to drive a car. You don't even need to handle a rifle first. So the New Zealand Deerstalkers Association offers new hunters a training course teaching safe hunting practices. Experienced hunter and Otago Daily Times illustrations editor Stephen Jaquiery went along with his camera.

Feet burning, legs aching, lungs heaving, perspiration stinging his eyes, Wal Shuttleworth (47), of Wanaka, is nevertheless only a gentle finger-squeeze away from elation.
There's movement up ahead, a prize flirting with the crosshairs of his rifle.
Golden tussocks ripple in the breeze, a lake shimmers thousands of metres below. To the east, in the township of Hawea, people will be stretching, yawning, cooking bacon, supping coffee and unfolding the Otago Daily Times. It's not yet 8am on a Saturday morning but some hours since Mr Shuttleworth unzipped his warm sleeping bag at about 5.30am.
He'd been lying awake anyway, picturing the scene in which he now finds himself. An hour later he left camp with his guide and has since been testing his fitness on a gruellingly steep hillside. Nine like-minded new hunters from Wanaka are spread along the length of Glen Dene station's 6000ha free-range hunting preserve, between Lakes Hawea and Wanaka, accompanied by five experienced tutors.
They are in the middle of a Hunter National Training Scheme (Hunts) course, run by the New Zealand Deer Stalkers Association. Camping for two nights in the bush and taking part in a guided hunt for deer is part of the syllabus.
Designed to allow novice and inexperienced hunters to become competent in basic hunting and bushcraft skills, the course began in the classroom where they were taught everything from ethics and ecology to first aid and survival, bushcraft, navigation, marksmanship and the essentials when it comes to equipment and food.
Now they are putting that into practice.
Mr Shuttleworth gained his firearms licence two years ago so he could take his son Kieran (14) hunting rabbits. Until now, his life has been busy with rugby, golf, his day job as an electrical technician and family.
Kieran was his excuse to take up hunting. He saw the Hunts course advertised in the paper and thought that by doing it he could also pass on what he learned to his son. So here he is, complete with a $1300 rifle, and wearing or carrying $700 worth of other gear - boots, pack, cleaning kit, scope covers and a knife. The course itself cost another $200.
Mr Shuttleworth has seen deer this morning. Following the advice of his instructor and guide Alan McKay (69), he has stopped often on the steep climb skywards to sweep the hilltop with binoculars. Two deer are grazing directly above them and another six in the saddle to the left, both groups about a kilometre away. It is big country, and their quarry are wild animals with sharp eyes and a keen sense of smell. Not long after spotting the two-legged intruders, they move safely out of sight.
The NZDA, formed in 1937, represents and speaks for hunters, championing their interests. In partnership with the Mountain Safety Council since 1987, it has put 300 people a year through Hunts courses. Upon completion, those involved earn a qualification based on unit standards, recognised by the New Zealand Qualifications Authority. Participants range in age from 13-70 years old.
Bill O'Leary (66) is the Hunts national co-ordinator.
A NZDA life member, he spends three months of the year away from home in a voluntary position supervising hunter-training programmes around the 23 NZDA branches, from North Auckland to Southland.
This weekend O'Leary has driven from his Nelson home to Wanaka primarily to assess the tutors against a syllabus set and governed by a national NZDA executive.
The trainers are usually hunters with a lifetime of experience.
O'Leary ensures they train to a national standard while recognising the experience and expertise of these volunteers, picking up best practice from around the country and adjusting the course to suit.
Tyson Sunderland (16), a pupil at Mt Aspiring College, is the youngster on the course. He is mad keen on hunting and relishes pig-hunting outings with his uncles near Waimate during school holidays. No-one in his immediate family hunts.
Tyson "loves getting out and doing stuff" and says he has "learned heaps on the Hunts course", including tracking, navigation and first aid - how to deal with a dislocated shoulder or a deep cut.
Tyson tops the class during range shooting and puts this training to good use in the field by shooting a "good eating pig right between the ears".
On his strong young legs he not only carries his pig off the hill but "an old fella's pack" to boot.
In Wanaka, an average of 150 people sit their firearms licence each year. Tutor and firearms-licensing examiner Malcolm Mitchell (63), a builder, says 20% of these are women. Many people he tests have a lifestyle block with a rabbit problem. New Zealand has 220,000 licensed firearms users in total.
Another on the course, carpenter Alester Haines (25), has held a firearms licence for two years - he has family and friends who are hunters. As a novice hunter he joined the Hunts course hoping to gain more experience and has not been disappointed.
Today he shot a deer, his fourth, and learned how to backpack it out. He has also picked up stalking methods and how not to tire yourself out. In fact, everything covered in the course is helpful, he says. The yearling deer shot today will form part of the next group lesson, butchery, followed by a barbecue.
Mr Haines has previously taken his meat to a butcher to be made into sausages and salami.
Landowner Richard Burdon is the third generation of Burdons to farm on Glen Dene, a station that has long held a population of chamois and red deer. Today trophy hunting, with a largely overseas clientele, is an important part of the station operation, with its wild herd managed in a similar way to the domestic animals.
Working with the Department of Conservation, vegetation monitoring is carried out to achieve a balance between managing animals and managing conservation. Rather than culling excess animals by helicopter, numbers are managed by allowing local deerstalkers access through the Hunts course and offering father-and-son guided hunts.
Wanaka professional hunting and fishing guide, Gerald Telfor, who guides trophy-hunting clients on Glen Dene station, is a voluntary Hunts course tutor. He says he has personally shot enough animals, enough trophies. There are a number of stages of hunting and now he is at the "give-back stage", he says.
Mr Telfor loves seeing the grin on the face of a new hunter and sharing their sense of achievement.
Unlike paying customers, who can on occasion be very demanding, it is good fun with locals, without the same pressure.
There is also some cunning in granting the local deerstalkers limited shooting rights on the station.
In these times of increased poaching, it is the best security system in town, Mr Telfor says.
If a club member turns up uninvited, which can cause a serious safety issue, one telephone call to the club sorts them out, or if any club member sees a strange car on the block, Mr Telfor is certain to be alerted by a phone call.
Meanwhile, back on the tops, Mr Shuttleworth has hunted hard. He has spotted deer. He has found muscles he did not know he had. His classmate has shot a yearling hind - beautiful meat. Mr Shuttleworth saw one shootable deer for a fleeting moment, long enough to set his heart pumping and dry his mouth. Unfortunately for Mr Shuttleworth, the hind stopped just out of his vision and was shot cleanly by his experienced companion.
This same companion borrowed Wal's knife to gut the animal, as he had left his own back at the camp.
He has experienced the excitement of the hunt, and the prospect of putting meat on the table and is now in a position to start sharing the experience with his son Kieran.
He has enjoyed views seen by a select few, but Mr Shuttleworth is still a gentle finger-squeeze away from elation.
He is philosophical.
"There's always tomorrow."
---
• FOOTNOTE
Mr Shuttleworth has since impressed his son Kieran with his prowess. Accompanied by a Hunts course instructor, he spotted four undisturbed deer grazing some way off. A stealthy bush-edge stalk closed the distance to 160m, from which point he selected an animal and shot it. Jubilation and a long carry-out followed but he now truly feels like a hunter and is looking forward to his next hunting trip.
---