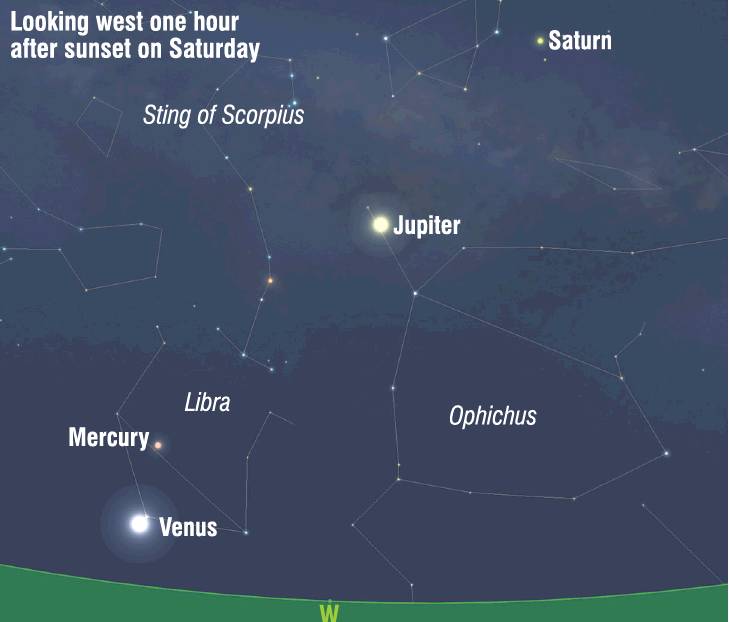 As the sun rises on November 12, skywatchers across New Zealand will view a tiny black dot transiting the face of our nearest star, writes Ian Griffin.
That black dot is Mercury. Transits of Mercury are relatively rare: there are approximately 13 visible every century. November's transit occurs 250 years after astronomer Charles Green set up the first astronomical telescopes to be used on land in New Zealand on a beach near Whitianga to view a transit of the innermost planet. The place where he observed the transit is now called Mercury Bay.
You don't have to wait until next month's transit to enjoy magnificent views of Mercury. This week it's visible high in the sky after sunset. On Saturday, the planet reaches maximum elongation from the sun, so Otago stargazers have a chance to see it against a dark sky.
If you have a telescope, you will see that Mercury is roughly half illuminated and resembles a tiny first-quarter moon. On Saturday night, the distance between Earth and Mercury is 150 million km.
Mercury isn't the only planet to grace our evening sky. In fact, there's a planetary plethora to enjoy once the sun goes down. The brightest is Venus, which, like Mercury, is at present moving through the constellation of Libra. An hour after sunset, Venus will be visible as an incredibly bright ''star'' five degrees above the western horizon.
Venus is just over 240 million km from Earth. Despite being roughly 90 million km farther away than Mercury, Venus appears brighter. This is because Venus is much larger, and Venusian clouds are better at reflecting sunlight than Mercury's dark rocky surface.
Over the next few nights, Venus is very close to Libra's brightest star: Zubenelgenubi. If you observe the pair over several nights, you will be able to see that Venus' position relative to the star changes. Your observation shows why ancient Greek stargazers used the word planet; translated, planet means ''wandering star''.
Once you have found Mercury, take time to observe Jupiter and Saturn. They are much higher in the sky, straddling the star clouds of the Milky Way.