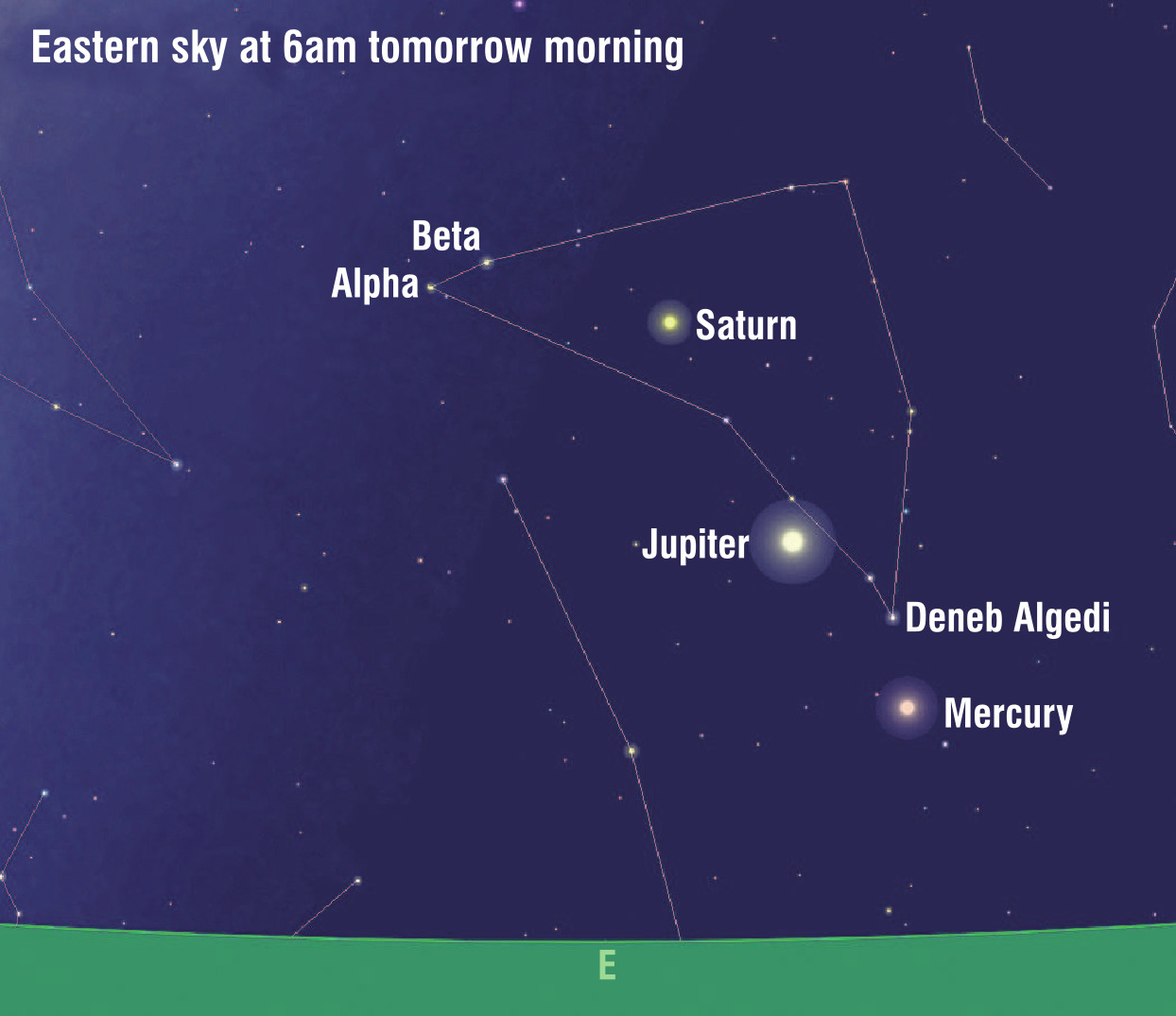 As we approach the autumn equinox, the nights are lengthening. The sun is rising later each morning and setting earlier each evening. This makes astronomers very happy as there's more time to stargaze.
One of the benefits of later sunrises is that sky-watchers in our part of the world don't have to get up ridiculously early to enjoy a dark sky in the morning. That's great news because there's a beautiful gathering of Mercury, Jupiter and Saturn in the eastern sky this week that is worth getting up for.
The planets are in Capricornus, nowadays better known as Capricorn or the Sea Goat. According to Greek legend, the constellation represents goat-headed Pan transforming into a fish to escape the Typhos, a particularly scary serpent.
You would think that given the legends that inspired its name, and considering its role as one of the 12 constellations of the Zodiac, Capricornus would be easy to find. Nothing could be further from the truth. The constellation is somewhat obscure.
Its brightest star is the third magnitude Deneb Algedi and you need to be in a fairly dark location to pick out the rest of its stars, which form a rough triangle in the sky.
For the next few mornings, the usually underwhelming Capricornus will be made considerably more exciting, thanks to the presence of the three bright planets. This week's star chart shows the view for tomorrow morning.
Jupiter is the brightest and will be easy to spot as a brilliant white ''star'' standing 15-degrees above the eastern horizon at 6am. Jupiter is about 870million km from us this week.
Yellow-white Saturn is just under 10-degrees above and to the left of its bigger and brighter sibling. While Saturn is smaller than Jupiter, the main reason it is dimmer is because it is almost twice as far away.
Pink-white Mercury is the third of the Capricornian planetary triumvirate. You can find it below and to the right of Jupiter. Tomorrow the innermost planet will be 156million km away from us.
 - Ian Griffin