Big cities don't spring to mind as destinations for eco retreats. But as Maureen Howard discovered, there are oases if you know where to look.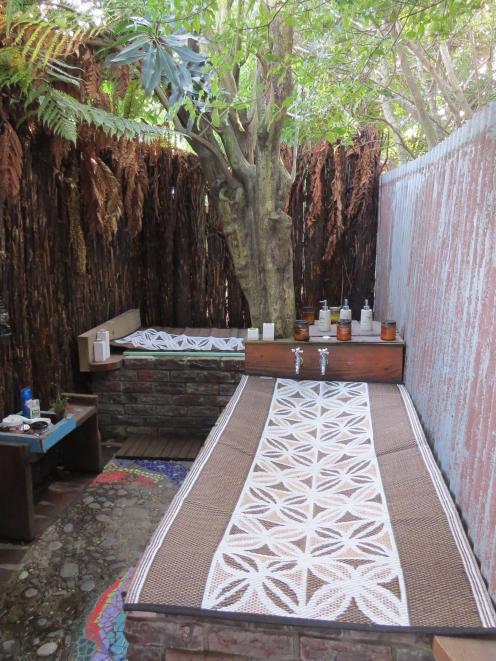 A century ago, the front panels of the wardrobe in my room were crafted from timber hewn, crosscut-style, from an old English oak tree. As each door of the wardrobe is polished from a single slice, they reveal the ancient oak's age.
My home tonight is Eco Villa, an historic bed and breakfast, on Hereford St close to the heart of central Christchurch. The large two-storey 1910 wooden villa is painted to a glossy sheen on the outside, and restored to a new glory on the inside. It is one of the few older houses still standing in the immediate vicinity since the series of earthquakes at the start of the decade.
I've just finished tidying away my few possessions in my 32sqm room when Nisha Duncan, Eco Villa co-owner, arrives to take me on a tour of the property. Younger than I imagined, she and partner Evan Chadwick bought the house in 2015 with the dream of creating an eco-friendly accommodation, and to help rebuild one small part of the damaged city.
Believing that eco-friendly is more of an ethos than a price range, the couple have endeavoured to provide a greater range of room types rather than fewer rooms all in a higher price bracket. Luxurious as well as homely, Eco Villa has been rated one of Lonely Planet's best places to stay in New Zealand.
The tour begins in the backyard, which has been transformed into a permaculture "picking" garden for guests. Raised beds, heirloom apples, a herb spiral, bike shed, a worm compost bin, native shrubs and paths slot remarkably easily into the compact space. Under each raised bed is a Hugelkultur, a type of no-dig raised bed, that contains the buried remains of the tangle of trees and shrubs that once inhabited this space. Heritage salad greens now flourish on top.
In the kitchen, we chat over a delicious coconut and cashew milk latte of dandelion and chicory root that Nisha has invented. She explains more about the food she provides for guests. All of the breakfast ingredients, including the milks (soy, almond and coconut) are made either by her and the staff, or locally sourced. Making it all from scratch means she has close to zero packaging.
Replenished, we visit the eight bedrooms, each with its own character and name based on the type of timber it contains. Almost every piece of timber that had to be moved during the renovations has been reused or repurposed, Nisha says. Named after its wardrobe, my room is my favourite. Here, rimu taken from the ballroom panelling creates an impressive headboard for my super king sized bed. In the ensuite bathroom, I pat the lovely old copper cistern over the toilet bowl. It and the clawfoot bath were online buys.
Before she leaves, Nisha tells me that there are two outdoor hot tubs. "It's such a good experience! You should have one tonight!"
Remembering the cold rain and wind of the night before I'm not so sure, but by the time I've eaten, I'm ready to give it a go. The evening is cool, calm and moonless. I wish I'd brought a torch. But then I find candles and matches by the baths with fingers, Braille style. The hot water comes quickly and fills the deep cast iron bath. I undress and sink into the steaminess. I am cocooned by ponga bark walls on two sides and rustic corrugated iron sheeting on another. Trees and shrubbery complete my natural bathroom that could be far away in some bush setting but is right here in the heart of Christchurch city. In this leafy enclave the sounds of cars and planes are muted, their rumblings almost comforting. I feel happiness well up inside me and I breathe slowly to savour the experience. It's a Goldilocks moment: just right.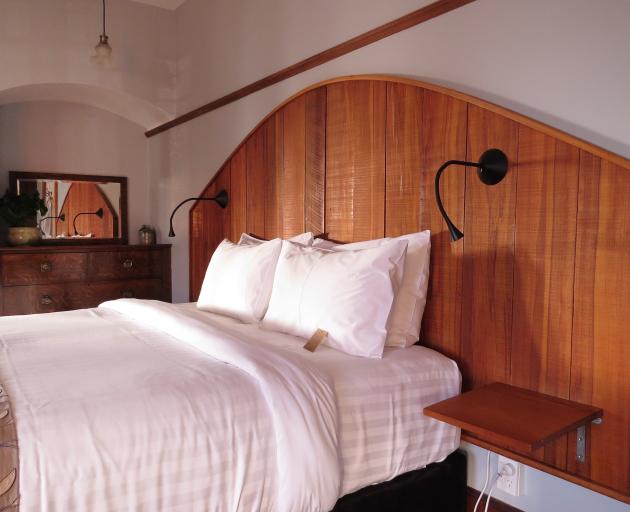 Back in my room the central heating is on, and the bed is comfy with a pillow topper crowning the mattress. I snuggle down, adding a spare blanket to achieve a perfect temperature.
Next morning in the kitchen, I pull out a tray in the fridge with my room name on it: Oak. There are many goodies aboard that will save the planet. Package free. Organic. Locally grown. Locally made. It's food that's good for us as well as the earth.
I crunch through a paleo breakfast of toasted coconut flakes, nuts, seeds and dried fruits. I especially like the thick, too-white coconut yoghurt that I dollop on top and that tingles my tongue. It all gets washed down with a turmeric coffee-style latte from the multi-purpose coffee machine that right now I have a craving to possess!
Next there's the boiled eggs, handmade sourdough bread, locally made spreads and fruit. I look at them along with the raw juice maker and sigh ... Unfortunately my stomach just won't accommodate much food this morning.
So I pocket some of the remaining food into empty pottles that Nisha has left out to encourage people to make a lunch instead of buying out. It's one of the many small eco-friendly touches to the property that convince me I'm not being greenwashed.
The previous afternoon Nisha told me that, through Eco Villa, she wants to introduce people to more sustainable living practices. It should work I think; we learn best by seeing and doing. And when we are travelling, carefree and happy, we are much more open to new experiences. Nisha plans to have more signs, she says, telling people what she is doing and why.
Sounds good. I hope she'll add some of her recipes as well!
If you go
•Give the car a holiday at home and take a bus. Another of Eco Villa's eco-friendly attributes is its central location and proximity to the bus exchange. And once you get there, this accommodation has free bicycles for guests to scoot around on.
•To get there and away, the Intercity Bus stops outside the Bus Exchange on Lichfield St. From there it is a 10-minute walk to Eco Villa on Hereford St, or you can take the Number 60 to the stop outside their door.
For more information, go to www.ecovilla.co.nz
Maureen Howard was hosted by Eco Villa