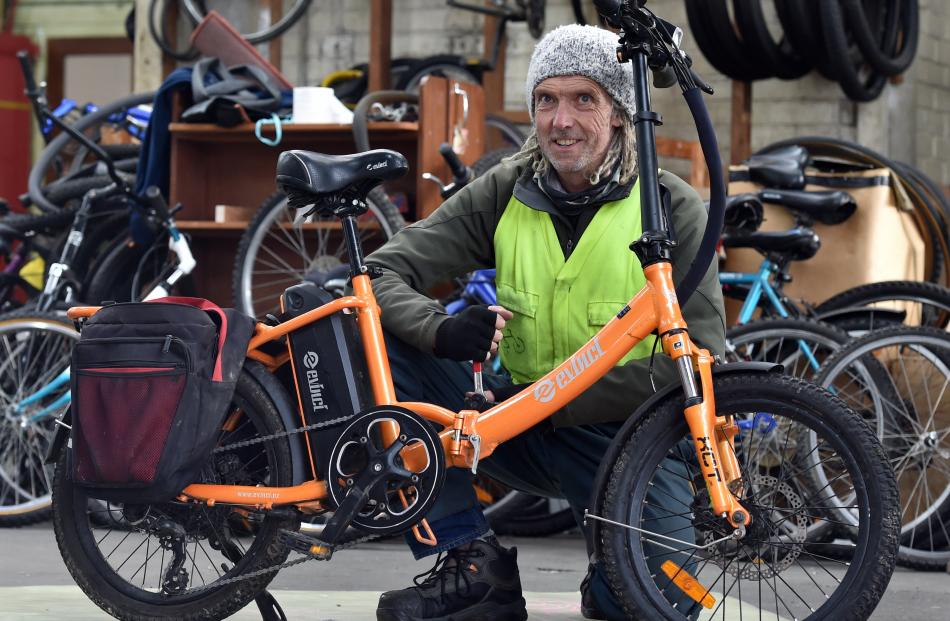 Allen St in North East Valley looks like a deadend. Actually it's the way ahead. Photographer Peter McIntosh took a look. 
There's not much of Allen St. It runs for just a couple of hundred metres between North Rd, in Dunedin's North East Valley, and Lindsay Creek. Then stops. It's a short stub on the way to nowhere.
That's if you are being determinedly literal. More figuratively, it's a short cut to somewhere better.
Down the far end, next to the creek, the future is being mapped and created.
A flapping "Open" sign - which is generally out early - welcomes the curious to the Valley Community Workspace (VCW), an unassuming repurposed commercial building that's become quite the hub.
Inside, workspace member Tim Bishop has the heater on in his small corner of the whole. In a former life it would have been office space for the garage and car museum that once was.
"We are a co-working space but instead of desks we have a workshop and we also have a shared purposed, which is to develop the low-carbon future," he says.
The VCW is a response to climate change.
"We aren't solving the world's problems but we are having a go at trying to imagine what the low-carbon future will be like and how we can help."
The workspace has been welcoming allcomers - new members, apprentices, people with big ideas - and creating community for about four years now.
Tim uses his space to make electronics. Electronics that measure temperature and humidity. Among their various uses is monitoring whether homes are providing healthy living environments.
Right next door to Tim's space is the Makerspace. Its people do electronics too. And robotics. They have 3-D printers. They work on their own projects, but they also teach others and help people from the community with their projects. Recently they've helped free a stuck DVD and rewired a blown musical keyboard.
"There are some really skilled people working here with many years of experience.
"They find it a comfortable place to work and learn from each other and contribute back to the community," Tim says.
Tim's office looks out on to the main workshop space. There are bicycles in various states of completion. People can come and work on their bikes. Or build one from the bikes already here.
There are some clever engineers here, fitting electric motors to pushbikes as part of Dunedin's e-bike revolution.
Then there are electric car conversions, the LoomRoom weaving studio, and Control Focus - an electronics business that does solar installations among other things. The Makerspace 3-D printers have been used to make parts for the looms.
Lines get blurred between the mix of volunteers, workers, non-profits and small businesses.
"We all help each other," Tim says.
It gets pretty busy, but Tim would be happy to see it busier still.
"There's a bit more room that will become available in the middle of the year.
"And we would love to see more people using our workshop. We have it available for casual use by members," he says.
The Valley Community Workspace is owned by the Valley Project, an initiative to build a stronger more resilient community in and around North East Valley.
The Project collects rent from the VCW.
"We like knowing that the rent we pay gets put back into the community at the Valley Project," Tim says.
The Allen St centre is part of a virtuous circle. Certainly not a dead end.