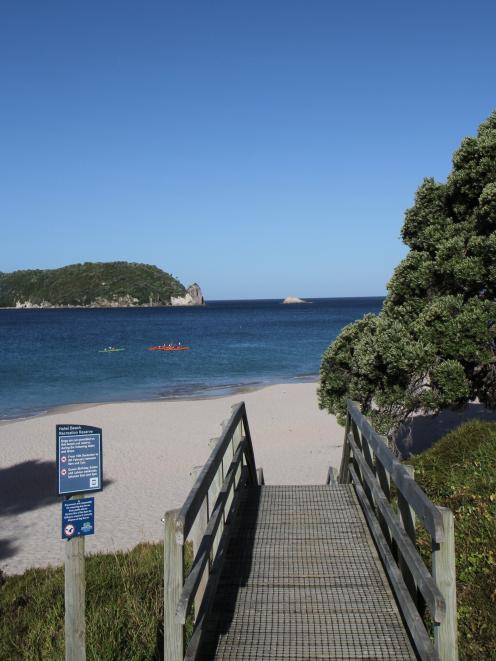 A summer holiday in the Coromandel does not need to involve the crowds, writes Jeff Kavanagh.
''For every one you see, there are 50 you don't.''
This isn't really what I want to hear. I'd almost had a favourite summer pastime ruined as a kid by the film Jaws and bobbing next to a couple of chatty lifeguards between breakers at Onemana on the Coromandel's east coast, I don't need reminding of the one thing I try to not think about about when swimming in the sea - big fish that eat people.
It's a popular topic, however, in the little one-dairy, one-cafe settlement, where my girlfriend and I have rented a crib for a week and a bit, particularly since four sharks popped up near bathers further up the coast at Tairua, closing the beach there a few days earlier.
Despite their conversation, the two young lifesavers appear unconcerned about the threat of having a limb or worse torn off as they bodysurf the metre and a-half high waves that curl into Onemana's crescent moon bay.
Interpreting this favourably, I'm eventually forced from the water not by thoughts of what might lurk beneath, but by a waning sun and numb skin.
Tucked just off Highway 25, 8km north of Whangamata, Onemana consists of a collection of mainly modest holiday houses and permanent homes, built in the '80s and '90s, clustered on the hills around its pohutukawa- and kanuka-clad bay. Popular with older couples and young families, the settlement has no camping ground or boat ramp and, other than the noise of the occasional passing car, the only sounds that accompany our nightly barbecue sizzle are those of tui in the trees and waves crashing below.
We arrive near the end of the first week of January and the township, less than two hours drive from Auckland, is noticeably quieter than it would have been over the festive season. Both cribs next door are empty and although the information folder at our place recommends reservations for the Onemana Boatshed Cafe, the only other diners on the sunny evening we visit for sole fillet, salad, and chips are an older Aussie couple and a sunburnt family of seven.
The town's fine shell beach doesn't see much action until after lunchtime each day and at weekends, and our morning dips sometimes see us outnumbered by lifeguards. Once the sun is high in the sky, we retreat to the crib for lunch or picnic in the shade of the native trees that bookend the bay.
The crib itself is a fairly ordinary place with thin walls, chipboard floors and ranchsliders familiar to anyone who holidayed in Central Otago during the 1980s. It's also comfortable and clean and has a long wooden deck with outstanding views of the ocean and some of the small clusters of islands that lie off the Coromandel peninsula, including Slipper Island and the Aldermen Islands.
When supplies run low, we drive the cheap rental car we picked up at Auckland airport 10 minutes down the coast to Whangamata. Endowed with a stunning beach, a couple of picturesque islands, and some of the best surf in the country, the town is unsurprisingly one of North Island's most popular New Year destinations.
Like Onemana, however, it is relatively calm by the time we hit town, the yearly flood of hormone- and supermarket-booze-soaked revellers having already ebbed away.
Even though the Coromandel's cafes and fish and chip shops are once again free of long queues and its roads are no longer snarled with traffic, the peninsula still buzzes with holidaymakers, campervan tourists, and sun-baked surfers.
Nowhere is this more noticeable than Hot Water Beach, an hour north of Onemana. The car park is overflowing with minivans and mobile homes on the midweek day we visit and a steady stream of spade-wielding bathers makes its way to the beach to dig pools in the sand at low tide. We don't have our own spade, and it takes some time to find a vacated pool among the throng of sweaty families and plum-faced tourists.
Once in, the sensation of having your shoulders grilled by the sun while your backside is gently poached in the geothermally heated water is one not necessarily best suited to a hot summer's day. After staying long enough to say we've been, and after a refreshing splash in the sea, we head up the coast to Hahei.
Ten minutes drive from Hot Water Beach, Hahei is rich with its own natural wonders - a beautiful pink sand beach, the handsome island of Mahurangi just off the coast, and the nearby Cathedral Cove. The cove and its majestic arched cavern are accessible by foot from the town's main beach, but a popular way of getting there in summer is by kayak.
Later that that day, while taking a dip in Hahei's calm, green-blue waters, we watch groups of paddlers bob back from the cove, their French, German, and English voices chatting happily away.
Hahei is too beautiful to leave and we end up staying the night at the Tatahi Lodge, a stylish and chilled out motel-cum-backpackers set among native bush and tropical gardens in the middle of town.
Back in Onemana the next day, we continue exploring the Coromandel, but this time closer to home. The Peninsula Recreation Area lies two minutes drive away and, after navigating a road of ugly potholes and nasty rocks through the reserve's thick pine forest, we come to a small car park and a pine-needle path leading down to a long, secluded bay.
During the few hours we spend swimming, reading and sleeping here, we see no-one apart from a lone kayaker paddling by and hear nothing more than a few birds and the vigorous thump of the sea on the shore.
A week into our holiday, thoughts of dangerous fish have all but been banished from my head when I see some large dark shapes leaping from the sea as I leave the Boatshed cafe with my morning cappuccino. Walking as fast as you can with a hot coffee, I get to the beach just as the shapes disappear beyond its northern point. It's a sunny morning, but there are few others on the beach beyond myself and a young lifeguard. I ask him if he saw the dolphins.
''Yeah, mate,'' he replies. I ask him if they are regular visitors.
''First lot I've seen this year,'' he says.
''It's a good sign, though. Means there won't be any sharks about - they scare them off.''
Exactly what I wanted to hear.
Jeff Kavanagh is a travel writer, formerly of Dunedin.