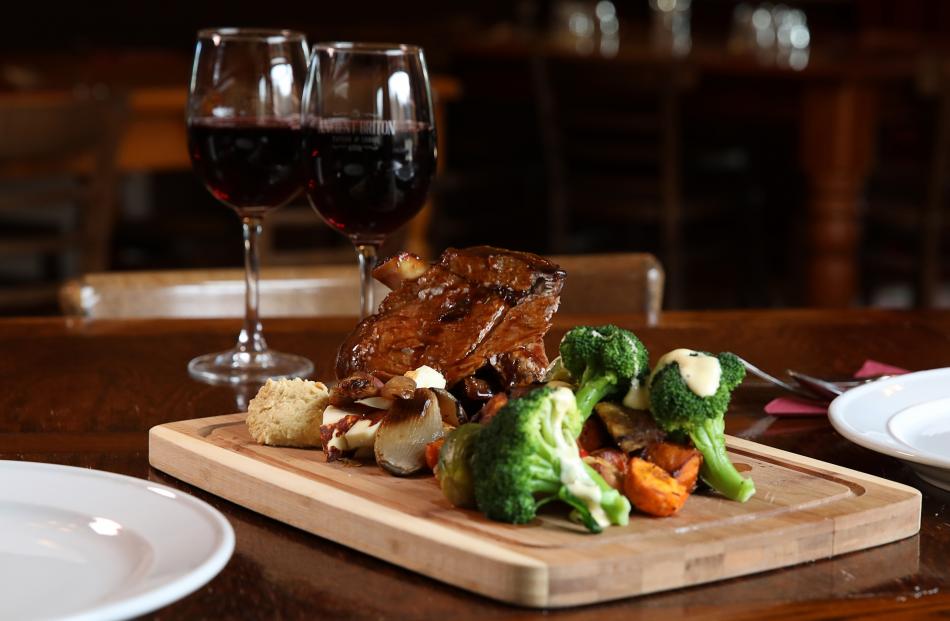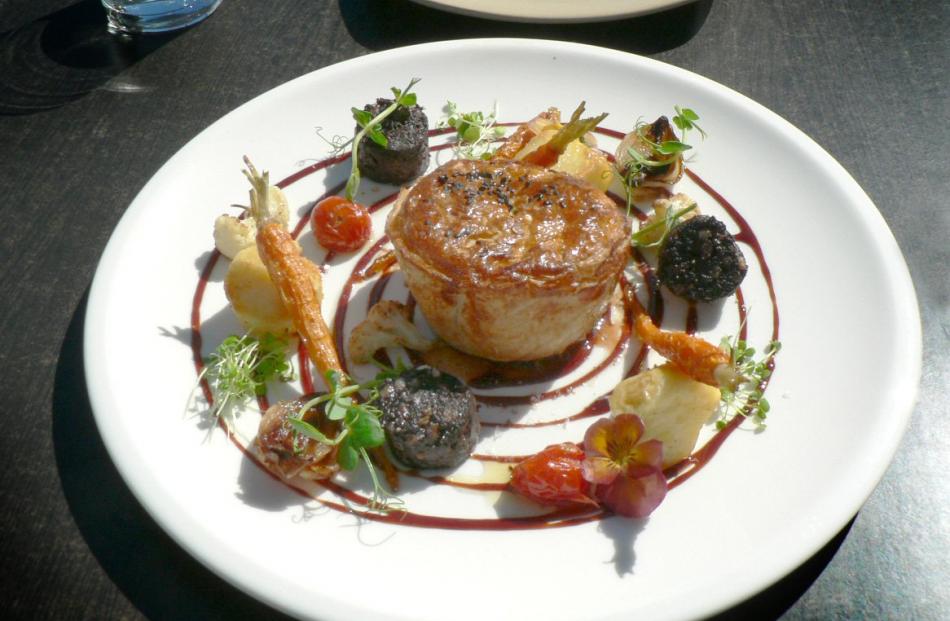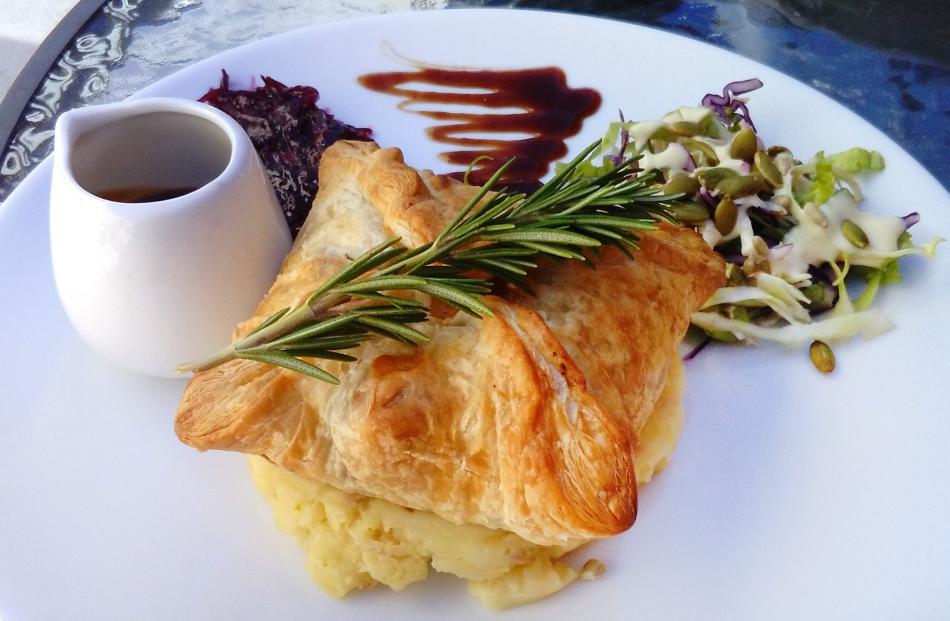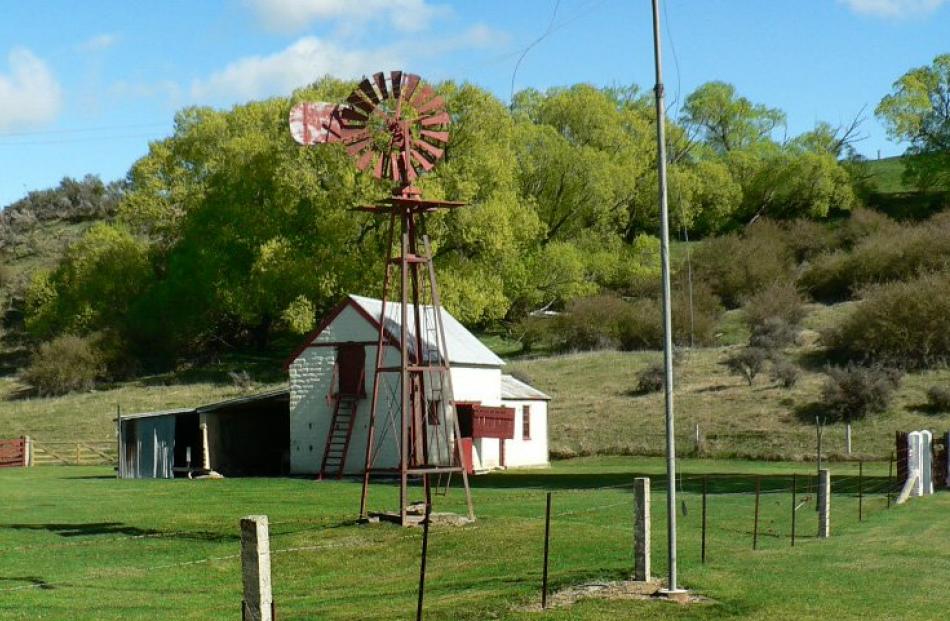 When most people head to Central Otago, they have a destination in mind and aim to get there as fast as possible. Rebecca Fox discovers the joys of a slow approach, an added bonus being  that southern favourite, pies. 
I sometimes think Otago does not do enough to blow its own  trumpet  when it comes to the amazing produce, food and wines it produces. Individually, each sector does its own promotion, but rarely do they all come together.
So, when Central Otago District Council came up with its latest promotion — Eat, Taste Central — I thought, "What a great idea!".
The concept — where local restaurants, cafes and food outlets produce great dishes based on local produce and  match them with local beer, wine and juices — is one borrowed from other places.
The dishes, in this instance a pie, burger/sandwich or main meal, are then judged by a panel and by the consumers, with a people's choice award up for grabs.
Eateries from Pisa Moorings and Bannockburn, near Cromwell, to Waipiata and Naseby, near Ranfurly, and everywhere in between have taken the opportunity to be involved.
The result, a great excuse to take a relaxed weekend's road trip along the scenic route to Central Otago.
Travelling from Dunedin, we decided to take SH87 through Middlemarch.
Our aim was to make the Waipiata Country Hotel in time for lunch — they had a deer and beer pie on the Eat, Taste menu as well as a warm Maniototo lamb salad.
Luckily, you can take a side road to Waipiata to avoid the bridge repairs that have closed the Kokonga Bridge, except for 10 minutes on the hour.
By the time we arrived the nip had gone from the air and it was a perfect day to sit on the deck in the sun.
Owner Mark Burton serves us, explaining the inspiration for the pie came from having to come up with a meal to serve Emerson's founder Richard Emerson — the Red Tussock Central Otago venison in the pie is slow-cooked in Emerson's porter.
Next up, we headed to Ranfurly where we wandered through the town admiring the Art Deco architecture and taking a quick peek into the town's newest business, the Fantail Kitchen and Larder (opened in the former butchery), which was rumoured to make lamingtons that would take you right back to your childhood.
We were also lucky enough to get a quick tour of the quirky Art Deco Gallery, which reopens for the summer later this month.
Full of Art Deco period clothes, furniture, crockery and homewares, it also has a kitchen and laundry setup with old appliances and homewares sure to bring memories of your grandparents' home flooding back.
Then, it was on to Naseby to check in to the luxury bed and breakfast, the Old Doctors Residence. Once the doctor's surgery and residence, it has now been converted into a comfortable two-suite bed and breakfast.
Under new ownership, the residence is being run by host Sherry Hart, who is enthusiastic and passionate about getting the place running again.
A keen baker, her cheesecake bites at afternoon tea were a highlight, not to mention the wonderful cooked breakfast the next morning.
To work off all the food, we headed to Naseby's international curling rink for a lesson and game.I had given it a go before and found the video and tuition provided made it so much easier to pick up. However, I didn't see much improvement.
After the sun went down, a table beside the fire at Naseby's Ancient Briton was just the thing, as was their Eat, Taste dish Provenance lamb shoulder for two. It was matched with a certified organic Carrick Bannockburn Pinot Noir.
The dish was served on a platter with roast vegetables and hummus and required my other half to exercise his lamb carving abilities to serve.
After breakfast, we headed down the road to visit Hayes Engineering Works and Homestead at Oturehua. A fascinating place — most well known as being where rabbit bait cutters, windmills and fencing wire strainers were devised and perfected — where an amazing amount of engineering history has been preserved.
The adjacent Hannah's Cafe serves great coffee and is also taking part in Eat, Taste with a thyme and rabbit pie.
Next up was a stop at Pitches Store in Ophir for lunch. Another great Central Otago day, so we sat outside to enjoy their well-presented rabbit and Ophir thyme pie.
Feeling full, we decided a brisk walk around Alexandra was needed before heading to Clyde and a coffee break at the Merchant of Clyde Cafe — they are doing a slider for Eat, Taste. Next door, Olivers Restaurant has a Central Otago smoked rabbit risotto.
At this point, I could see how Eat, Taste is the perfect opportunity for those on the Otago Central, Roxburgh Gorge or Clutha Gold cycle trails to keep up their energy levels.
Heading back to Dunedin on SH85 the following day, we decided to stop and check Faigan's Cafe and Store at Millers Flat.
It is also taking part in Eat, Taste with a gourmet lamb burger and Speight's venison and kumara pie, which was served in the sun in its new outdoor eating area.
It is great excuse for a weekend away, doing nothing more than taking in the the sights and enjoying some great food — all only a few hours from home.
Central Otago-sytle gnocchi, lamb sliders and rabbit pies hit the spot with voters during the Eat, Taste, Central food celebration.
The People's Choice results are out and a judging panel will taste the top five dishes in each section this weekend to find the overall winners including best beverage match.
The Eat Taste Central promotion was coordinated by Tourism Central Otago to highlight the diverse range of food and wine establishments, and quality of service available across the entire Central Otago district.
Participating venues offered Central Otago menu offerings across the three sections from September 20 to October 23.
The People's Choice Awards in the Burger and Sandwich category was a tie between the Chatto Creek Lamb Sliders at the Chatto Creek Tavern and the Monteith's Lamb Burger from Monteith's Alexandra.
The largest category by number of dishes was the Main Meal Challenge with the Italian inspired `Gnocchi con sugo di agnello alla Central Otago style' from Armando's Kitchen in the Cromwell Heritage Precinct taking out the top spot.
Pies were a favourite across the region with rabbit being a key ingredient in the three top offerings _ the People's Choice award in the Pie Challenge has been awarded to the Rabbit and Thyme Pie from Hannah's Café located at the historic Hayes Engineering Homestead in Oturehua.
Top Five Results in the Eat.Taste.Central People's Choice Awards are:
Eat.Taste.Central People's Choice - Pies
1st Thyme & Rabbit Pie  Hannah's Café, Oturehua
2nd Wabbit Pie  Chatto Creek Tavern, Chatto Creek
3rd Rabbit & Ophir Thyme Pie  Pitches Store, Ophir
4th Lamb Shank Pie  Blacks Hotel, Ophir
5th Venison & Kumara Pie  Faigan's Café, Millers Flat
Eat.Taste.Central People's Choice - Burger & Sandwich
1st = Chatto Creek Lamb Sliders from Chatto Creek Tavern and the Monteith's Lamb Burger from Monteith's Alexandra
3rd Black & Blue Burger from Blacks Hotel, Ophir
4th Big Bike Burger from Oturehua Hotel
5th Pulled Lamb & Apple Slaw Ciabatta from Maniototo Café, Ranfurly
Eat.Taste.Central People's Choice Main Meals
1st Gnocchi con Sugo di Agnello alla  Central Otago style from Armando's Kitchen, Cromwell
2nd Provenance Lamb Shoulder from Ancient Briton Hotel, Naseby
2nd Slow Cooked Shingle Creek Chevon from Paulina's Restaurant, Clyde
4th = Merino Lamb Rump from Mt Difficulty Winery Restaurant, Bannockburn
4th = Red Tussock Back Strap of Wild Venison from Chatto Creek Tavern
- Rebecca Fox travelled courtesy of Central Otago District Council and Eat, Taste Central www.eattastecentral.co.nz.