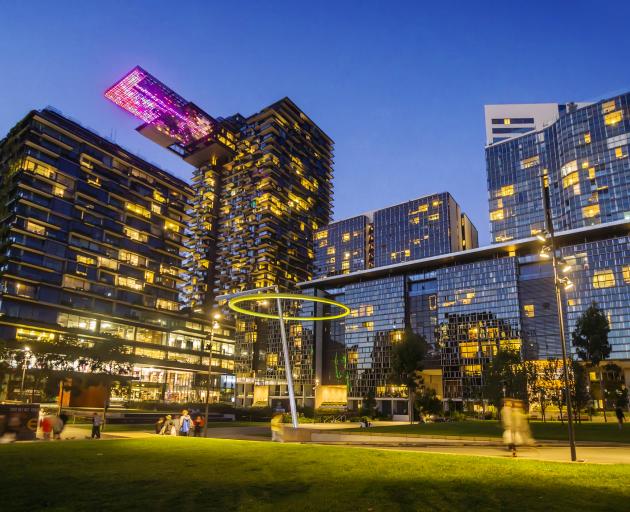 There's no "been there done that" with Sydney. There's always something new happening, somewhere new to discover, writes Pam Wade.
EVERYDAY ART
Guiding a Culture Scouts walk around Chippenham and Redfern, Sophia is almost spoiled for choice. There's the green wall at Central Park, where 35,000 plants flourish in the world's tallest vertical garden, 34 storeys high. Nearby is its park, with a kinetic sculpture and trickling stream, a magnet for office workers and local residents.
A block away is White Rabbit, a privately owned art gallery containing an eclectic collection of contemporary Chinese works, large and small, obvious and mysterious - though the friendly attendants are happy to interpret.
There's architecture: confrontingly modern and cutely Victorian, side by side. Street art includes traditional Aboriginal and excitingly modern versions. Sophia talks about Redfern's history, and its gentrification - though still with an edge.
We go into a shop with the bland name of Seasonal Concepts that blows the mind with its eccentric contents: from a mounted zebra head to a 1950s coffee mug, and everything in between, each item with a story collector Ken is happy to share.
Down the road, Chee Soon and Fitzgerald is a treasure house of original 1950s Japanese kimono silks and other rare fabrics, gorgeously patterned and much loved by the shop's owners.
The tour has been a visually dazzling feast, but there's one last course: a drink at the Bearded Tit, a quirky and dimly lit bar where a boar wearing a fedora hangs in the loo and a skeleton stands, appropriately, beside the spirits.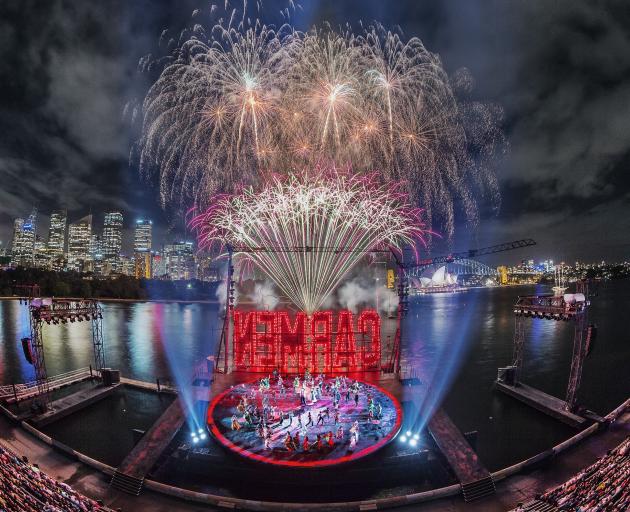 OPEN-AIR OPERA
Every year, at Mrs Macquaries Point, just across the bay from the Opera House, Handa Opera on Sydney Harbour happens on a pop-up stage above the water. It's intended as a spectacle, accessible and appealing to opera buffs and novices alike. 
This year, it was Bizet's Carmen, a story of love, lust, betrayal and revenge told in stirring songs, including some of the most ear-worm music ever written.
Flamboyant costumes, daring dancing on the sloping, circular stage, a tank and an army truck lowered in by crane were given a glorious accompaniment by an orchestra invisible beneath the floor.
With a backdrop of skyscrapers, the illuminated Opera House, the bridge, and busy ferries adding more ripples to the reflecting water, there's only one thing needed to complete this annual spectacle.
At the end of the first act, it's duly delivered: fireworks bursting above the stage, the boom and the crackle adding to the excitement.
The four-week season begins in late March.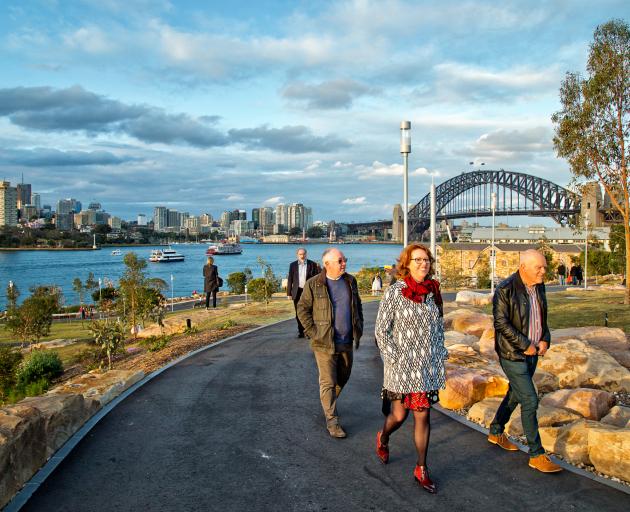 ABORIGINAL ANGLE
Sydney's most recent recognition of its Aboriginal heritage is the west-central district of Barangaroo, between the Harbour Bridge and Darling Harbour.
Once a disused 22ha concrete shipping container apron, the 6ha Barangaroo Reserve on the point has now been returned to the green space it was when the indigenous Gadigal people lived here, more than 14,000 years before the arrival of Europeans.
Mary, of Barangaroo Aboriginal Cultural Tours, is pleased and proud to share what has been done, pointing out the individual beauty of the 10,000 hefty blocks of mottled sandstone hewn from the site itself. Curving around the edge of the harbour, terracing the tonnes of soil that were replaced, they are a signature framework for the 75,000 native plants that now grow there.
She uses some of them to demonstrate the Aboriginal people's intimate knowledge of their properties, from food to medicine to briefly stunning fish before capture. A 14km walkway along the foreshore is planned, and the section running around the reserve is already well used by walkers and runners.
Further along, it at present peters out where the new, and somewhat controversial, casino is being built. Beyond it, though, is Barangaroo South, a cluster of tall office and apartment blocks, the bases of which are occupied by shops, cafes and a bewildering choice of restaurants where residents, workers and well-informed tourists dither happily over menus.
ADVENTUROUS EATING
You'll never go hungry in Sydney, wherever you are. Just working through the food stalls in Spice Alley, Chippendale, would take a week. But the standout restaurant this visit was The Grounds, Alexandria.
Surrounded by industrial buildings, high-fashion outlets and the occasional junk shop, it's an oasis of greenery, flowers, coffee, cocktails and excellent food.
Repurposed factory buildings and courtyard house cafe, restaurant, coffee roastery, bakery, grocery and even a little city farm, home to chickens, sheep, goat and pig Kevin Bacon.
The theming is fun and impressively consistent: dishes in the luxuriant Potting Shed are delivered on shovel blade platters, my gin and elderflower cocktail is adorned with a rosebud.
It's busy and noisy, and though the service is a little slow, there's so much to look at and enjoy that it doesn't matter at all - from hanging baskets to rose pergolas to Fluffy the chatty macaw, everything is gorgeous.
HERITAGE SLEEPING
The Old Clare Hotel in the south-central district of Chippendale is proud to show its bones.
Converted from a brewery administration building and the pub next door, there's no discreet smoothing of the gaps: bare brick, exposed plaster, saw marks and graffiti give this boutique hotel its funky character.
Every room is different but all are spacious, high-ceilinged and distinctively decorated with vintage furniture - luxurious beds excepted - that has an industrial feel.
Comfortable and friendly, it's within walking distance of restaurants, art galleries, museums and theatres, though many of the locals make a beeline for the old pub's bar, preserved with its original tiled walls and modernised with an extensive cocktail menu.
There's also a pool on the roof, a gym and two restaurants: Automata, where thoughtful degustation menus are served under a warehouse ceiling 6m high, and Kensington Street Social, which starts with interesting breakfasts and keeps going throughout the day.
From the in-room compendium titled ``Random and Informative Crap'' to the dentist's chair in the lobby, this is a hotel full of character.
For more information, visit www.visitnsw.com or www.sydney.com