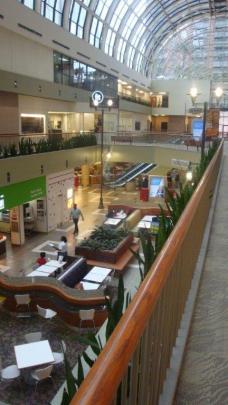 Air New Zealand has opened a new entry point for travellers from Auckland to the United States. Dunedin's Dame Elizabeth Hanan discovered in Houston an unexpectedly vibrant and stimulating city when she travelled to United States to meet family.
A flight scheduling change meant we had a chance to look around Houston, Texas, and were surprised at what we discovered.
Houston is now third-equal in size to Chicago with a population of 2.2 million in the city proper and at the rate it is growing will soon be the third-largest city outright after New York and Los Angeles.
It was founded in 1836 near the banks of Buffalo Bayou (now known as Allen's landing) and incorporated as a city in 1837. It is named after Sam Houston, the president of the Republic of Texas.
The port and railroad industries and now air, combined with the discovery of oil in 1901 have encouraged population increase.
In the mid 20th century, Houston became the home of the Texas Medical Centre - the world's largest concentration of healthcare and research institutions and Nasa's Johnson Space Centre where Mission Control is located.
We had not done our homework beforehand as we had not intended to stay there except as a stopover on our return.
However, this changed as Air New Zealand decided to cancel our plane on the Wednesday, a schedule change apparently, and there we were at an airport hotel on JFK Boulevard some distance from anywhere interesting.
There are masses of motorways, three lanes wide in both directions, underpasses and overpasses.
We asked around and found that an airport bus serving Terminal C and downtown had a bus stop at Double Tree about 50m from our hotel and better still the cost was only $US1.25 ($NZ1.39) compared with taxi fares upwards of $US40.
Without a map and only the advice of the friendly bus driver, we headed to the CBD for the 40-minute drive along a dedicated bus expressway, through affordable housing areas, supermarkets and local shopping complexes.
We finally arrived at a stop near City Hall and had instructions on how to catch the bus back on the next street, a one-way system.
There we found that there is a free bus circulating around the central area and across to the new venue for the Visitor Centre now at the Hilton Hotel, near the Convention Centre.
We studied the map given us at their office which showed the CBD divided into different districts, Theatre, Historical, Museum and shopping malls within buildings, sky walks and tunnels linking areas with underground shopping, restaurants, cafes.
We asked why Houston needed these tunnels. We were told they were air-conditioned and provided protection from weather extremes, particularly the heat, humidity in the summer and also rain.
The Convention area had a huge park - Discovery Green - of about 5ha with a lake, playground, fountains, art and restaurants. We ate at The Grove, a Mexican restaurant in relaxing surroundings with top quality food.
We used the free bus to take us across to the Historic section where we visited the Houston Historic Society headquarters and exhibition before walking through the nearby park of 4ha founded in 1954 where old houses dating from 1823 to 1905 have been relocated to show what life was like in the past.
In fact, there are 337 parks in downtown Houston which provide lungs for the city and refuge from the high-rises which now dominate.
Nearby is the public transport system, the Reliant Park Light Rail Corridor, and again with a ticket price of $US1.25 to the Museum district it makes it worthwhile and easy to access major highlights of this ever-growing city.
The transport system has won awards and rightly so. The buses are regular and usually on time.
The Museum district has several attractions surrounding Hermann Park of 180ha including a children's museum, zoo and downtown aquarium which we did not have time to visit.
In fact, our time there turned out to be too short to appreciate what Houston has to offer.
This district actually has over 7 million visitors a year.
We decided to visit the Museum of Natural History which took us a whole day and what an amazing place. No amount of money has been spared to make this world class, one of the best museums we have seen.
The exhibits include an interactive energy display, of course with oil exploration and other energy alternatives, gems, minerals from around the world, fossils, palaeontology hall, dinosaurs, skeletons and displays of habitats, human evolution, Egyptian mummies, wrapped and partially unwrapped, Inca lifestyles, an absolutely top planetarium showing three shows, right up to the present day - we took in "The Dark Side of the Moon'' - an IMAX theatre and live butterfly centre.
The basement had workshop, demonstration and education areas for school groups for chemistry and physics as well as computers with various programs for hands-on activities.
The only food outlet was served by McDonalds for museum patrons.
Thursday is the free day for many museums there and that day we visited the Museum of Fine Arts, again world class with French Impressionists, post-1045 European and American paintings, as well as Picassos and Rembrandts.
There is a nearby building connected by an underground tunnel, an art installation in its own right, to the Contemporary Art Museum where there is an excellent cafe to keep one fuelled for the day.
The sculpture garden across the road has examples of Rodin and Matisse.
A proud Texan we met explained that Texas is the only state in America to fly its flag at the same level as that of the United States flag. He said that "America needs Texas but Texas does not need America''.
We found out too late that there was a tour, lasting six hours, which could have taken us to the Space Centre outside town.
This was highly recommended but it will have to wait for if we ever head this way again, and maybe also a visit to the Gulf of Mexico and Galveston Island.
When we first arrived in Houston after our nearly 15-hour flight, we found kiosks into which we fed our passports, tapped our fingerprints, had photos taken and headed to an immigration official. Very little waiting time and no massive queues.
As we were only travelling with cabin luggage (less than 7kg) we whisked through customs and on to the terminal for our transfer to our next destination.
One of the buggy drivers on the airport people-movers took one look at us and offered us a ride - we must have looked our age.
Heading home, the 777 aircraft was completely full, so even the hand luggage was checked at the gate and weighed, with some taken away for check-in.
A long runway had to be found for take off, so it took a full 15 hours before we landed at Auckland, gaining a day on the way.
Dame Elizabeth Hanan and Murray Hanan went to the US to celebrate their golden wedding anniversary.
---
Checklist

•Getting there
Air New Zealand flies non-stop to Houston from Auckland with connections available from Dunedin. One-way Economy class fares start from $1119 per person (including taxes).
Visit airnewzealand.co.nz for more details and to book.
---