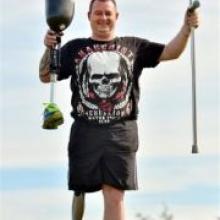 It might have cost $500,000, but the Dunedin recipient of a new leg believes the "complete life-changer'' was money well spent.
Brockville man Chris Campbell (38) has received the latest, greatest, state-of-the-art, carbon fibre prosthetic leg.
He is only the sixth person in the country, and the first in Otago/Southland, with the upgrade.
The new prosthetic will allow Mr Campbell to walk without crutches, receive no rubbing and will eventually mean he can return to work after four years.
"It's a complete life-changer,'' Mr Campbell said.
"It's unbelievable. I'm definitely more mobile.
"I've still got a bit more physio to go and then we should be away laughing.
"Before the end of this year, I should hopefully be back to work. If someone wants to give me a job, that would be great.''
Mr Campbell lost the lower part of his right leg in a truck crash four years ago.
He has had 13 operations, and the journey to his latest prosthetic has taken 10 weeks - from being approved to arriving home from Christchurch Hospital six weeks ago.
The operation included having a titanium rod inserted into his thigh and a gold connection for the prosthetic, near where his knee used to be.
Mr Campbell believed gold was used at the connection point for its smoothness, which would stop irritation inside his leg.
"This is what ACC is for and I'm grateful. It's totally new technology. I don't need crutches and I don't need ... [anything] now.''
The new prosthetic weighed about 2kg, much less than a previous one which was 8.5kg.
It had different modes, which could be adjusted for a particular type of activity, including skiing and cycling.
"I have been testing her up and down the block [and] people have been pretty interested in it,'' Mr Campbell said.
He was walking about 4000 steps a day now and felt he would be walking "normally'' by Christmas.
Asked what he was going to do with the clunky, earlier model prosthetic, Mr Campbell said: "I'm going to put a pot plant in it. A $90,000 pot plant.''