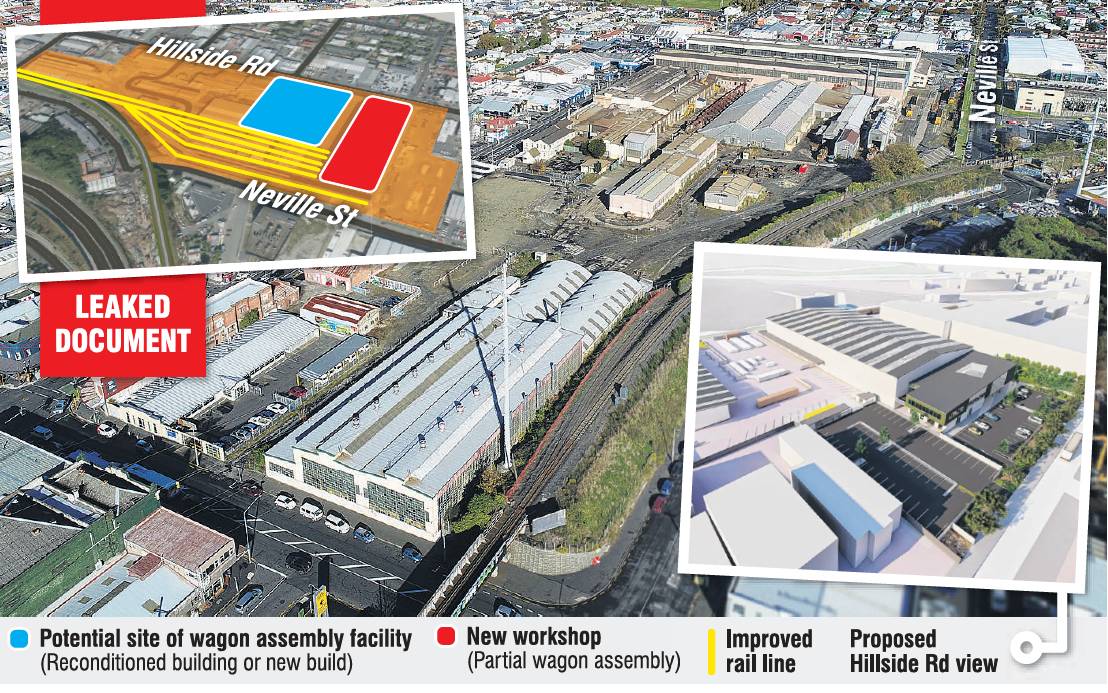 A $90 million plan to turn Dunedin's Hillside workshop into a world-class assembly plant has been revealed in a leaked government funding pitch.
But there are concerns importing parts to be assembled locally is not a good use of taxpayer money.
This week the Government reaffirmed its commitment to the South Dunedin facility as part of its 10-year rail plan.
In 2019 an initial $19.97 million investment was made in plans to expand the workshop through the Provincial Growth Fund.
But documents obtained by the Otago Daily Times show an additional $90 million is needed to turn it into a wagon assembly facility.
KiwiRail staff met State Owned Enterprises Minister Dr David Clark, also the MP for Dunedin, in December to make the pitch.
The $90 million was comprised of $55 million for the premises and assembly plant, and $35 million for operations.
KiwiRail predicted it would create an estimated 150 construction jobs, 40-50 assembly jobs, and up to $21 million in indirect and direct economic benefits.
"Green field development of a world-class production facility increases opportunities for innovation... and possibilities to manufacture or assemble a much wider array of products in the future,'' the documents state.
KiwiRail needed to replace about 2300 wagons over the next five years. About half of those could be assembled locally, starting in July 2023, at a rate of two wagons a day.
A cost breakdown showed it would cost $219,800 per wagon if they were assembled locally, $23,000 more than if they were fully procured overseas.
That was an extra $35 million overall, based on 1520 wagons.
Parts would be supplied from Indonesia, China, Australia, the United States and Italy.
But National's Transport spokesman Michael Woodhouse, of Dunedin, questioned whether bringing in parts to be assembled at Hillside was a good use of taxpayer money.
"Now Labour, and probably half of Dunedin, are going to say 'that's a fantastic idea', but the New Zealand taxpayer is funding that,'' he said.
He said the Government had a "romantic notion about rail and the local production of that'', but that was not where the modern New Zealand economy was at.
"What we should be investing in is what we're good at, and what we're competitive at."
He believed a funding boost was likely in the Budget on May 20.
"My guess is that there is $90 million in Budget 2021 for Hillside, and that Dr Clark will celebrate that, and I think before we get the Champagne out we should have a very close look.''
Dr Clark did not address details in the documents yesterday, or whether the Budget bid was likely to succeed.
But he did launch an attack on Mr Woodhouse, saying he had "built a career on selling out local interests''.
"It is a shame he doesn't see the value in growing and up-skilling our Kiwi workforce,'' he said in a three-line statement.
"This Government is committed to New Zealand industry and utilising the talent we have at places like Hillside.
"It's especially important as we recover from the impact that Covid-19 had on the economy."
Rail and Maritime Transport Union Otago branch secretary Dave Kearns said the union fully backed the Government's plans for Hillside.
But there was no reason wagons could not be made from scratch at the workshop, and he wanted manufacturing to return to Hillside.
He took umbrage with Mr Woodhouse's comments around cost, saying the ongoing costs associated with "inferior'' imported wagons were not being considered.
The pitch
$55 million
Cost of assembly premises and plant
$35 million
Cost of local assembly labour and operations
2300
Number of wagons that need replacing over five years
1520
Could be assembled locally from July 2023